I Got An Eyelash Perm & Tint—Here's Why I Prefer It To Lash Extensions
Contributing Wellness & Beauty Editor
By Lindsay Kellner
Contributing Wellness & Beauty Editor
Lindsay is a freelance writer and certified yoga instructor based in Brooklyn, NY. She holds a journalism and psychology degree from New York University. Kellner is the co-author of "The Spirit Almanac: A Modern Guide to Ancient Self Care," with mbg Sustainability Editor Emma Loewe.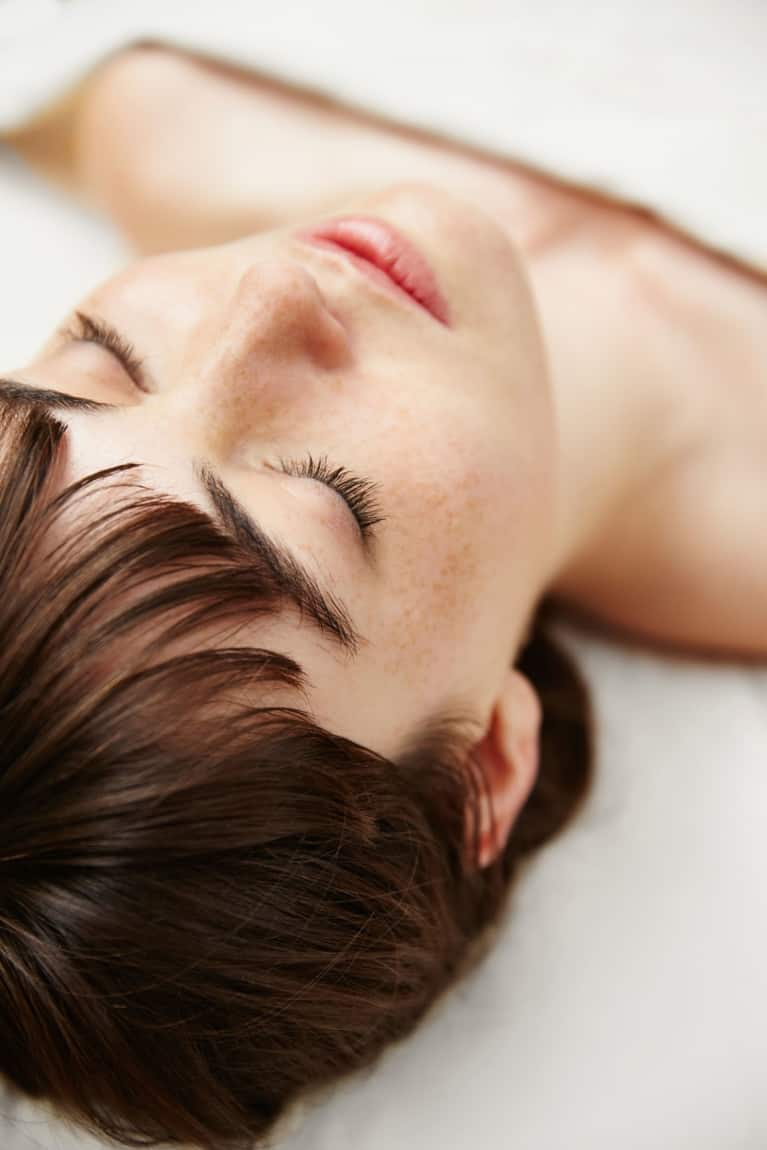 You may be thinking an eyelash perm not only sounds a little absurd (if not strangely cute) but that this is mindbodygreen, and there's no way the perm process can be natural. And you would be right—a perm is inherently not "natural." However, if you're a person who wears mascara or curls their eyelashes, then you can identify with the daily struggle, one that is both time-consuming and planetarily questionable: curling, applying at least two coats, and doing it all with a bunch of disposable plastic.
Sometimes, when considering makeup options and the impact they have on our time and environment, it feels easiest to abandon it altogether and go au naturel! If you've done this—I salute you. But realistically, you may still want to look a certain way whether you identify strongly with a specific vibe or simply like your face with makeup. There's no shame in that!
I made it my mission to achieve a natural look, decrease reliance on makeup and the packaging that comes with it, and reduce the amount of time I spend daily applying it. I've tried treatments and facials that help—my favorite game-changer for clear, foundation-free skin is gua sha massage. Two years ago I tried eyelash extensions and wanted to love them but couldn't. They looked awesome the first few days and then started falling out almost immediately, leaving my eyelashes full of gaps and leaving me paranoid about losing them all. Extensions didn't work for me, so I kept my eye open for something that would.
In the meantime, instead of filling my brows daily, I did bimonthly brow-tinting sessions and eventually wound up getting my eyebrows micropigmented, which worked out far better than I expected (read up; it's different from microblading). The last time I was in for a brow tint with Josh Beeler at Brooklyn-based Shen Beauty, my go-to for facial grooming, another woman was there getting her eyelashes permed and tinted. While the procedure was borderline hilarious to watch, the results were stunning—it didn't even look like she was wearing makeup. Her eyes were just more awake and defined but still super natural. She was a new mom and didn't have time or patience to apply eye makeup, so, as she said, it was the pick-me-up she needed.
The tint and perm last a few weeks, it takes about 45 to 50 minutes all together, and it completely eliminates your need for eye makeup and eye makeup remover.
"In my experience, 80 percent of people who experience an allergic reaction to the glue that's used in eyelash extensions," said Beeler. My skin tends to be sensitive, so I wasn't surprised when my lids itched like crazy with the extensions. But I didn't realize that it affected the majority of the population.
So I decided to try one of the silliest things I've ever done in the name of a good beauty story—I got an eyelash perm and tint. An eyelash perm is quite different from a hair perm—the solution used is diluted and not as strong. Another added benefit of a lash perm when compared to lash extensions? Sneaky subtlety. "With a lash perm, nobody can tell what's different about you," Beeler said. Here's what you can expect if you get one: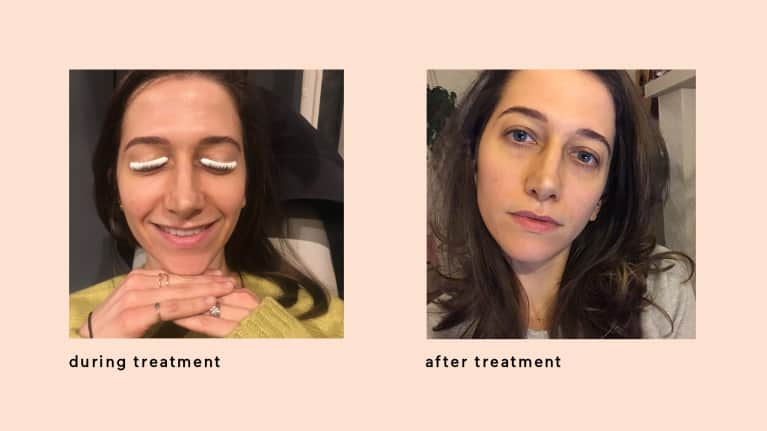 Your brow specialist will get your lashes to adhere onto the "bumper" that is glued to the lash line using a hypoallergenic natural eyelash adhesive.
Then she'll/he'll/they'll apply the perm solution and process for 20 minutes.
The solution will be "squeegee-ed" off the bumper toothpick.
The neutralizer solution will be applied and will process for 10 minutes. It'll be removed the same way, using a toothpick.
Then, you'll receive a conditioning treatment for the lashes. Beeler mentioned this step isn't a given—you may have to request it.
Once you're done, your brow specialist will remove the adhesive with a gentle micellar water.
The tint, on the other hand, gets a little "spicy," as Beeler likes to say. It takes about 10 minutes from start to finish. At first it feels pretty benign, but as the color develops it can sting. "Lash tinting was outlawed in California because people were trying to use stronger developer," Beeler said. If you decide to get your lashes tinted, make sure that your specialist is using developer that's 3 percent or less, "and always look at befores and afters," Beeler recommended.
In my experience, the perm feels strange because someone is manipulating your lashes for an extended period of time, but it doesn't hurt or sting or itch. It's similar to the brief odd feeling of being at the dentist, having your mouth open for a long time and closing it again. The most uncomfortable part is removing the solution from your peepers and opening them after 30 minutes of close-eyed perming—you'll probably blink some floater gunk out of your eyes for a few seconds, but everything comes back into focus quickly.