Top Experts Swear By This Supplement That Makes Your Skin Glow & Gives You More Energy
mbg Beauty Director
By Alexandra Engler
mbg Beauty Director
Alexandra Engler is the Beauty Director. Previously she worked at Harper's Bazaar, Marie Claire, SELF, and Cosmopolitan; her byline has appeared in Esquire, Sports Illustrated, and Allure.com.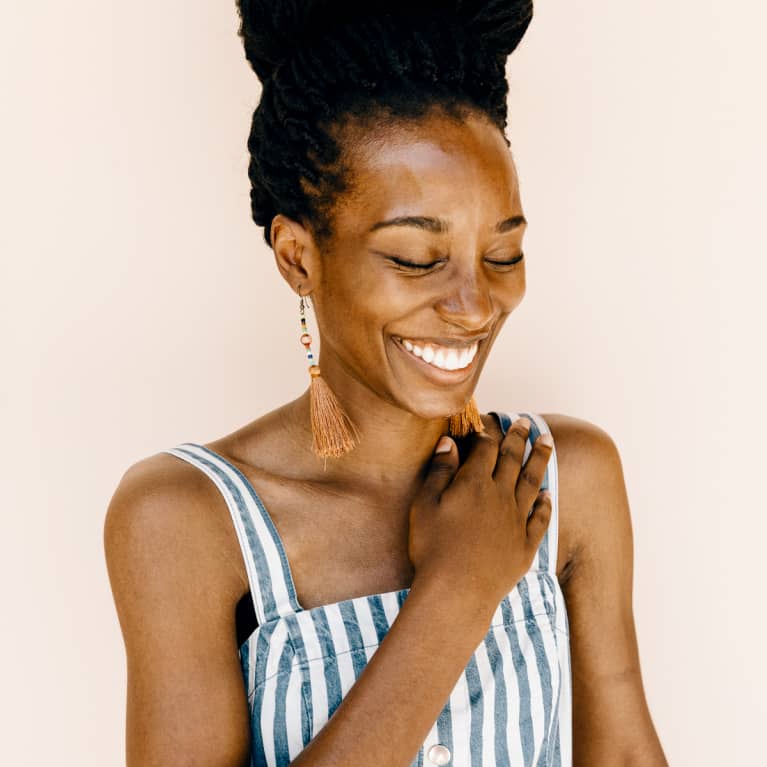 Our editors have independently chosen the products listed on this page. If you purchase something mentioned in this article, we may
earn a small commission
.
Last updated on October 1, 2020
The world of supplements is certainly a large one. With so many to choose from, you probably have some reservations about making a purchase on a whim—or at the very least, you have some apprehension or questions about the various supplements. To which I say: I get it. I am constantly surrounded by new supplements, treatments, and products to test out as part of my job. And as an editor and reporter, when I have questions about one of them, I turn to experts for advice, tips, and their trusted opinion. And that's exactly what mbg does with their supplements, too.
mindbodygreen's nr+ was formulated with Thorne, the leaders in smart supplements, and is vetted and backed up by research. As if that's not enough, mbg also worked with leaders of several fields to get their opinions, thoughts, and honest reviews. Here, what eight of them had to say about the supplement. This isn't just a supplement mbg can stand behind—it's a supplement experts can too.
"I take nr+ for its powerful skin benefits. My family and I travel a lot, and I'm mindful of the toll it can take on my skin. Since starting mindbodygreen's nr+, I've seen fine lines disappear, and my skin feels more hydrated, dewy, and smooth. I've always taken care of my skin, but it's become even easier to maintain and restore my glow with this product.*" —Tara Stiles, founder of Strala Yoga and internationally acclaimed yoga instructor
Intelligent combination of ingredients.
"I take nr+, a formulation with a really intelligent combination of ingredients that support both more efficient energy production and smoother skin from a few different angles.* mbg developed nr+ with Thorne, the clean supplement brand most trusted by health care practitioners, so it goes through four rounds of testing, from raw ingredients to stability. I've built nr+ into my routine by taking two capsules in the morning (along with my other supplements) and have noticed a few things so far, including renewed vibrant energy, more youthful skin, and a more normalized circadian rhythm." —Ellen Vora, holistic psychiatrist practicing in New York City. She graduated from Columbia University Medical School, received her B.A. in English from Yale University, is boarded in psychiatry and integrative and holistic medicine, and she's also a licensed medical acupuncturist and certified yoga teacher.
"As a dietitian and food lover, I'm picky about what supplements are worth my time. mindbodygreen's nr+ makes the cut every day to help my body work efficiently by supporting natural energy production on a cellular level while promoting healthy aging. If you're looking for the wellness supplement everyone will be talking about in a few years, this is it!*" —Carlene Thomas, RDN, registered dietitian nutritionist and author. She has appeared on CNN, Fox, and Washington, D.C., morning shows.
Vital for the healthy aging process.
"If you raise NAD+, you promote a vital, healthy aging process. Nicotinamide riboside is an incredibly promising compound that most people haven't heard about. This formula supports healthy aging by combining NR with rhodiola (an adaptogen), astaxanthin (a potent antioxidant from algae), betaine for heart health, and phytoceramides for radiant skin.*" —Robert Rountree, M.D., is a board-certified practitioner of family medicine. He received his M.D. from UNC–Chapel Hill, followed by a residency in family medicine at the Hershey Medical Center. In 2002, he opened Boulder Wellcare, a private practice specializing in personalized health care consulting.
"I have started a new decade in my life and therefore begun to take skin health and healthy aging more seriously than ever before. I want to tackle aging at the cellular level, making sure I am being smart with how I nurture and tend to my skin. This is where mbg's breakthrough supplement nr+ comes in.* I've had a better sense of emotional and mental health, better sleep, and mental clarity.* Overall, too, I feel confident I am helping my skin long term.*" —Debbie Kung, DAOM, L.Ac., is a board-certified doctor of traditional Chinese medicine and NCCAOM licensed acupuncturist and herbalist with a patient-first, nurturing, private practice at Kung Acupuncture in New York City. She specializes in facial rejuvenation acupuncture.
"Pretty soon after starting nr+, I noticed a huge difference not only in my energy levels but also my recovery during training. Fueling my day is so important⁠—especially as a mom of three. And as an Ironman champion and 66-time Ironman finisher, choosing quality ingredients in my supplements is nonnegotiable. mindbodygreen and Thorne are leading the pack with this formula.*" —Hillary Biscay, Ultraman World Champion, Ironman Champion, and the most prolific iron-distance competitor on the professional women's racing circuit, having completed over 60 Ironman triathlons
Awakened my skin and body.
"I am a mom and fitness instructor living a busy life in New York with very little time for rest and recovery. This leads to not enough sleep, not enough time to let my muscles recover, and barely any time for a proper beauty routine. I teach and believe in caring for your body starting from deep inside, and nr+ has given me that access from my home, in pajamas. This product has brightened and awakened my skin and body back to its youthful state, which makes me feel empowered!" —Lia Bartha, founder of The B Method and certified classically trained Pilates Instructor of over 10 years, based in New York City
"nr+ is truly a powerhouse supplement. This formulation is so unique because it contains key ingredients that slow the aging process on multiple levels. As a doctor, I insist on the highest purity standards and quality with supplements, and mindbodygreen and Thorne hit the bull's-eye with this one. I am taking it myself, and I can't wait to start using nr+ with my patients.*" —Heather Moday, M.D., integrative and functional medicine expert. She received her medical degree from Tulane Medical School, completed a residency in internal medicine and a fellowship in allergy and immunology, a fellowship in integrative medicine with the Arizona Integrative Medicine program, and is board-certified in integrative and holistic medicine. She completed her functional medicine training with the Institute for Functional Medicine and the Kalish Functional Medicine Fellowship.