3 Expert Tips To Feel More Awake & Alert (Even Right Now)
mbg Beauty Director
By Alexandra Engler
mbg Beauty Director
Alexandra Engler is the Beauty Director. Previously she worked at Harper's Bazaar, Marie Claire, SELF, and Cosmopolitan; her byline has appeared in Esquire, Sports Illustrated, and Allure.com.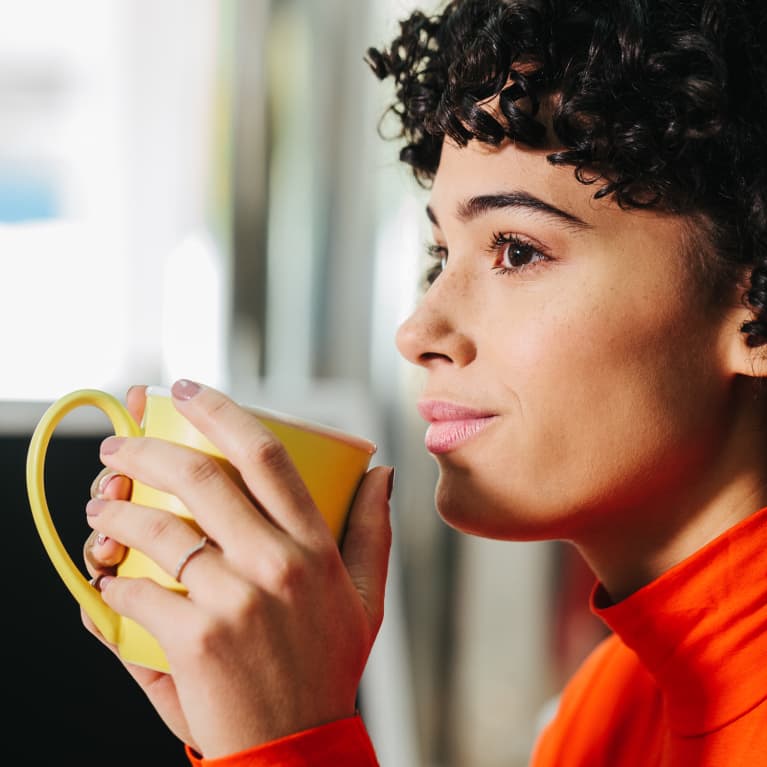 This article was produced to support the mindbodygreen supplements+ line. Our supplements adhere to the highest standards of ingredients and quality. We hope you enjoy these products, for more information
click here
.
Staying focused, especially right now when so many of us are stuck in our homes, feels especially hard lately. Brain fog seems to be creeping up and infecting the most basic of tasks. And no one wants to feel unfocused or lackadaisical.
So if you're feeling it extra hard lately—and looking for a solution—we've rounded up the top tips from our experts:
1.
Take an energy-supporting supplement.
Nicotinamide riboside is thought to have powerful perks to support healthy aging.* Among other things—like energy, muscle health, and longevity—NR may help with memory and cognitive function.* Our bodies can convert NR into nicotinamide adenine dinucleotide (NAD+), a molecule that lives in your cells and helps with healthy aging, energy production, and cell health. And studies are starting to show that it may help with brain cells, too. In one animal study, the researchers found that NR may help with DNA damage, better brain plasticity, more new neurons, and lower levels of neuron damage than the placebo group. The test group also did better on behavioral and memory tests, like water mazes and object recognition.*
This statement will likely come as no surprise: We all spend too much time on our phones and computers, especially when we're all trapped indoors. The American Optometric Association (AOA) reports that an average American worker spends at least seven hours a day on the computer either in the office or working from home. Other recent reports indicate that it could be as much as 11 hours each day that the average American adult spends looking at a screen of some kind—including mobile devices like phones. And according to physician Robin Berzin, M.D., this is causing issues: "Healthy young patients of mine in their 20s, 30s, and 40s are reporting chronic insomnia, brain fog, and short-term memory loss," she says.
However, we understand that limiting screen time may not be possible for everyone. Her advice? "Load up on nutrients that have been shown to combat some of the symptoms of computer vision syndrome—specifically, the carotenoid antioxidants zeaxanthin, lutein, and astaxanthin," she says. "And, if you can't avoid using a computer or other digital device before bed, consider wearing a pair of blue-light-blocking glasses in the evenings, which have been shown to help restore melatonin production."
3.
Use these acupressure points.
While you're better off tackling brain fog consistently and proactively—it's easier to prevent something than stop it—when it happens in the moment, you can use specific acupressure points to snap yourself back.
In this helpful how-to-ease-brain-fog guide, licensed acupuncturist Paige Bourassa, DACM, L.Ac., RHN, explains three hot spots to focus on when you're feeling fuzzy. "To help lift your brain fog, stimulate each of those points for 60 to 90 seconds with moderate pressure, then move to the next one in the cycle," she says. "You can do this cycle two to three times when you are feeling tired and sluggish, and then get up, move around the room, and take some deep breaths."