4 Expert Tips For Raising Joyful Children — Even During Tough Times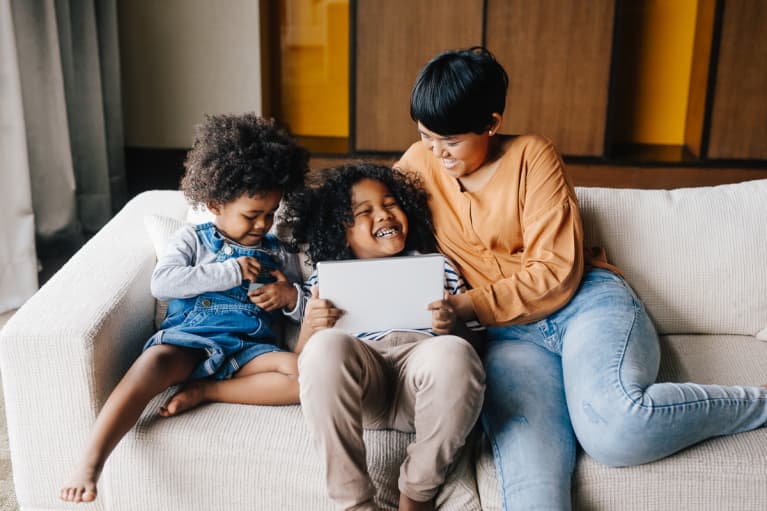 Our editors have independently chosen the products listed on this page. If you purchase something mentioned in this article, we may
earn a small commission
.
Small acts of joy go a long way in times like this. If you are struggling to feel that way right now, that's OK. But there are ways you can instill happiness within your family, and especially with your kids. You don't have to be perfect—notes on that later—but you can try to be happy.
"Think of happiness as a set of skills rather than an inborn personality trait," Christine Carter, the author of Raising Happiness: 10 Simple Steps for More Joyful Kids and Happier Parents, has said. Of course, some children have a more cheerful disposition; others are a little grouchier. But she encourages parents to consider happiness to be like learning a language: "Some kids are going to be good at picking it up quickly, others are going to struggle. But we all need to be taught the basic grammar. And we all need to practice that grammar to become fluent."
Often kids focus on their own needs rather than on helping others, but in the long run that won't make them happy. "We think that happiness comes about because you get things for yourself," according to Richard Ryan, Ph.D., a psychologist at the University of Rochester. But "it turns out that...giving gets you more," he adds. According to a study, the more people participated in meaningful activities, like helping others, the happier they were. Harvard psychologist Richard Weissbourd, Ed.D., has offered the following recommendations for raising kind children: Make caring for others a priority by stressing kindness over happiness, provide opportunities for children to practice caring and gratitude, expand your child's circle of concern to more than just a small group of friends and family, and be a strong moral role model, leading by example.
Helping your child to look on the bright side can make navigating the tough teen years easier. Australian researchers found the more optimistic a group of 12- to 13-year-olds were, the less likely they were to become depressed. But even if your kid isn't naturally positive, he or she can learn to be. When a problem arises, encourage your child to recognize the issue and think about what caused it, as well as how he or she could improve the situation, Martin Seligman, Ph.D., director of the Positive Psychology Center at the University of Pennsylvania, has reported. Also, keep in mind that your child will pick up on your positive outlook, so rather than complaining that the line in the grocery store is too long, try saying, "This line is moving so fast, we'll be out of here in no time!"
3.
Don't push perfectionism.
Encouraging your child to do his or her best is one thing; focusing on it to the exception of everything else is another. Psychologists say it's more important to praise children for their effort and hard work than for their intelligence or skill. Research by Stanford University psychologist Caroline Dweck, Ph.D., has found that when children were praised for their intelligence in solving a puzzle, they were less willing to take on a harder task; those who were given positive feedback for working hard most often opted to attempt a more challenging task. "They feel smart when they are working on something really difficult and making progress," says Dweck. And realizing that it's normal to not always be perfect is an essential skill for achieving happiness. "We need to teach children that it is totally OK to make mistakes—we often learn life's best lessons when we make mistakes."
One of the biggest signs of future success is self-discipline—the ability to delay gratification. (Especially important now.) A well-known study looked at how preschoolers reacted if they were given the choice to eat one marshmallow immediately or two if they waited 15 minutes. Those who were able to wait out the time and get twice the reward statistically had a higher level of success and happiness decades later. Researchers say you can help your children develop more willpower by focusing on the reward ahead or distracting them by focusing on something else. Learning self-discipline can also help kids better handle frustration and stress.