3 Expert-Backed Poop-Promoting Tips We Can't Stop Thinking About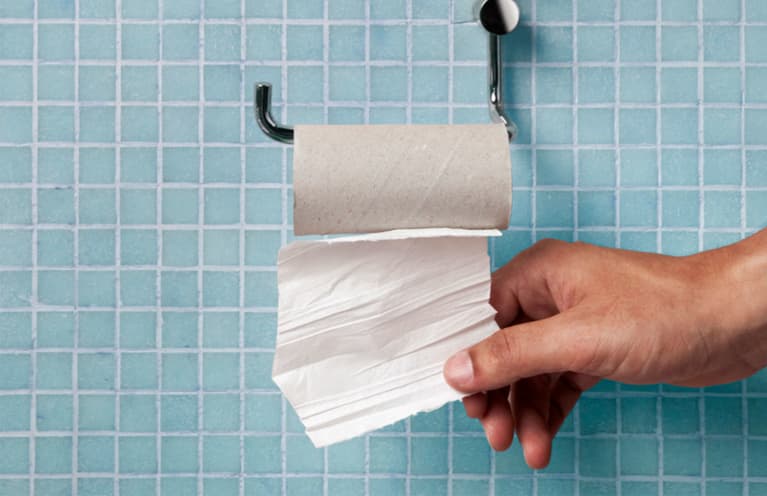 It's 2022 and we can yell it from the rooftops without shame: Pooping is great! That is, when you're on a regular schedule. As for the best ways to bolster your digestion on a regular basis? These are some expert-backed tips we can't stop thinking about—follow this advice for supporting gut health and keeping everything running smoothly:*
It's no secret that following a balanced and nourishing diet is one of the best ways to support your overall well-being, particularly when it comes to hitting the restroom. Fiber-rich foods are essential to maintaining regularity, as they can add some necessary bulk to your stool and keep things moving smoothly. "High-fiber foods increase frequency of normal bowel movements, help increase gut motility, and can even increase stool volume," Tanya Zuckerbrot, R.D., once told mbg. "Fiber is nature's broom."
As for which fibrous foods will clear out your gut most effectively, Will Bulsiewicz, M.D., MSCI, suggests starting with prunes, oats, chia seeds, and ground flax. Take note that adding too much fiber at once can cause bloating instead of the desired effect, so it's best to gradually introduce this nutrient into your diet if you're not presently eating very much.
Maintaining healthy bacteria within your gut can support regularity, and investing in a good probiotic may make all the difference in your bathroom experience—not to mention it can help ease bloating.*
Integrative medicine doctor Vincent Pedre, M.D., previously explained, "Think of probiotics as your little helpers that restore order and help maintain harmony in your gut ecosystem."* If your gut needs that little extra assistance, mbg's probiotic+ supplement contains four targeted strains to aid in healthy digestion, elevate your gut microbiome, and yes, keep you regular.* Your body will thank you.
You've heard it time and time again but only because it's true: Drinking water is absolutely essential to so many functions in your body. That includes—you guessed it—going to the bathroom. "Hydration is critical for proper elimination, so drink at least six to eight glasses of water a day," functional medicine doctor and mbg Collective member Mark Hyman, M.D., once suggested.
While you should be trying to drink enough water as is—especially in the hot summer months—your gut, especially, depends on adequate hydration to make your bathroom experience as smooth as possible.
Being proactive about your gut health and taking regular steps to support healthy pooping will unequivocally improve your quality of life. There is still a stigma around talking about it, but poop is a natural part of life, and these are some of the best habits to make sure you're keeping this aspect of your health on track.* Now, go drink a glass of water!