81 Percent Of Tap Water Has Chemicals Linked To Cancer. Does Yours?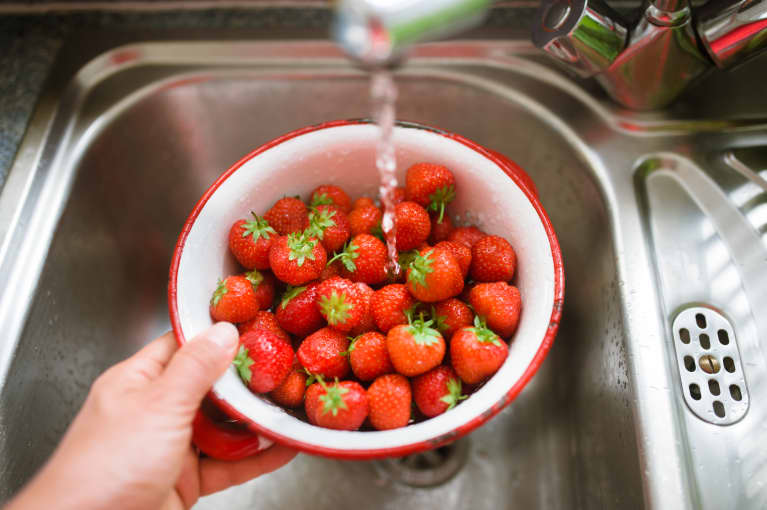 Today, the Environmental Working Group unveiled a database to help Americans find out exactly what's in their local tap water. And it's a lot more than just H2O.
The watchdog organization has spent the last two years compiling data from nearly 50,000 state utilities across the country and water records from the EPA to paint a vivid picture of the tap system. If you live in the States, you can input your area code for a quick scan of the chemicals that have been detected in your water since 2010 and an idea of how they stack up compared to state and national levels.
So what's the deal with our water?
At first glance, the database is alarming: 250 chemicals were detected in American drinking water overall (160 of which are not regulated by the federal government). Even more worrying, 81 percent of systems tested had contaminants that have been linked to cancer. Some of the most notable offenders include Chloroform and Chromium-6, though more research still needs to be done on exactly how much of these we need to ingest to be at risk.
Despite being lauded as some of the cleanest in the country, scroll through Manhattan's tap and you'll find six contaminants present at levels that are technically legal, but the EWG deems potentially unsafe.
"Legal doesn't necessarily always mean safe," EWG senior scientist David Andrews tells mbg. "The legal limits are often a few decades old, and these limits can be in negotiation between the EPA and water utilities."
EWG scientists compiled peer-reviewed research to land on chemical limits they feel are safe for the everyday consumer. To do so, they relied on trailblazing states that put lots of money into cleaning up local utilities, like California, whose state regulations are more stringent than the federal ones on 30 to 40 chemicals.
Andrews thinks that special interest groups are in large part to blame for the somewhat lax federal standards. "This database shows the inability of the EPA to set any new contaminant regulations in over two decades, due in large part to significant pushback from potentially regulated industries. Chemical companies have significant financial incentives to delay changes to the current regulations, especially if that company would be liable for its pollution down the road."
The EWG hopes that this resource will help consumers feel empowered to make a difference. If you are concerned about the numbers that you find for your area, Andrews recommends reaching out to your local water utilities and regulatory bodies and pushing for change.
In the meantime, consider investing in a quality filter. Carbon filters are the way to go if you're on a budget, while reverse-osmosis and solid-block carbon filters are great options if you're willing to shell out a bit more to get rid of more pollutants.
"It is shocking what can be found in the water of industrialized nations. Toxic industrial runoffs, heavy metals, and pharmaceutical drugs are the bigger categories to watch out for," says William Cole, D.C. "Carbon filters can do a great job at filtering, and certain brands have filters that focus more on certain pollutants, allowing you to pinpoint your water's particular problem. Reverse osmosis filters tend to remove more pollutants than carbon filters but tend to be more expensive."
"Not all contaminants can be removed by activated carbon filters, so I tend to recommend block carbon filters, which are more thorough in their filtration capacity," adds Rhea Mehta, Ph.D. "I always look for brands that do third-party lab testing and carry reputable certification labels."
Wondering how concerned you should be about the chemicals around you? Read up on these common carcinogens and how to avoid them and the controversial compound that is in drinking water in all 50 states.