The Scientifically Proven Way To Unlock The Transformational Power of Setbacks
mbg Contributor
By Leigh Weingus
mbg Contributor
Leigh Weingus is a New York City based freelance journalist writing about health, wellness, feminism, entertainment, personal finance, and more. She received her bachelor's in English and Communication from the University of California, Davis.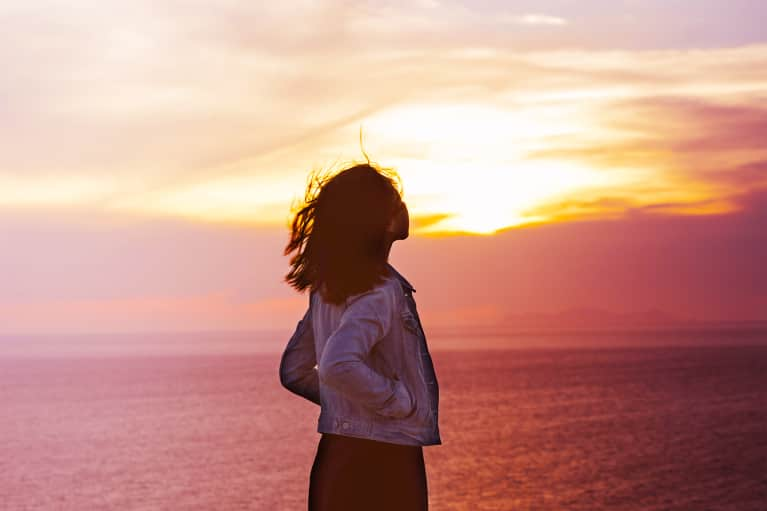 Our editors have independently chosen the products listed on this page. If you purchase something mentioned in this article, we may
earn a small commission
.
When tragedy strikes, surrendering to your sadness and staying in bed all day sometimes seem like the only option.But it's possible to have an entirely different reaction to a serious setback: You can actually come back from something hurtful or tragic stronger and with a better perspective on life. Transformative resilience is a term coined by mother-daughter team Stephanie Marston, a psychotherapist, stress expert and corporate consultant and Ama Marston, an internationally recognized strategy, leadership and business with purpose expert in their new book Type R: Transformative Resilience for Thriving in a Turbulent World. This hot topic of discussion is gaining traction across, psychology, business, and international affairs.
Understanding how transformative resilience works.
When we get knocked down, it's hard to imagine whatever difficult time we're going through ever being something we grow from. But Alison Stone, LCSW, says healing from emotionally difficult experiences is a lot like healing from a physical injury. "Perhaps your physical injury healed on its own through rest, or maybe you needed medical intervention like a cast or physical therapy. Regardless, most of us have witnessed our bodies recover," she explains. "Transformative resilience works because our brains, like our bodies, are hard-wired to heal and adapt. Our brains are very capable of taking in new information and using that to guide our behavior moving forward."
Of course, sometimes that adaptation doesn't happen naturally. In that case, Stone explains, most people seek therapy to help move the process along. Sometimes that adaptation or healing doesn't occur so seamlessly, which is often why people seek therapy."
Who displays transformative resilience?
If you're thinking, That sounds great, but it doesn't sound like me, think again. If you've ever stepped foot in a therapist's office—or even thought about it—you're likely to experience transformative resilience at some point. "I'd say most people who come into my office are displaying transformative resilience," says Stone. "If you're willing to be open and vulnerable in order to heal, I think that's something that should be celebrated."
A more concrete example Stone sees often is people who come to her because they've been hurt by someone close to them. "Often the instinct is to want to change the other person. Well, we aren't going to have much luck changing other people. But, we can heal the wounds inflicted and decide if or how we want to participate in these relationships going forward," she explains. "I've also seen how crucial a shift in perspective is. Many people blame themselves for traumas they have suffered, and releasing this burden can ignite their inner resiliency."
How to set yourself up for transformative resilience.
With the right training, anyone can develop transformative resiliency," explains Elizabeth Lombardo, Ph.D., author of Better Than Perfect: 7 Strategies to Crush Your Inner Critic and Create a Life You Love. "It is a skill that can be learned and practiced."
Lombardo emphasizes that the belief that you have the power to respond to a specific situation the way you want to is key to transformative resilience. "You can 'train' yourself by looking for positives, even in less-than-positive events," she says. "For example, looking back in your life, when were some times when you were upset about what was going on, only to realize in the long run it was a blessing? Maybe your relationship ended, or you did not get a job you wanted at the time. And yet, with time, you found a better partner or work."
It may not be easy, but remembering the power of transformative resilience when you're going through a hard time is crucial to coming out stronger than ever on the other end.
Fascinated by the concept of transformative resilience? Here are five things resilient people do differently.