Hot Yoga: A Complete Guide
Registered Yoga Teacher and Personal Trainer
By Kristin McGee
Registered Yoga Teacher and Personal Trainer
Kristin McGee is a celebrity yoga + pilates instructor and ACE certified personal trainer. She has been featured in over 100 yoga and pilates videos and graduated from NYU's Tisch School of the Arts.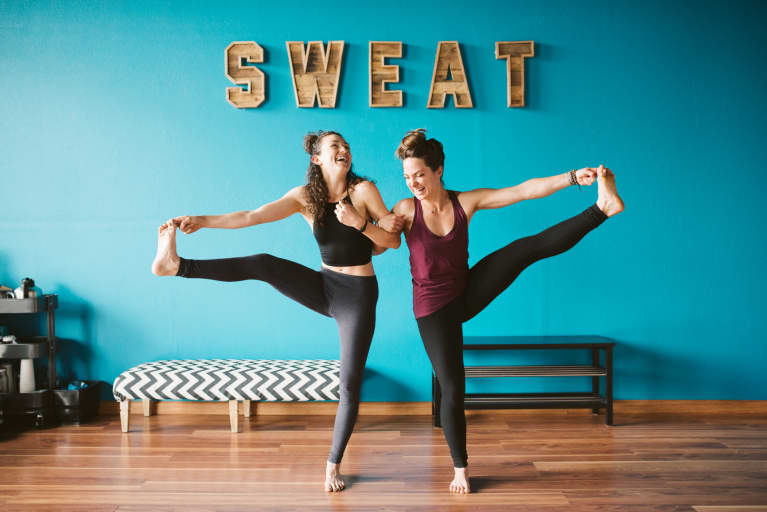 Hot yoga is any form of yoga done in a heated room more or less—there's no official set of standards and practices. Many hot yoga studios offer different forms of hot yoga that vary in style—for example, there's vinyasa hot yoga, which is similar to your standard vinyasa yoga. Many hot yoga forms stem from Bikram and are just changed slightly.
Sweat is a major by-product of hot yoga, which means hydration and recovery are also key to the practice. In addition to the mental gains, studies have stated that sweating can also help with detoxification, increased circulation, and other chronic health conditions.
Typically, the hot yoga room is heated to between 95 and 105 degrees as you practice flowing from one pose to the next. The objective behind the heated room is to loosen up the muscles to fully practice the sequence of poses. In a typical vinyasa yoga, you use your breath and sun salutation to generate body heat, so by the time you go into deeper postures, the body is ready to move and adapt accordingly. The sequence for classes often depends on the type of hot yoga class, but as with any form of exercise, it's important to listen to your body, breathe, and to not overextend yourself, especially since there's heat involved.
Yoga is open to everyone, but it's important to be even more mindful when jumping into hot yoga. People with high blood pressure and pregnant women should definitely avoid hot yoga, and everyone should be aware of decreased blood pressure; increased heart rate; and feeling dizzy, weak, or nauseous. Again, proper nutrition and fuel before and after a hot yoga session is crucial.
Most people equate hot yoga with Bikram yoga. Bikram yoga is the grandfather of sweaty yoga. Bikram Choudhury brought his style of heated yoga, 26 postures repeated twice in 105 degree heat, to the United States in 1970. The steamy room plus repetition was appealing to many people and caught on quite quickly. To date there are approximately 330 Bikram studios in America and 600 worldwide. If you're looking to bliss out with a soothing touch, Bikram may not be for you. It's generally very regimented and attracts devotees of the particular sequence.
Also known as Modo yoga, Moksha yoga is a community-based, independently owned studio that uses seven philosophical pillars, which include peace, learning, support, and awareness. Moksha varies from studio to studio and so does the temperature. This type of yoga focuses on whole-body strength and flexibility. Classes always begin with a mind-centering relaxation pose.
Moksha yoga also focuses on being green and eco-conscious. If you are looking for a yoga practice that is holistic and predictable in its sequence and level of difficulty or ease, Moksha might just be the perfect style for you.
Evolation yoga is growing very fast and teaches Bikram's original hot series at full heat of 105 degrees. Evolation also offers flow, Ashtanga, and yin classes at temps ranging from 75 to 90 degrees so still hot but not as hot as other classes. This type places a fair amount of emphasis on lifestyle and inner work with studios in over 25 countries.
Heated vinyasa is another popular form of hot yoga. In these classes, yoga is performed in a heated room (85 to 90 degrees). Vinyasa is the alignment of breath and movement to create a dynamic, flowing form of yoga. Vinyasa's poses are held for a specific number of breaths before moving on to the next pose.
Hot power yoga is a large umbrella term for yoga without limits. Hot yoga has roots stemming from the Ashtanga yoga style. Hot yoga is a broad term that can cover many classes with a common principle of vinyasa flow, moving from posture to posture as well as being in a heated room between 85 to 100 degrees. Hot power yoga classes can usually be found at your local yoga studios and many gyms.
Baptiste power vinyasa yoga
Baptiste power vinyasa yoga was created by Baron Baptiste. Baptiste yoga tends to be a blend of several styles, including Bikram, Iyengar, and Ashtanga. It is different from Bikram yoga as it is not a set sequence. Classes are all different based on the instructor, and students are encouraged to follow their own desires when practicing. The room is set to 90 degrees, and most of the Baptiste studios are in Massachusetts. If you are looking for hot yoga but with more of a variety, Baptiste is a good place to start.
What to bring to hot yoga class.
Investing in a nonslip yoga towel might be valuable if you plan on practicing often. You place the towel on top of your mat to absorb sweat and keep yourself from sliding; the towel will also help give you a better grip. You'll also want to have a really good skidless mat; this way you will not be slip-sliding everywhere. Grip is not just a feature on your wish list; it should be the center of your attention. In humid, sweaty classes, the risk of slipping and hurting yourself (or crashing into the person next to you) becomes a serious concern. Additionally, essential oils are great for cleaning your mat after class.
Suggested apparel for hot yoga.
While you might think it's such a great idea to wear the fewest clothes possible, many people find tight-fitted capri pants are a better choice because sweating in shorts can make your legs slippery, which makes it difficult to balance. A form-fitting tank or sports bra is also recommended. Avoid oversize shirts that may fall down during class. It's probably also a good idea to abstain from wearing cotton, as the material tends to retain water (hello, sweat). Ideally, you really want something that's breathable and lightweight but also form-fitting enough to move through the poses without distraction or discomfort. Most importantly, make sure you have moisture-wicking clothing that's breathable. A bandanna or headband is also great for sweating and keeping hair out of the way, especially when in poses like downward dog.
Anytime we step out of our comfort zone, we grow, and that can be an added benefit. The challenge of the heat can force us to dig deep and move past mental limitations. Just be careful to make sure you're going past your comfort zone in a safe way, and use the practice like any yoga practice—to stay present, get stronger, and open up your body, mindfully.
Curious about the 11 types of yoga? We put together the ultimate guide explaining them all.