Cult-Favorite Snack Brand Founders Are Hoping To Make Over The Meat Industry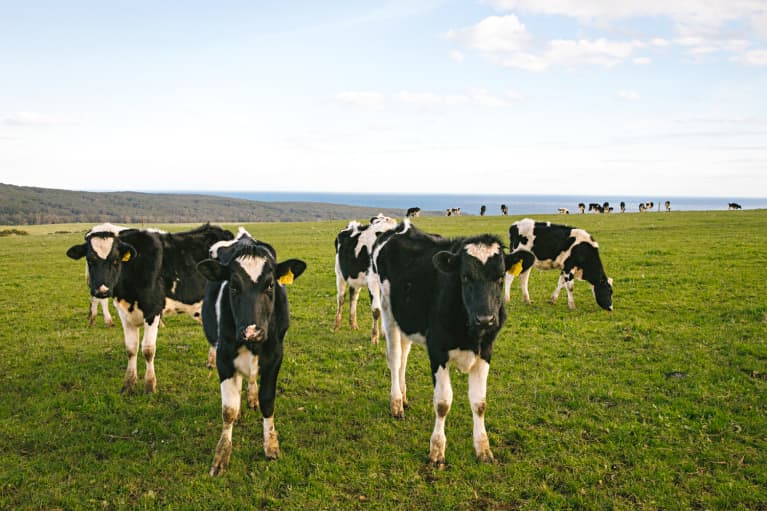 September 25, 2019 — 14:04 PM
EPIC Provisions put regeneratively grown meat on the map when it launched its snack foods made from grass-fed, pasture-raised beef, venison, wild boar, lamb, and bison. Founded by husband-and-wife duo Taylor Collins and Katie Forrest, the cult brand was acquired by General Mills in 2016. At this year's Expo East natural products show, Collins and Forrest revealed what they've been working on in the time since: Force of Nature, a company that will stock grocery store butcher counters across the country with regeneratively grown, more climate-friendly meat.
If you're saying, "Whoa, whoa, whoa, I thought meat was bad for the planet," you'd be right: The conventionally raised stuff absolutely is. In the U.S., an estimated 97% of our beef cows spend at least a portion of their lives on feedlots, which are often overcrowded, nutrient-poor areas that may or may not be doused in pesticides. As a byproduct of their unique digestion process, ruminant animals like cows and sheep also emit methane—a powerful greenhouse gas.
While cattle raised on a regenerative ranch still produce methane, they offset it with some climate-positive behaviors. For example, when animals are raised regeneratively, they are moved to different plots of grassland every few days so they can aerate and fertilize the soil naturally, then move on and give the land a break. This more closely mimics how the animals naturally move around and can lead to soil that supports more plants and therefore absorbs more rainwater and carbon from the atmosphere. Think of soil on regenerative farms like a sponge, while traditionally managed soil is more akin to sandpaper.
"Animals are a critical part of the ecosystem and a critical part of human health," Forrest told mbg when we visited her on a regenerative farm last year.
Eventually, they hope that their product will make up 1% of the meat industry.
Forrest and Collins used to be vegans until they realized how cattle could actually help us achieve healthier soil and a healthier food system by extension. According to U.N. predictions, we have about 55 years left of business as usual until all of the world's topsoil degrades. Forrest and Collins believe their new model for sharing soil-friendly, regeneratively grown meat with the masses can help the industry grow at the pace it needs to.
"Many [regenerative producers] just want to be on the land, helping their animals, being ranchers, being producers, being farmers," Robert Sansom, an EPIC employee and Force of Nature co-founder, tells Nosh. "Right now the system is punitive to those people that want to evolve their practices because they can't command the premium price that they deserve...without becoming experts in sales and marketing, and that's what we are."
The Force of Nature team will use its food industry expertise to sell fresh and frozen ground bison, wild boar, and beef for $9.99 to $12.99 for a 14-oz. pack, as well as pre-shaped burgers. They are already rolling out in Texas grocery stores and plan to launch a nationwide online marketplace with more specialty cuts like tenderloin and short ribs. Eventually, they hope that their product will make up 1% of the meat industry, Nosh reports.
It may not sound like a lot, but considering that global meat consumption is at an all-time high (despite the Beyond and Impossible Burgers of the world) every step forward is a step in the right direction.