Your Laundry Routine Probably Sucks For The Planet. Here's How To Clean It Up
mbg Contributor
By Christine Dimmick
mbg Contributor
Christine Dimmick is the founder and CEO of The Good Home Company Inc, author of Detox your Home, and a public advocate for health and wellness.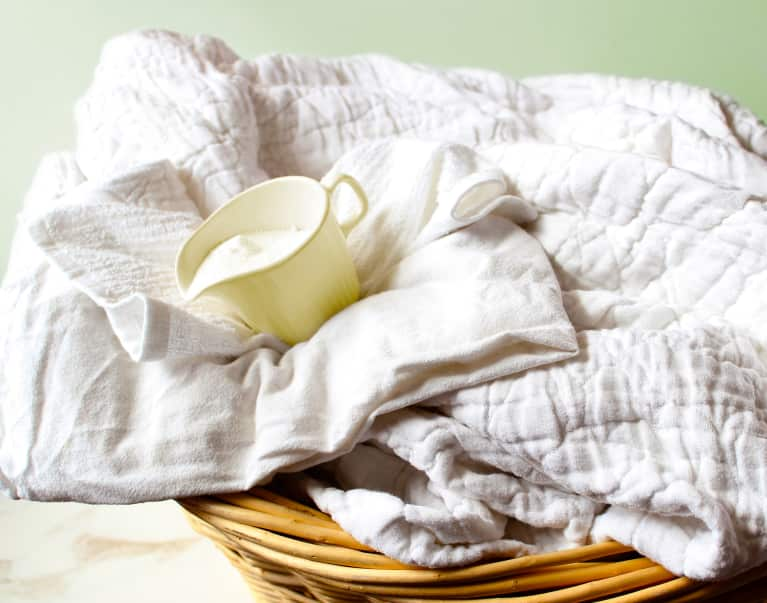 Our editors have independently chosen the products listed on this page. If you purchase something mentioned in this article, we may
earn a small commission
.
After being diagnosed with cancer, Christine Dimmick started looking into the environmental toxins lurking in her own home. What followed was 20 years of looking into cleaning products and cooking up a line of cleaner, safer options. Her new book,
Detox Your Home: Removing Toxins and Improving Your Life
, is the compilation of her research on the impact of every home product you can imagine. Check out this exclusive excerpt
on
a surprisingly dirty category: the washing machine.
Laundry is something most of us do daily, and the average American generates 500 pounds of laundry every year. One thousand one hundred loads are started every second, and they use 560 billion gallons of water, equal to the amount of water that flows over Niagara Falls evert 11 days.
And that's just the United States.
The impact that our laundry has on the environment is overwhelming, so let's break things down into simple steps and suggestions for greener cleaning.
The environmental impact of laundry.
Ninety percent of the total energy used by a typical washing machine is to heat the water; only 10 percent is used to power the motor. In the United States, 49 percent of laundry loads run with warm water, 37 percent with cold water, and 14 percent with hot water. A whopping 34 million tons of carbon dioxide emissions would be saved if every household in the United States used only cold water for washing clothes.
Honestly, I rarely use hot or warm water and don't miss it. Cold water causes less fading of dark-colored clothes, less shrinkage of natural fiber clothing, and even helps clothes last longer. If you have workout clothing with odors, the addition of borax (a natural mineral powder) or a half-cup of white vinegar will take it right out.
By using cold water, you will personally reduce your carbon dioxide footprint by 350 pounds a year, or 0.05 percent. Perhaps this doesn't seem significant, but like crowdfunding, if we all contribute, we will make a big difference. You can save an additional half a ton of carbon dioxide emissions by line-drying your clothing. If you can, you should! Finally, most of us now have high-efficiency (HE) machines; however, by using a front loader instead of a top loader, you can save an additional 7,000 gallons of water per year.
Laundry detergent's impact on aquatic life.
According to Lenntech, a water treatment and purification company, detergents can have poisonous effects on all types of aquatic life when present in sufficient quantities—biodegradable detergents included. All detergents destroy the external mucus layers that protect the fish from bacteria and parasites, plus they can cause severe damage to the gills. Surfactant detergents have also been found to decrease the breeding ability of aquatic organisms.
A sure sign of a chemical-laden product is a label without ingredients.
To clean more responsibly, always make sure to do full loads and not half-loads or less. Although many machines can use less water because they sense the size and weight of the load, the detergent is the problem here. Fewer washes means less detergent in our water system. And be sure to use detergents that are SLES or sulfate-free. A sure sign of a chemical-laden product is a label without ingredients.
The environmental impact of fabric softener and dryer sheets.
The most commonly used ingredients for softening in natural softeners are dihydrogenated palmoylethyl hydroxyethylmonium methosulfate and dioleoylethyl hydroxyethylmonium methosulfate. Common fabric softeners, they are also found in hair conditioners and skin-softening shaving products. They are considered better than average when it comes to biodegradability but are still found in our waterways. Both are derived from palm oil, which is linked to deforestation and human rights abuse. For nonnatural products, diethyl ester dimethyl ammonium chloride is used. It doesn't appear to be derived from anything natural, and it causes respiratory issues. Needless to say, it's time for a detox.
Fabric softener is a product we really don't need. I always use a sulfate-free detergent without softener—even for towels. You can avoid static cling by not drying any clothing from man-made materials—polyester, fleece—and letting them hang dry. These generate static, and by line-drying them, you can avoid softener altogether.
Or you can use vinegar as a natural softener and add your favorite essential oil so you don't get strong residue of vinegar after drying.
Want to swap out more home products for eco-friendly, DIY options? Peep this cheat sheet.