The Empowering Questions You Should Be Asking Yourself Every Single Day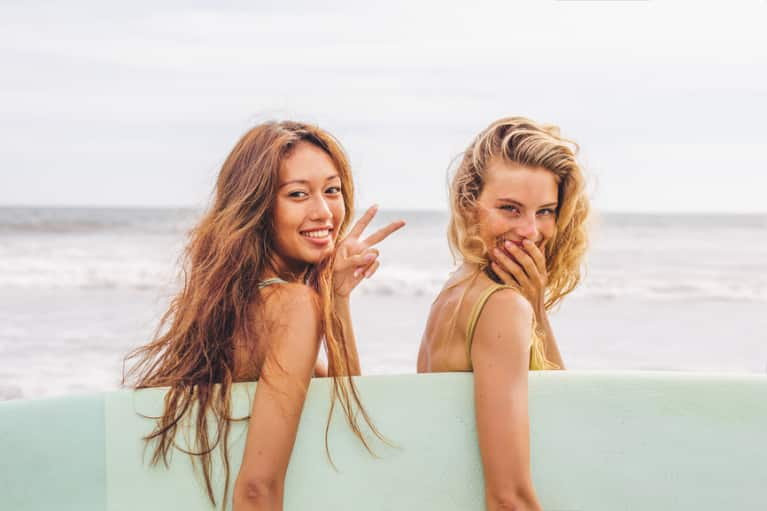 It's 5:45 a.m. and I'm going all out in a spin class. I'm embarrassingly excited for the locally famed, book-him-a-week-in-advance teacher to dole out one of his sparing shoulder touches. I've gotten his golden approval before and I'm voracious for it again, although I'm a bit out of shape after three weeks of travel for work where the only exercise I got was running through airports. Nevertheless, I'm frantically trying to keep the rhythm (right, left, right, left).
When there's finally a second to sit down, I realize that my chest is burning and I feel like I'm seconds from puking. That's when it dawns on me. I'm performing. I'm desperately seeking approval from a spin teacher I barely even know.
At that point in my life, I could hardly imagine a day lived without regard to anyone's approval but my own.
I start thinking (as best I can while keeping my legs going to "Purple Lamborghini") about who else I am looking to for approval. Is there anywhere in my life where I'm doing exactly what I want, just for me? Or am I constantly trying to prove myself, to ensure everyone around me likes me, respects me, knows I'm strong, smart, a great mom, a sexy wife...uh-oh.
As I drive home, I start to wonder how reaching out for other people's endorsements year after year is really affecting me. My best guess? It's disconnecting me from my own desires and dreams.
At that point in my life, I could hardly imagine a day lived without regard to anyone's approval but my own.
It was on that car ride home that I decided to design a day just for me using the following questions. I invite you to do the same.
The questions we should all be asking.
Love: If you're not worried what anyone thinks, how do you want to spend your time with your romantic partner? What kind of conversations do you want to have? What kinds of activities do you want to do together?
Friendships: Who do you really want to spend time with? Who makes you feel good, respected, and loved?
Money: How do you want to spend or save money if you are considering your heart's most honest desires?
Social media: If you are not the least bit concerned with getting "likes," what will you post on your social media sites?
Food: What will you eat if you are only seeking your own blessing? What will make you feel good and whole?
Work: What will you say at work that you are holding back out of fear of disapproval? How might you approach your job, your boss, or your clients differently?
Free time: How will you spend your free time if you're not worried about impressing anyone or accomplishing anything other than your own deepest desires?
Parenting: How will you parent if you are not seeking anyone's validation?
Sex: Will you have sex? What kind? With whom? How often?
It may not be realistic to live every moment of every day without considering others' approval, but I invite you to turn to these questions regularly. Since I started asking them, I've stopped saying yes when I really mean no. I started eating ice cream instead of frozen yogurt (life's too short). Sometimes dinner is a family scavenger hunt in our fridge, and I've set new boundaries with clients that felt gut-wrenchingly risky (would they all leave?).
And yes, some clients left, and I worked hard not to chase after them or apologize. But I feel more alive, more connected, and more potent than ever. And new clients have shown up, ones who want to work with the me who is wide-awake and full of my own desire.