Contributing Food Editor
By Liz Moody
Contributing Food Editor
Liz Moody is a food editor, recipe developer and green smoothie enthusiast. She received her creative writing and psychology degree from The University of California, Berkeley. Moody is the author of two cookbooks: Healthier Together and Glow Pops and the host of the Healthier Together podcast.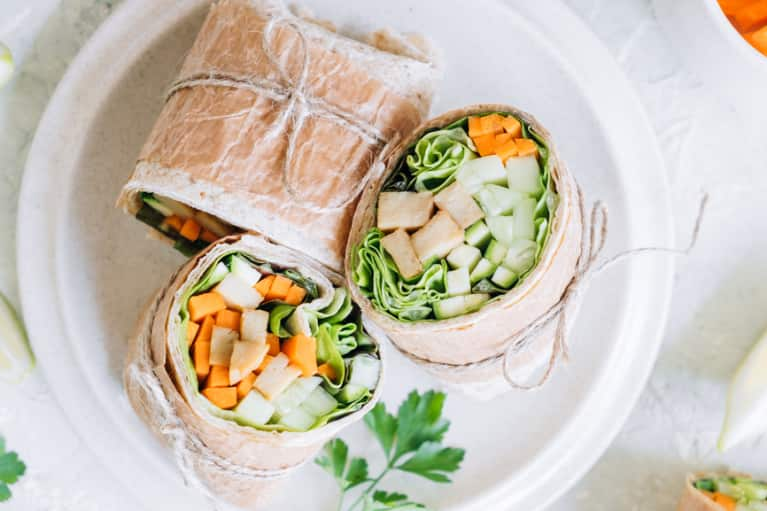 Though they're only an hour apart by plane, the chaos of Hollywood feels a world away from the invigorating Zen of revitalize, mbg's invite-only weekend-long wellness event nestled in the pink mountains of the Arizona desert. Emmanuelle Chriqui is equally at home in both worlds. Chriqui is a long-successful actress (catch her this summer in the Super Troopers sequel), but she's also an avid meditator (she does TM, or Transcendental Meditation, every morning) and Level 1 Reiki certified.
On her second visit to revitalize, we chatted about her go-to wellness practices, how she stays sane during long days on set, and why she was a fan of intermittent fasting long before it became trendy.
On her journey to wellness:
"My mother was sick for most of my life—she was battling cancer from when I was like 11, and when I was 14, she was diagnosed with liver cancer. She was given six months to live but ended up fighting it for two years. In those two years, she had Reiki masters and was doing visualization and meditation—you name it, she did it. Several years later, I moved out to LA, which is a tough place for anyone but especially when you're young, coming out on a far-fetched dream. I fell into meditation quickly, and I got my Level 1 Reiki, and it was so comforting. It was like a little bit of my mom with me, a little bit of home. And from there, it just spiraled. I started getting into yoga and ayurveda and all of that. All these years later, it's just part of my life."
"I've become incredibly regimented. Come hell or high water, I'll do the same routine—if I have a press junket at 5 a.m., I wake up at 4 a.m. and still go through it all. Bleary-eyed, I turn the coffee on, make my lemon water, and go get probiotics. Right now, I'm completely obsessed with Coconut Cult yogurt, so I'll eat some of that. I go do Transcendental Meditation, get my coffee, and then sometimes I will do a guided meditation as well as a little boost if I feel like I need it."
"I don't eat breakfast. When I heard about intermittent fasting, it immediately resonated because I've always had such an aversion to breakfast. One of the things I loved about the talks today (during Session 3, Dr. Steven Gundry and Dr. Carrie Diulus spoke about the myriad benefits of intermittent fasting) was that it reaffirmed so much that, just by being intuitive and listening to my body, I'm so much on the right path. It used to stress me out so much: What do I eat? Do I need to eat? Do I eat before the gym or after? But the doctors today explained that you're simply breaking a fast—it could be at lunch, dinner, whatever."
On what she eats to keep her energy up during long days on set:
"Recently, I was in a little indie movie, Hospitality, and I'm in every scene of the film, which takes a ton of energy. For a project like that, I'll go vegan. I'm not vegan—if I feel like eating a steak, I'll eat a steak; if I feel like eating fish, I'll have fish. But when I need more energy, I'll revert to a vegan diet because then I'm not spending all of that energy digesting. I always notice it after lunch because you've been up since 5 in the morning, and usually after you eat lunch, you just want to go to sleep. But when I go vegan and have tofu, vegetables, a super-light thing, I'll feel great—super energized the whole day."
Missed out on mbg's revitalize livestream? You can still catch all the talks here! Plus, sneak a peek into the gifting suite; find out the No. 1 way we can reduce global warming; read about the diet this hormone-expert recommends to women; and check out the best take-aways from an inspiring panel on the power of breathwork.