Emma Stone's Trainer Shares The Workout Move That Will Get You In The Best Shape Ever
mbg Contributor
By Leigh Weingus
mbg Contributor
Leigh Weingus is a New York City based freelance journalist writing about health, wellness, feminism, entertainment, personal finance, and more. She received her bachelor's in English and Communication from the University of California, Davis.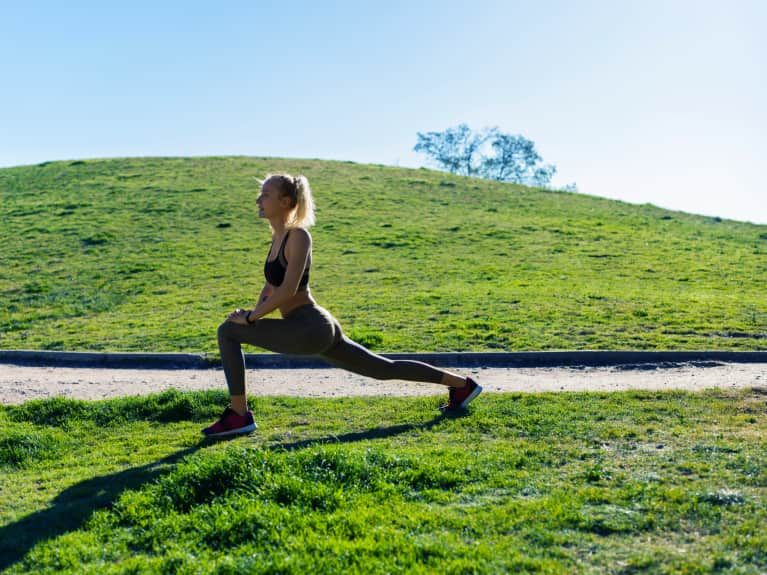 Jason Walsh has earned quite a name for himself in the Hollywood scene. In addition to founding Rise Nation, an exercise method that focuses on getting results through short, efficient workouts, Walsh has an incredible client list: Think Emma Stone, Jessica Biel, and Alison Brie, to name a few.
Walsh's workout, which is conducted on a Versaclimber, is billed as "the first true 30-minute full body workout." As for why so many Hollywood stars swear by Walsh and his method, he says it comes down to one thing: He cares. "I truly believe that if you do really good work, the word's going to spread," he explains. "I'm in it first and foremost because I like changing people's lives and fixing issues they've been living with for years. I can't tell you how many times I've been told by clients that for the first time in their life they've lived pain-free. I like helping people, and that's what's driven me from the very beginning."
Of course, there's more to Walsh than being a top-notch trainer. Read on for his tips for getting in the best shape of your life, and what he believes the role of men is in the women's movement.
The one workout move everyone should do (and the one food you should avoid whenever possible).
Like any good trainer, Walsh is the first to make it clear that there's no such thing as a "quick fix" when it comes to building a stronger and healthier body. But there is one move he recommends everyone learn how to do. "I think any and all forms of squatting or deadlifting are the most beneficial, but to get to that point where you can do these moves, you have to be able to do other things. I don't go in and say, 'OK, we're going to start squatting and it's going to fix everything. A good trainer or coach is going to break things down to the very basic minimal movements and make sure you're attacking any issues the body has with deficiencies, weaknesses, and poor movement."
And while he doesn't believe anyone should deprive themselves of pleasure, he does caution against consuming too much sugar. "Sugar is so addictive. You notice a direct correlation between sicknesses and sugar and inflammation in the body," he says. "I try to stay away from as much of it as I can. It affects everything—your skin, your longevity, your recovery."
What is the role of men in the women's movement?
Not one to ignore the obvious correlation between feeling physically and mentally strong, Walsh makes it his mission to help women feel physically stronger so they can go out into the world and feel mentally strong. "I grew up surrounded by women, and I've never had any real father figures around besides my uncle," says Walsh. "I feel a special connection to empowering women, and I love seeing how it expands their whole lives when they get physically stronger. By becoming brave and confident it cleans up a lot of those issues. It's highly gratifying to be able to do that."
As for what he believes the role of men is in the women's movement, for Walsh it's simple: support. "Real men will wholeheartedly support women during this time. Real men will support the movement, and they'll be understanding and gracious. This is a great time of change, and we need to embrace it with open arms."
Want more tips from celebrity trainers? This is the one self-empowerment move every woman should know.