This Artist's Portland Home Is A Plant-Lover's Dream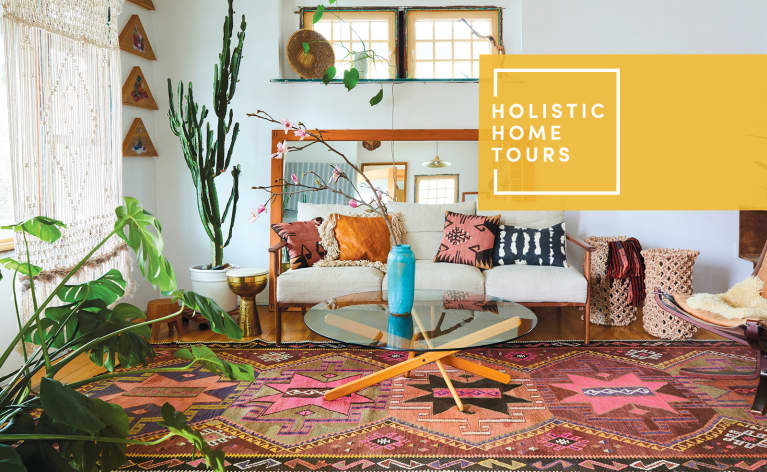 Our editors have independently chosen the products listed on this page. If you purchase something mentioned in this article, we may
earn a small commission
.
What three words describe your design philosophy at home?
Natural, bohemian, collected.
What noises can be heard in your home? What smells?
I love to diffuse essential oils, burn sage, and light 100 percent beeswax candles. In the morning I habitually flip on NPR while making my smoothies, and my fiancé Adam, who's also an artist, always has a playlist for when we make dinner.
Did you make most of the macramé in your space?
The macramé in our home—one large wall-hanging over one of the guest beds and a few plant hangers—is a mix of vintage and pieces I've made myself.
What's the most sentimental macramé piece you have, and what's the story behind it?
For sure the one that I made with my mom in spring of 2012. It was the first day I learned how to macramé. We stood in her kitchen, and she taught me while my sisters baked vegan muffins, and my boyfriend, now fiancé, played the guitar on the floor. She gave me the one she made, too, that day. Now they both hang up near the shower in our guest bathroom.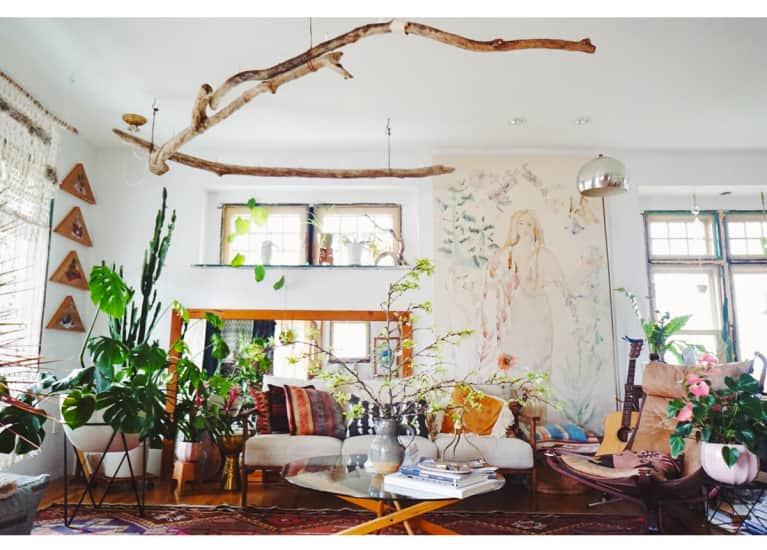 What is one unexpected way you display macramé in your space?
I have a plant hanger in the kitchen that moonlights as a fruit bowl! I love when it is filled with fruit. Right now, there is a glass bowl in it, filled with onions.
What's your favorite room in the house, and how do you use it?
It is always a tie between the kitchen and our bathroom. The claw-foot tub is my favorite place to relax after a long day, the skylight allows for the small space to feel like a plant-filled jungle. The kitchen is also great for unwinding with a cup of tea, bubbly water with bitters, or some wine.
What are some of your favorite ways to incorporate nature into your home?
Plants, plants, plants! As many as we can fit. My favorite season is summer, when the windows let in the most light.
Where do you get most of your plants? Do you have a favorite kind?
What's the best compliment you've ever received on your space?
We have been Airbnb "superhosts" for over five years, and so a lot of people come through our space. They usually comment on the driftwood light fixtures, the rugs, and the plants. "How do you keep so many plants alive?" is a question we get often too!
I think the biggest compliment, though, was being featured in Justina Blankeney's book, The New Bohemians. It's a really sweet time capsule for what our home looked like then. It is always evolving.
Want to add some of these design touches to your own space? Here are a few ideas to get you started.