Meet The Surfer Who's Fighting Climate Change From Her Board
mbg Sustainability Editor
By Emma Loewe
mbg Sustainability Editor
Emma is the Sustainability Editor at mindbodygreen and the author of "The Spirit Almanac: A Modern Guide To Ancient Self Care."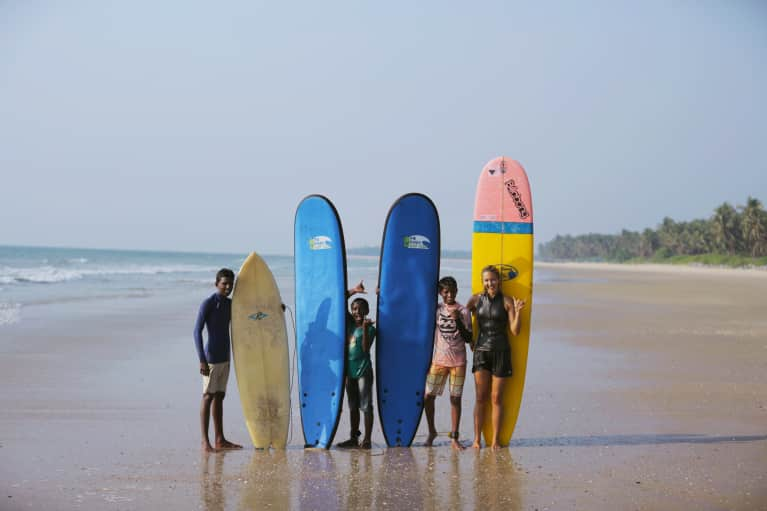 Since the beginning, the ocean has always held a special appeal for California native Emi Koch.
"I had always struggled in school. Teachers placed me in a special education class, and it was only years later that I was diagnosed with ADHD and dyslexia; I just thought I was stupid," she tells mindbodygreen via email. "Surfing was always my escape. I felt a sense of confidence and connection in the ocean that I never felt in a classroom environment."
Natural talent, a religious practice schedule, and a deep-rooted love of the water meant that by the time Koch was graduating high school, she was poised to go pro. But then a class trip to Mexico inspired her to take her sport beyond the traditional surf circuit.
"When I crossed the border, I witnessed unimaginable poverty for the first time. I met people who were living in such deplorable conditions, yet they demonstrated such incredible dignity and resilience. I was so inspired and in awe of their spirit," she says. In the years that followed, Koch seemed to live five lives: She studied to become an international diplomat in Washington, D.C., traveled to study the intricacies of various NGOs, and surfed around the world with Billabong. It all came together with a flip through a copy of How to Form a Nonprofit for Dummies, and her own organization, Beyond the Surface International, was born as the culmination of all her passions. A network of projects that teach children in poor coastal communities how to surf and tell stories as a means of environmental activism, Beyond the Surface is a powerful example of how sport can inspire massive social change.
These days, you can find Koch in Morotai, a remote island in Eastern Indonesia, where she spends her days teaching students of all ages how to surf, take photos and video that document their days, and speak English so they're better prepared for the island's burgeoning tourism market. At night, she edits photos and creates lesson plans so she can do it all again in the morning.
Though splashing around with locals and swarms of turtles, coral fish, and the occasional playful dolphins may sound like a pretty sweet gig, Koch has found life in Morotai to be by no means easy. It's challenging to be a woman, a foreign woman, nonetheless, in a society where domestic abuse is rampant. During the day, electricity on the island shuts off as temperatures climb to staggering highs. Not to mention, it's disheartening to see how the lack of infrastructure on the island is harming locals and their environment. "There isn't a trash collection system, so communities usually have a spot on the beach that everyone just dumps their plastic," she says. "The only other alternative they have is to burn it."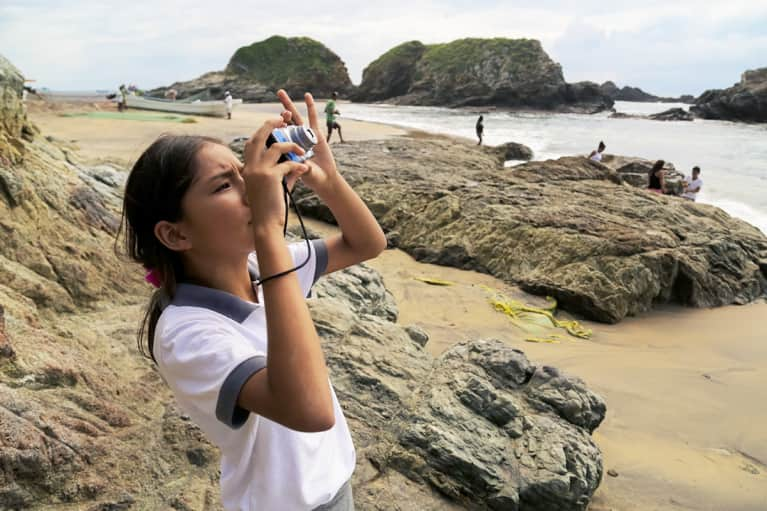 And yet, in a place that has little, Koch has found unparalleled joy and connection. "When you live in a remote community, I think the term remote is relative. You are removed from civilization, but you are closer than ever to nature and your most natural sense comes out." By celebrating the beaches and waves with her students, she hopes to teach them how to become stewards of the water. The opportunity to relish in nature together is what keeps her going day after day.
"We will protect something out of our love for it rather than guilt," she says of her philosophy. "I think it starts with a shift in mindset from 'You should protect the planet because some adult told you so' to starting to think of your environment as a playground. Surfing connects kids with their natural environment and themselves. It can be quite scary for some children. But pushing through their fears and experiencing the sheer joy of being propelled forward by a force greater than yourself is just surreal for them."
She describes their days out on the board as an exercise in mindfulness. "Surfing is definitely a kind of mediation—in the same way that meditation reminds me to always ask myself, before I do or say anything… It is nourishing? For my body? For my soul? For society? For the planet? When you surf, you are tuning in, connecting with the energy of the universe, and then playing with it. When you drop into a wave, you feel this rush, this sense of presence. There are no thoughts. You are just alive—dancing with a wave."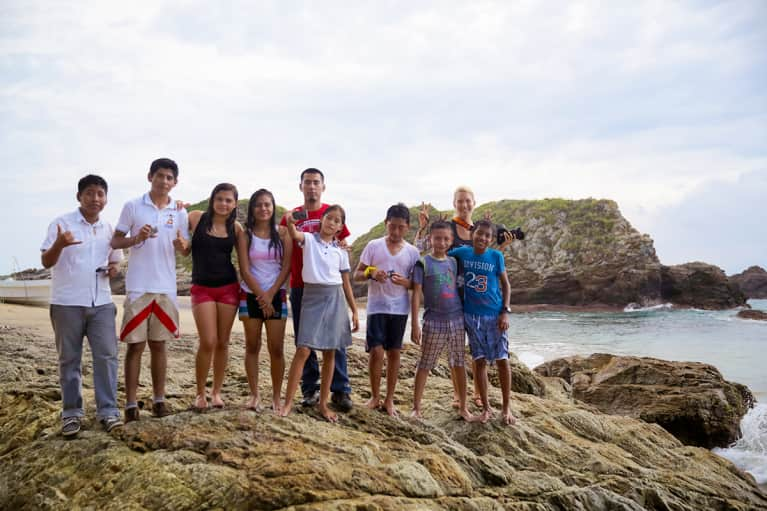 It's these moments that have inspired her students to work together on video PSAs that depict plastic pollution along their beach to share with local governments and hopefully encourage coastal cleanup initiatives. When she wraps up her time in Morotai in April, Koch looks forward to heading back to California for a master's program in marine biodiversity, where she can learn more about how to translate her work into lasting environmental change. From the other side of the classroom, she'll look back fondly on her days teaching in faraway lands that somehow feel a lot like home.
"American naturalist and writer John Muir once said, 'When we try to pick out anything by itself, we find it hitched to everything else in the Universe.' I think that's what I've found living with and working alongside remote communities. The fewer material possessions people have, the more they look to their relationship with nature as a lifeline. You discover how we are all connected; We are all in relationship with one another and everything around us in a marvelous intricacy."
Learn more about how to support Koch's work here, and check out this primer on how to help the ocean with your everyday routine.