Want A Hypoallergenic Home? Here Are 3 Things To Consider
mindbodygreen Editorial Assistant
By Sarah Regan
mindbodygreen Editorial Assistant
Sarah Regan is a writer, registered yoga instructor, and Editorial Assistant at mindbodygreen. She received her bachelor's in broadcasting and mass communication from SUNY Oswego, and lives in Brooklyn, New York.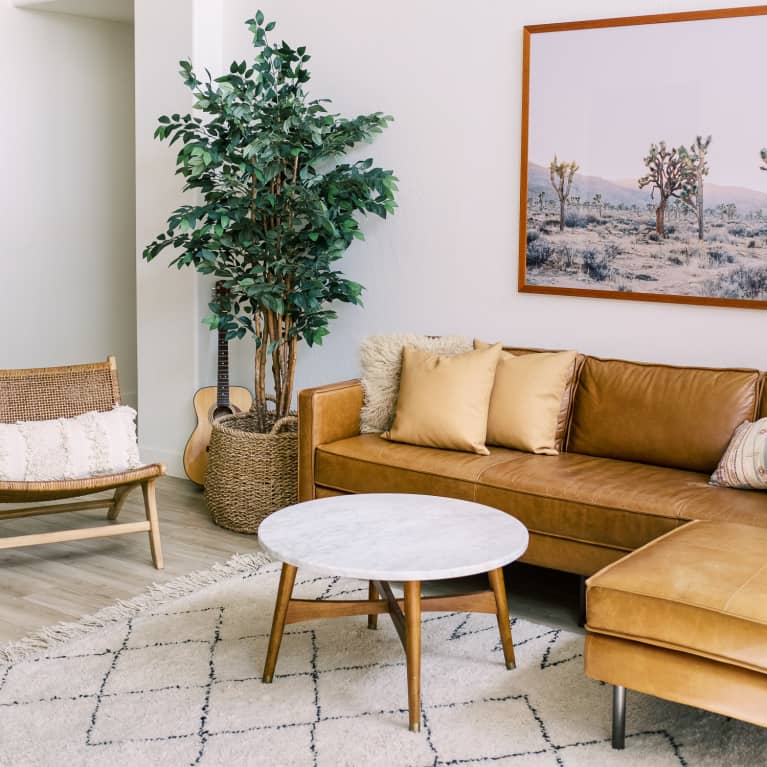 January 5, 2020 — 9:26 AM
Jason Karp is the founder and CEO of HumanCo, co-founder of Hu Kitchen, and when he was in his 20s, he reversed almost going blind by revolutionizing his approach to health.
Karp joined co-CEO Jason Wachob on the mbg podcast to talk about how he was able to do just that and provide inspiration for how we can remove toxins from our lives. And that goes for more than just food; one of the key factors Karp touched on was how our homes unwittingly affect us. There are "massive amounts of processing, chemicals, and engineering," he says. "And we're consuming these things, indirectly based on where you live."
Through his uphill battle with various autoimmune issues, including psoriasis, and the degenerative eye disease keratoconus, Karp has turned his home into a self-described hypoallergenic haven.
Here's how he did it.
Ditch the drapes? That's right, according to Karp. The drapes, the carpet—any unnecessary fabric is just a trap for dust to build up. "A lot of elements in modern housing are filthy," Karp says, "so I had to go down this journey of figuring out what parts of the home are the dirtiest."
Karp has seasonal allergies and is particularly sensitive to dust and dust mites. "Basically, dust is a combination of dirt, skin cells that shed off you, and bacteria. When you have a lot of nooks and crannies, the dust has lots of places to sit."
"Not putting things in like heavy carpeting and drapery dramatically reduces the dust load in your house. You still have to vacuum regularly but [...] even our wood flooring has wide planks, and our blinds are blackout shades on a track where no dust can accumulate. Our entire apartment is hypoallergenic."
Use quality woods in your home.
So if you're not putting in carpet, hardwood floors are a good bet. But as Karp points out, not all wood flooring is created equal. Through the process of supply and demand, he explains, the quality of products has severely diminished over the years as companies prioritize quantity over quality (and safety).
He mentions a recent case involving an American wood flooring company, saying, "They were using formaldehyde in the flooring, and it was off-gassing. And it was causing a lot of problems for a lot of people. They're inhaling formaldehyde in what they thought was their nice new home."
Because of this, the Karp's residence features real wood, not composites, to prevent excessive chemicals in their home. It's not cheap but ensures there's no toxic off-gassing from their flooring.
Another thing to avoid in your home, according to Karp and air-quality experts alike, are volatile organic compounds, or VOCs. VOCs can release gases, and they're used in a lot of household products like glues, sealants, and paints.
"A lot of people actually have real sensitivities to VOCs," Karp says, "and I didn't figure it out for myself until I learned it the hard way."
Just some of the side effects from VOCs listed on the Environmental Protection Agency's site include eye, nose, and throat irritation; headaches; poor coordination; nausea; and liver, kidney, and central nervous system damage. Some VOCs have also been found to cause cancer in animals and are suspected to have similar effects on humans. So look at your labels, steer clear of VOCs, and check out the EPA's list of ways to limit them.
While these three tips may involve a bit of a home overhaul, if you're serious about living in a toxin-free home, Karp makes some excellent points to consider. But from our drinking water to cleaning products, there are lots of little ways we can kick toxins out, too.
And before you start stressing, don't forget that stress is a toxin itself. "I find stress to be much more potent of an inflammatory agent than anything else," Karp notes. "When I've gone through these periods where I try too hard to live perfectly, the stress of it is counterproductive to everything else."
To get started revamping the health of your home, check out our crash course on reducing exposure to toxic chemicals.