Tackle Stains Naturally With This Homemade Carpet Spot Cleaner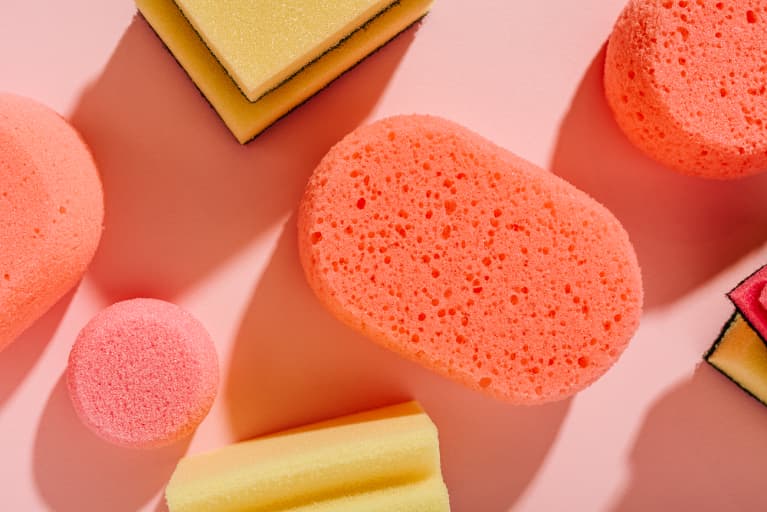 Stains happen, but removing them doesn't have to mean store-bought chemical cleaners. Making your own homemade carpet cleaner is both easy and effective. No matter what you're trying to remove, or what type of carpet you have, there's a DIY solution for it.
Here, green-cleaning expert Tonya Harris walks us through how to clean carpets using everyday ingredients that are probably already in your kitchen.
Here at mbg, we like to keep our cleaning process as natural as possible; the fewer ingredients the better—and ideally, no harsh chemicals should be involved, either.
Not only can certain cleaning products pose a threat to our skin and respiratory health, but they can be pricey too! You'd be surprised just how far a vinegar solution will go in your home, and it costs next to nothing to make. In fact, you've likely already got all the ingredients for your homemade carpet cleaner on hand.
Our favorite starter recipe for a DIY carpet cleaner.
This two-ingredient recipe should work on most carpets and most surface stains. The key to spot cleaning is to get to the stains as quickly as possible, and always soak up as much as you can with a paper towel or rag first. As always, check your carpets' care instructions, as they may have particular notes to keep in mind.
Baking soda
White vinegar
Water
A scraping tool (like a food scraper) for any caked-on stains
Soak up as much of the stain as possible with a clean cloth. Scrape anything up that's caked on.
Sprinkle the stain with a thin layer of baking soda.
Spray with a solution of equal parts white vinegar and water.
Let set for a few minutes, and watch as the combination fizzes and lifts the stain.
Blot clean—do not rub it in.
If any stain still remains, repeat as necessary.
How to adapt this method to tougher stains.
Wipe up any chunks of mud or dirt with a paper towel or rag.
Use a scraper if necessary to scrape off any caked-on dirt.
Sprinkle your baking soda and spray with the vinegar solution.
Allow to sit for a few minutes, and then blot dry.
Repeat as necessary.
Coffee, red wine, or other food and drink:
The original method should work here! Harris notes she's been able to get red wine out of her carpet with this spot cleaner. Remember to scrape away anything that's caked on and go to work with your baking soda and vinegar solution.
For things like candle wax or any other hardened material that needs to be loosened, Harris recommends a handheld clothing steamer.
Loosen the wax with the steamer so it begins to melt.
Scrape away as much wax as you can.
Sprinkle your baking soda and spray with the vinegar solution.
Allow to sit for a few minutes, and then blot dry.
Repeat as necessary.
For pet messes and other stinky stains, you can absolutely add essential oil to your vinegar solution to offer a fresh scent. Follow the original method and you should be good to go. This spot treatment will also mask the scent of the mess, so your pets don't continue to go back to that spot.
Old stains that have been sitting around a while:
And lastly, you guessed it—this treatment worked on old stains as well. Follow the same method, but let the baking soda and vinegar sit a bit longer. You can keep an eye on the stain to watch as it starts to lighten up. Repeat as needed, and if you need a little extra cleaning power, you can gently scrub the stain with a small brush (like a toothbrush or other cleaning brush).
Before you bust out your wallet for a pricey carpet cleaner, give this homemade option a try. The cleaners laden with harsh chemicals might work faster, but they come with their downsides—and you'll be amazed by how far a little baking soda and vinegar can go. So, when in doubt, go green with a DIY cleaner first before you bust out the big guns.