This Is How Cities Of The Future May Deal With Climate Change
mbg Sustainability Editor
By Emma Loewe
mbg Sustainability Editor
Emma is the Sustainability Editor at mindbodygreen and the author of "The Spirit Almanac: A Modern Guide To Ancient Self Care."
Our editors have independently chosen the products listed on this page. If you purchase something mentioned in this article, we may
earn a small commission
.
Some of the bleakest glimpses into a not-so-distant future of our planet predict that entire countries will be in a state of permanent drought, unbearable air temperatures will force communities indoors, and floods will decimate our coasts and displace millions.
It's forecasts like these that inspired Alan Marshall—an environmental researcher and serial traveler—to imagine a new future. Three years ago, the professor at Mahidol University in Thailand decided to pose a peculiar challenge to his students: Take a week to reimagine one city the year 2121 as an "ecotopia," a fantastical land where sustainability is prioritized.
The ingenuity that followed proved that this could become something bigger than a classroom assignment. Marshall and his team then spent months researching the biggest threats to 100 cities around the world and attempting to design for all of them in a book, Ecotopia 2121: A Vision for Our Future Green Utopia—in 100 Cities.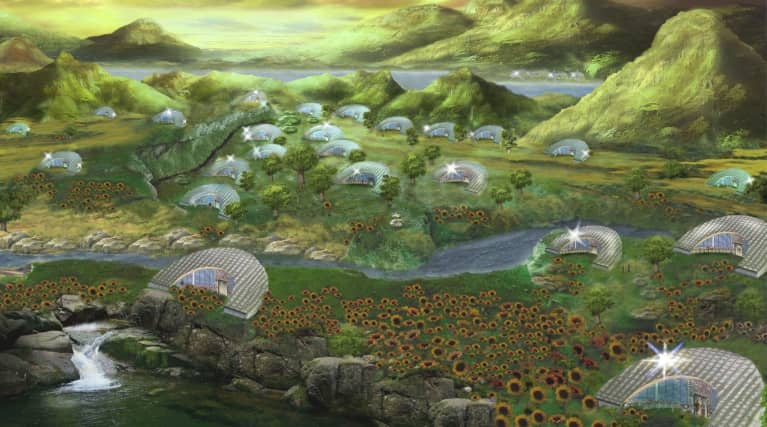 The text's renderings are part sci-fi, part fantasy, each following a unique fictional—but entirely possible—storyline. In some cities, sea-level rise has sent residents scrambling to higher ground. In another, poor air quality led to strict laws that citizens must plant four trees every year. His project presents best-case scenarios. While some of these utopias—disc-shaped "space station"-type platforms in Singapore, a carless Abu Dhabi—feel worlds away, others, like Sydney suburbs that are off-limits for development, could theoretically break ground tomorrow.
When mbg caught up with Marshall to learn more about the project, he predicted that every city around the world will be threatened by climate change in some way over the next 100 years. The question is how they'll respond. "Coastal cities like Houston and Miami and Dhaka and Bangkok are in danger from sea-level rise and increased tropical storm floods; mountain cities like La Paz, Almaty and Geneva are at risk of losing their water supplies because their feeder glaciers have melted away; desert (and arid-land) cities like those of the U.S. Southwest and the Sahel region of Africa face total extinction through drought, heat-stress, wildfires, and the financial costs of dealing with these problems," he rattled off.
Alan predicts that each city will need to adopt its own measures to combat an alarming future: Some will require more education and awareness, others stronger leadership. All of them, though, will depend on everyday citizens to get involved and vocalize their desire for a more sustainable way of being. His book is a warning of the scope of change that's needed but also a glimmer of hope—a reminder that human ingenuity is a powerful force.
Next up: These environmental technologies of today could pave the way for a brighter tomorrow.