4 Eco-Living Tips From An Expert That You Can Do Right Now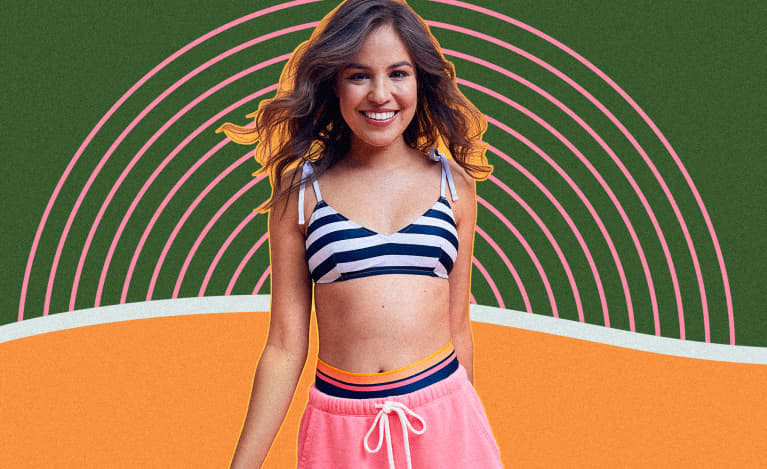 Manuela Barón has amassed a following on Instagram for turning trash into art. Just scroll through her feed and you'll see the activist draped in ballgowns of discarded newspapers and costumes fashioned out of plastic bags. And it's all in the attempt to teach her community about living more thoughtfully and eco-friendly.
Well, her community is about to get a whole lot bigger. Recently she was added to Aerie's roster of #aerieReal Role Models. The clothing brand's perhaps best known for their untouched campaign images (a true rarity in the fashion space), as well as using a diverse, inclusive set of ambassadors and models. Barón is joined by likes of model Hari Nef, actresses Lana Condor and Beanie Feldstein, and Olympian Aly Raisman. This new campaign is all about encouraging change. Along with the updated list of ambassadors, the brand is also awarding 20 people $20,000 who inspire change in their own communities (learn how to apply here).
As for Barón, her year of change is to inspire people to consume responsibly. "I'm so excited to push the boundaries and challenge the norms—and to be able to reach so many people with this message," she says. "Being part of this community is going to be an essential part of that."
Here, her eco-friendly tips that you can start today:
1. Wake up every day with this simple question.
When the problem is as massive and complex as climate change and waste, making changes can seem daunting—or simply unattainable. Instead of thinking about all the things you should be doing, she says to simply start with the question "What can I do right now?" She says taking it in small doses, choice-by-choice makes it all the more reasonable. "When you ask yourself, 'What can I do right now?' Sometimes the answer is as simple as using a bamboo toothbrush, reusable coffee cup, or riding your bike to work. Other times maybe there's nothing you can do in that moment, but you can learn from it and do better the next time," she says. "Everyone's life is so unique—how you live consciously is going to look different from someone else's."
2. What comes from the earth goes back into the earth.
Probably our favorite quote from Barón: "Stop throwing away Mother Earth!" What does this mean? We should all be composting what our planet gave us, like food scraps and biodegradable fibers. "Don't toss a banana peel in the trash, where it's just going to end up in a landfill," she says. "If it comes from the earth, put it back into the earth."
3. Get creative with your to-go containers. 
One of the easiest ways to use less single-use plastics? Get creative. "I always have my wide-mouth Swell bottle with me—and in a pinch it becomes a great to-go container at restaurants when I don't have anything else on me," she says.
Barón's love of travel is what inspired her to start her eco-friendly lifestyle. "I'd go places and see how the earth was being affected." Now, however, she makes a point to travel with purpose, as traveling itself comes with a big carbon footprint. "I bundle my trips, so when I'm traveling for work, for example, I try and visit family or friends. Or when I'm on vacation, I try and take work meetings, too."