Let's Settle This: Is A Real Tree Or A Fake Tree More Eco-Friendly?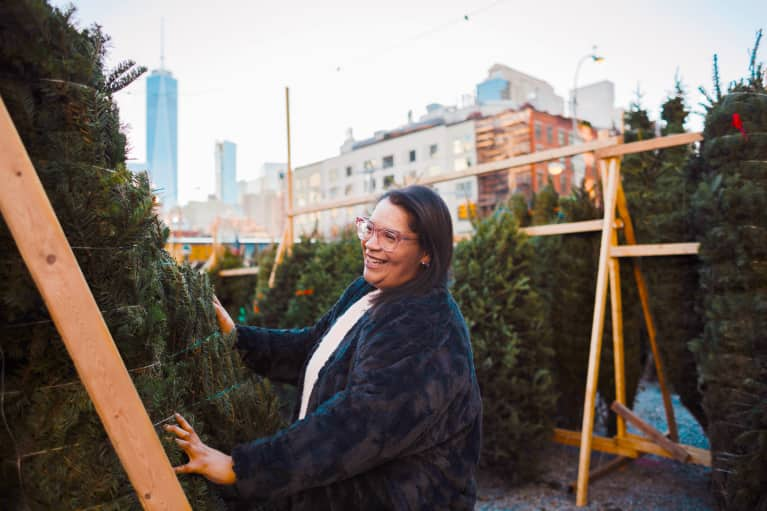 Our editors have independently chosen the products listed on this page. If you purchase something mentioned in this article, we may
earn a small commission
.
If you're celebrating Christmas, you might be deciding whether it's more eco-friendly to purchase an artificial tree or make your way to a local farm to pick out your very own Evergreen.
It turns out that the answer is complicated. For years, people have been debating whether artificial trees or real trees have a bigger environmental impact. In short, although there are pros and cons to both types of trees, it all depends on how you take care of them: how you choose them, how you dispose of them, and how far you go to find them.
Whichever tree you decide on, you can lower its footprint with these top tips:
If you want an artificial tree:
1. Buy a non-PVC tree, and use it every year.
Most of the time, our fake, festive friends are made of polyvinyl chloride (PVC)—a nonrecyclable plastic that emits lots of pollutants during production and transportation. However, it's estimated that if you use it for at least nine years, you'll offset a lot of the bad stuff and your emissions will be lower than if you'd gone for a new, real tree every year. So if you've already got a fake tree, just keep using it! Make it last as long as possible, and once you're done, try donating it.
2. Go homegrown or homemade.
Whether you're in the market for a fake or real tree, make sure it's grown or manufactured as locally as possible. It seems obvious, but driving for hours to pick up your tree or ordering one online from a faraway land can be even more environmentally damaging than the tree itself.
3. Start a new tradition.
If you're willing to experiment with something different this year, try crafting your own "tree" using crates, chalkboards, or fabric you already own.
1. Look for organic and FSC certifications.
If going to pick out an Evergreen is one of your favorite Christmas traditions, or you just love the smell of fresh pine throughout the house, there are certainly still ways to reduce your tree's impact. Make sure you check for the FSC-certification logo, as it ensures the tree has been grown sustainably and ethically. If you're after an organic and pesticide-free friend for the festive period, find yourself one approved by the Soil Association.
2. Get a tree that has roots.
A real tree that still has its roots can be potted inside over Christmas, then popped back into the earth to carry on growing. These are not only better for the environment, but they usually cost less. Full disclosure: They do need to be looked after a bit more, though, and they require a certain pot.
If you're a forward thinker and have the space, you can also grow your own tree at home. U.K.-based brand Home of Juniper sells a beautiful seed packet that you can buy for yourself or give this Christmas as a stocking stuffer.
If you're not quite ready to commit to growing or keeping your own tree for a whole year, fear not. More and more garden centers and tree nurseries are starting to offer what's known as a Christmas tree rental scheme, where you can rent your Christmas tree in a pot for the festive season and return it to the growers afterward. This way, you won't have to worry about finding a place for the tree to live in your garden, and it will still be regrown and reused the following year.
4. Recycle or chip your tree.
Every tree sent to a landfill after the holidays emits harmful greenhouse gases, so when the time comes to take yours down, make sure you dispose of it responsibly. The best thing to do is to get it turned into wood chips that can be used locally as compost. Simply ask your local municipality if they run a recycling program. Some councils now offer mulching and chipping initiatives, allowing residents to recycle their trees and take home a free bag of mulch for their garden. Others will take away your tree, chip it, and turn it into mulch for use in local parks. You can find out where your nearest facilities are by entering your ZIP code at Recyclenow.com. If you live in London, like I do, you can find out what to do in your borough right here.
Either way, consider planting trees in its place:
Planting a new tree at the end of the Christmas season is a lovely tradition to start. Check out TreeEra, an organization that will plant trees on your behalf, or start using Ecosia, a search engine that plants trees as you search. Together, they've planted over 17 million trees all over the world so far!
Now that you've got the tree sorted, check out this sustainable, ethical holiday shopping guide.