The New York Fashion Week Trend We Can Get Behind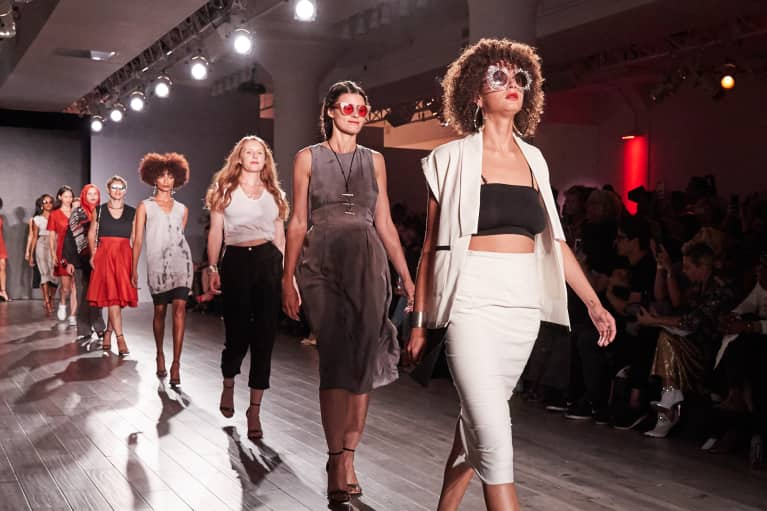 At its very core, New York Fashion Week isn't sustainable. It functions off the idea that people need new clothes every season, feeding into the cycle of consumerism. However, innovative designers are starting to push back against this norm in their own subversive ways. So far this year, New York–based indie label Vaquera has sent a model down the runway clad in plastic grocery bags and Amazon Prime orders, and Yuna Yang released a "Save the Earth" collection of clothing that mimics shapes found in nature. Newcomer Livari took things a step further by releasing a line that is defined in its sustainability.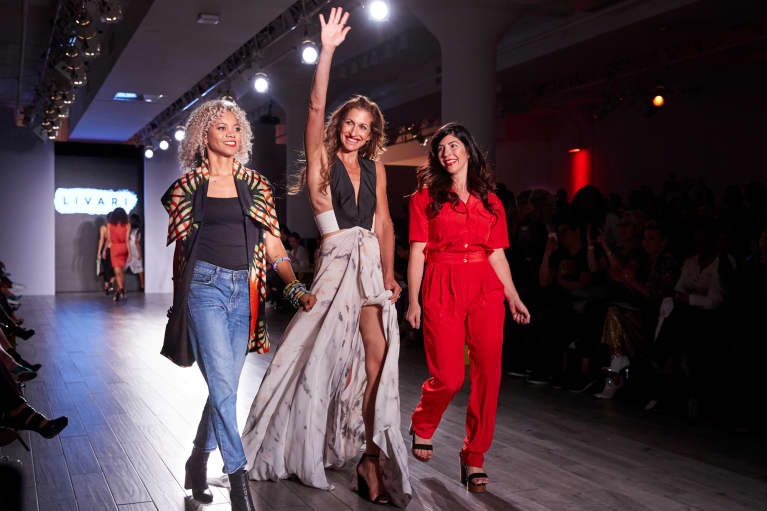 The trio behind the zero-waste capsule collection—celebrity stylist Claudine DeSola, designer Tabitha St. Bernard-Jacobs, and actress and activist Alysia Reiner—turned fabrics that other designers cast aside into 13 versatile staples made to last a lifetime, not a season.
In addition to being zero-waste, many of the looks sent down the runway also utilized unconventional materials, like a miniskirt made of fish leather to a detachable overskirt dyed with root pigments. Their premiere show was a testament to the fact that eco-friendly clothing can be stylish, modern, and surprising at the same time.
"I've always been a zero-waste designer. I use excess stock, [but] usually it's not naturally dyed or fish skin. It was really exciting to work outside of my comfort zone," explains St. Bernard-Jacobs. "I loved working with the naturally dyed fabric. The color was so rich and caught the light on the runway really well. For us, it showed that clothing that doesn't harm the environment can be showstopping and perfect for the red carpet... I never want clothing made from remnants to look like they were made from remnants. No one should be able to tell." Each design was also created to be as versatile as possible, some even complete with adjustable hems and waistlines that grow with the wearer.
People's favorite piece of clothing tends to have a story to it.
Last week, feminist anthems boomed in the background of the Livari show, reminding the crowd that this was a line designed by women for women. "Before we designed anything, we invited a bunch of women with different body types, backgrounds, and career paths—everything from people in fashion to actors to businesswomen—and talked to them about what about fashion they love and what they hate," says Reiner, the Orange Is the New Black star who is also a passionate environmentalist. "The two things that kept coming up were fit and versatility and story. People's favorite piece of clothing tends to have a story to it."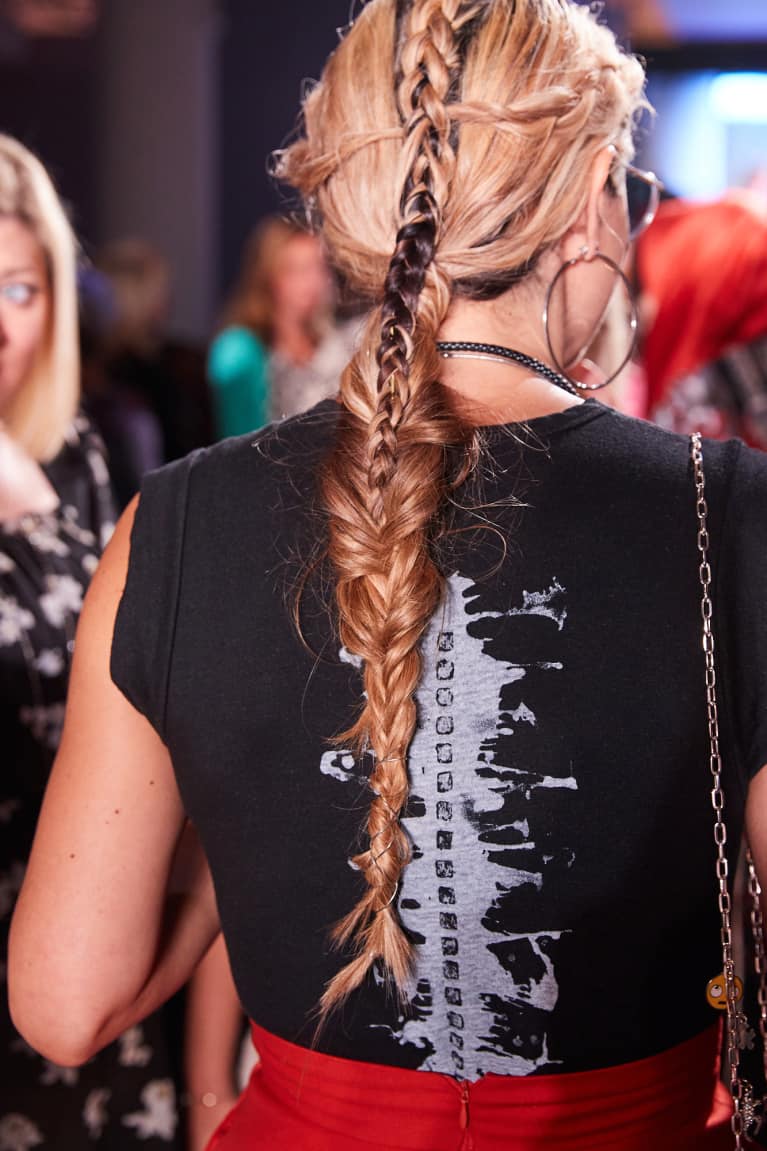 Livari's storyline comes through in the T-shirt-back detailing that appeared in multiple pieces: the outline of a backbone, representing the idea that women are the backbone of society. The hair draped over it was fashioned into warrior-esque braids that mirrored this sturdy shape and further emphasized feminine strength.
The models themselves also imparted each look with a unique power. Acclaimed environmentalist Summer Rayne Oakes and African-American Muslim activist Blair Imani were just a few names on the lineup of accomplished women. Imani walked down the runway sporting a hijab, and she was followed by a model holding a baby, sporting a dress meant for breastfeeding. It was a sequence that perfectly illustrated the idea that the line intends to be accessible for everyone.
"Personally I think that the designers who only choose white girls with blond hair are missing out so much—on all these other women that are so strong and so beautiful," says DeSola. As for the models' pre-runway ritual? A kundalini breathwork class backstage to quell nerves and promote confidence.
The anti-fashion mentality.
Livari's first showing was an electric one, and hordes of audience members took to the runway afterward to feel the creations for themselves. The brand plans to keep the momentum going by finding retail partners to bring their creations to the consumer under a unique business model.
"My partners love the idea of finding a retail partner that will allow us to set up a studio with our seamstress and sell our collection as the demand happens. As an industry, we are overproducing and overspending, and we hope to just create pieces when people want them. This way, we'll produce less waste and help the customer feel empowered by her purchase. We want to slow things down to make people think, 'Do I really want that dress? And can I wear that dress for years to come?'" says DeSola. This mentality couldn't be more different from a fast-fashion approach.
It's refreshing to see manufacturers recommending that customers actually don't buy their clothing unless they truly need them. In an age when 15 percent of fabric used to make a garment ends up in the landfill, here's hoping this zero-waste, minimalist mentality becomes a fashion industry norm, not exception.
The wearable innovation doesn't end here. Check out these designs fashioned from ocean material and these ones made from the wellness world's favorite beverage, kombucha.