Have Anxiety About The Future Of Our Planet? Here's How To Cope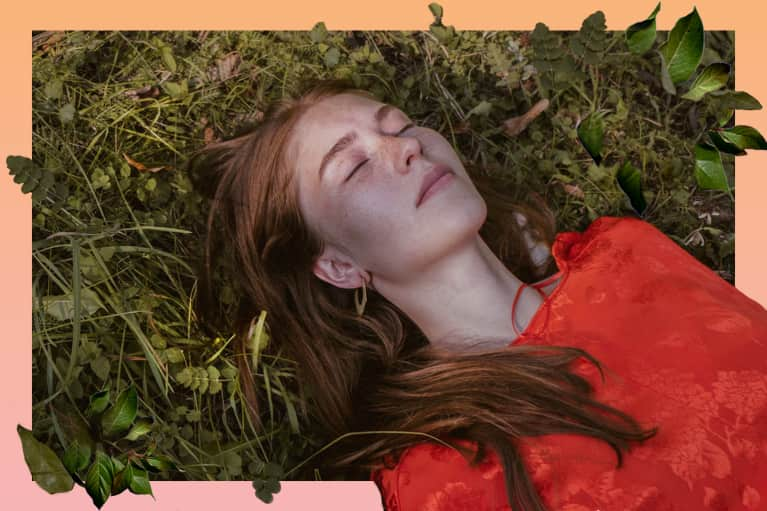 My low-waste journey began on a flight home from San Francisco. Over the course of just six hours, I accumulated two plastic cups for water, a snack pack of cheese and fruit packaged in a plastic container (with individually wrapped crackers, almonds, and chocolate), and a plastic fork and knife wrapped in—you got it!—plastic.
When I got home I decided to Google, "How much waste does the average American make in a year?" And from there, my friends, I went down a very scary wormhole. I read about the ocean crisis, global warming predictions, and the high rate of species extinctions.
I could feel my palms getting sweaty. My heart started to race, my face was clammy. I was having what felt like a panic attack—the air suddenly sucked out of the room. I couldn't shake the feeling for days later, and to be honest, to some degree I still have it.
My experience with eco-anxiety.
There's a term for what I (and many others) feel: "Eco-anxiety" is described as worry, depression, or anxiety that is triggered by an awareness of the environmental woes we face. According to a recent poll, nearly three-quarters of millennials experience it to some degree after reading or listening to the news. And hot damn, for those who feel it, we can tell you it is real. Like real, real. Like sit-on-the-couch-and-wallow-about-the-impending-doom real. The International Psychoanalytical Association has officially recognized climate change as "the biggest global health threat of the 21st century."
The good news? There are ways to combat these feelings other than having a good cry or screaming at the top of your lungs (which, for the record, can be satisfying sometimes too). Here are a few that I've found helpful:
Take five minutes every morning to really imagine the world you want to live in. Try getting as detailed as possible. I like to picture what this world looks like, what it feels like to live in, what it smells like, etc. Visualizing a healthier planet gives me something concrete to strive toward and helps me better understand the barriers that stand between reality and that world.
2.
Remember that it's not all or nothing.
Thinking about taking on climate change head-first can feel overwhelming. But remember, you don't have to take on the whole world yourself!
Instead, pinpoint ONE environmental issue that is especially important to you and develop a personal challenge around it. For example, deforestation is extremely triggering for me, and since a lot of the deforestation of the Amazon is a result of cattle ranching, I challenged myself to go vegan for 30 days. I felt damn good about my small-big accomplishment. Plus, an unexpected side effect: I lost 5 pounds and wound up trying lots of new veggies I never knew I liked!
Instead of just sitting with your feelings, use your social media accounts as platforms to talk to others about these issues and find support. Through hashtags like #zerowaste, #savetheplanet, and #saynotoplastic, I've found countless new friends who I can talk to about my fears and turn to for support. Many of them have also taught me new ways to lower my carbon footprint.
4.
Take IRL action with your community.
When you're feeling depressed about the state of the world, getting together with friends might be the last thing you want to do. You may even be tempted to isolate yourself, lie in bed, and listen to "The End," by The Doors on repeat...uhh, or is that just me?
On weekends, instead of letting my worries take over, I like to take some kind of action with my friends. Enter what I have dubbed #wastewatchers. I'll text friends to meet me in a new spot somewhere in the city—sometimes it's a park, a street corner, or a community field—for a cleanup. I'll supply a few reusable bags and construction gloves for the group and we'll all take 45 minutes to walk around the area and pick up any trash we see floating around while catching up.
Afterward, as a reward, we'll grab some breakfast at a nearby restaurant. Getting friends involved can feel satisfying, and focusing on community issues can help you feel more in control of your immediate environmental surroundings.
5.
Remember what you're doing it for in the first place.
It turns out that nature, the very thing we are worrying about, can act as the ultimate chill pill. Research has shown that forest bathing, the act of taking in the forest through one's senses, can lower blood pressure, improve mood and sleep, and decrease stress levels.
I don't always have the time to go hiking in the forest with my phone on airplane mode, but even a quick jaunt to a nearby park does the trick.
Though there are bound to be bad days when the fear and anxiety take over, transforming your anxiety into action can be a real game-changer.