What Are The Actual Benefits Of Echinacea?
Registered Dietitian
By Carlene Thomas, R.D.
Registered Dietitian
Carlene Thomas is a registered dietitian nutritionist and licensed dietitian nutritionist. She received a B.S. in dietetics from James Madison University.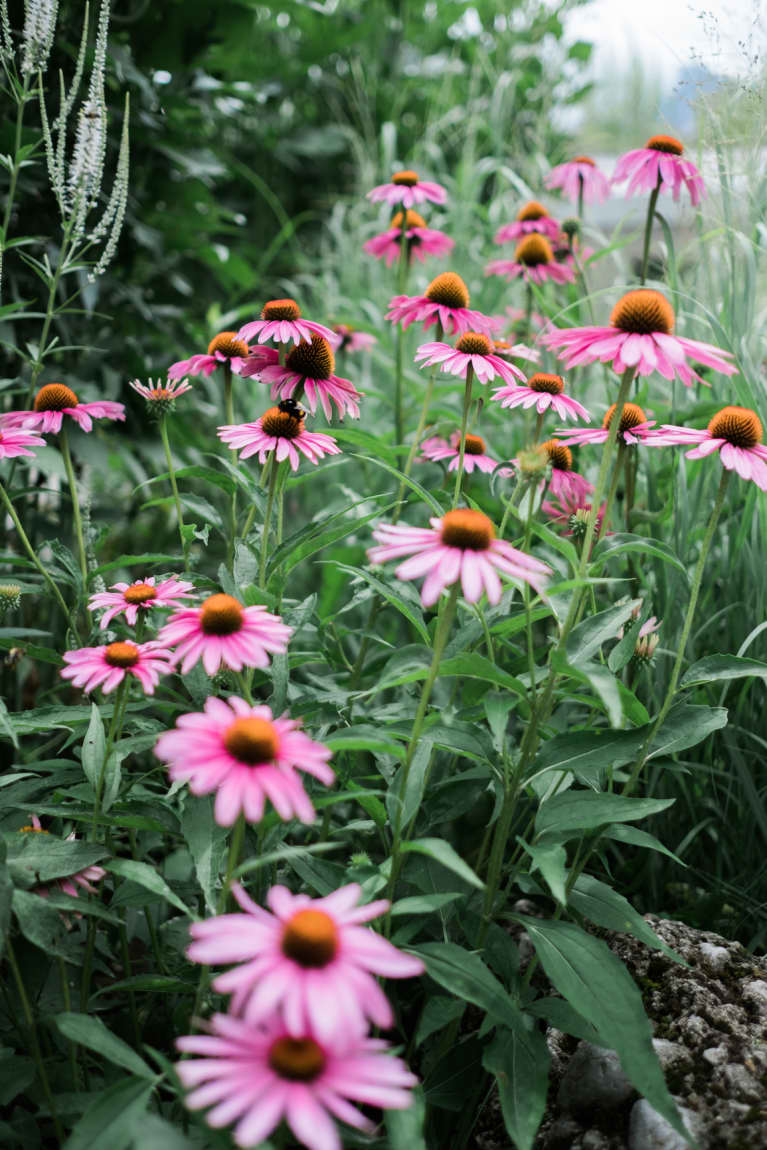 The next time you see the term "flower power," you're going to think of echinacea. Echinacea, or coneflowers, are absolute power plants. Echinacea as a tea or other supplement has a ton of benefits that span from healing wounds to fighting the flu. Because multiple parts of the plant contain compounds with therapeutic benefits including flavonoids, polysaccharides, glycoproteins, and volatile oils, echinacea has been used in the health world for multiple applications.
Echinacea's immune system benefits.
Most often, you'll see benefits that refer to the fact that echinacea has the ability to trigger a chemical response in the body that fights inflammation. The result? A potential reduction in cold and flu symptoms. Other studies suggest that echinacea stimulates the body's immune response and has some antioxidant properties.
Echinacea's skin benefits.
Echinacea is the OG cure-all, having been used for hundreds of years to heal wounds and skin problems. Echinacea is sometimes listed as a topical relief product to heal wounds more quickly, but you'll also see it listed as an oral solution for wound healing. When taken in conjunction with goldenseal, echinacea may fight infections resulting from skin wounds. Studies in mice also show echinacea can speed up wound closure in stressed subjects. And thanks to echinacea's anti-inflammatory properties, echinacea has also been used for pesky mosquito bites, bee stings, and eczema.
Echinacea's cold and flu benefits.
Today echinacea supplements and teas are often used to fight the common cold and other infections. This frequent claim is based on research that suggests echinacea may stimulate the immune system to work harder to fight infections. If you read echinacea supplement claims, you'll see it is used to both shorten the duration of a cold as well as reduce symptoms. In Germany, echinacea is already approved by the government for use for colds, upper respiratory infections, and flu-like infections. An added benefit specific to echinacea tea for fighting seasonal colds and the flu is an increased effort to hydrate the body. My go-to for hydrating when I need some flavor when I'm not sick is this probiotic ginger cayenne drink.
Echinacea's urinary tract and yeast infection benefits.
Echinacea is sometimes used in injection form to treat UTIs (urinary tract infections) and vaginal yeast infections. Because echinacea's properties include pain relief and inflammation reduction, it's not surprising echinacea is being looked at for treating UTIs and yeast infections. More research is still needed on the effectiveness of echinacea specific to these common ailments, but as anyone who has suffered a UTI would say—it's worth a shot!
Echinacea's cold sore benefits.
According to Penn State Hershey, early studies suggest echinacea may be effective in working against cold sores before they crop up. Taking an oral cold sore medication that includes echinacea as an ingredient may reduce symptoms of cold sores.
The benefits of echinacea teas and supplements are potentially far-reaching. Find high-quality echinacea products, from teas to ointments, to keep in your cabinet to get the most out of this amazing plant. And of course, a few in a vase is a nice touch for your table too.
Want to know even more about echinacea? Check out our full guide to using it for everything from candida to anxiety.