Eating Chili Peppers 4 Times A Week Or More Reduces Risk Of Death
mbg Editorial Assistant
By Abby Moore
mbg Editorial Assistant
Abby Moore is an Editorial Assistant at mindbodygreen. She earned a B.A. in Journalism from The University of Texas at Austin and has previously written for Tribeza magazine.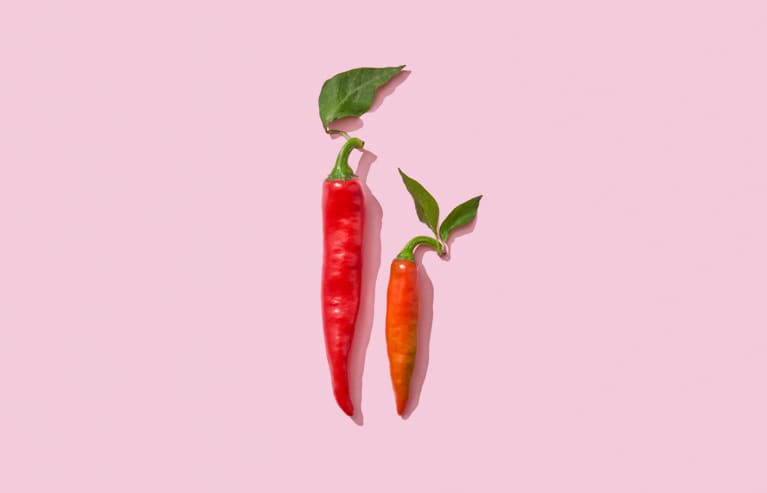 December 14, 2019 — 19:05 PM
Spicy food can be polarizing, but if you're a fan of sweet over heat, it might be worth manipulating your taste preferences.
A study published today in the Journal of the American College of Cardiology found that people who consume chili peppers on a regular basis reduced their risk of dying from heart, brain, and other deaths, compared to those who do not eat it.
What did the researchers find?
Researchers examined more than 22,000 people living in the Molise region of Italy. Their health was tracked over the course of eight years and analyzed alongside eating habits.
Scientists found that people who ate chili peppers four times a week or more were 40% less likely to die from heart attacks. The risk of cerebrovascular deaths, like strokes, was reduced by more than half, and deaths of any cause were reduced by 23%.
Consuming chili peppers was beneficial regardless of other dietary habits. So whether the person is following the Mediterranean diet or eating less healthily, the chili peppers have protective effects, according to lead author of the study Marialaura Bonaccio.
In a similar 2017 study, researchers studied the effects of the hot red chili pepper on American mortality rates. The results were similar to the European study, but researchers were unclear whether the relationship was caused by red peppers or the "other foods often consumed with hot red chili peppers, such as other spices."
This new research can say with more certainty that chili peppers are, in fact, responsible for lowering mortality rates. It also proves that the protective effects work across several populations in Europe, North America, and Asia.
What's next for the research?
Researchers suspect that the capsaicin (the spicy property) present in red peppers might be responsible for these findings. Previous research has proved that capsaicin can improve metabolic functioning, which reduces obesity and prevents cardiovascular diseases.
However, further research needs to be done to fully understand the metabolic functions of this spicy pepper.
If you're looking for even more healing ingredients to flavor your meals, try adding these herbs and spices.