Is Breakfast The Most Important Meal Of The Day? Researchers Say Not So Fast
mbg Contributor
By Elizabeth Gerson
mbg Contributor
Elizabeth Gerson is a former mindbodygreen intern and a student at Stanford University studying Psychology and Communication with a specialization in Health & Development.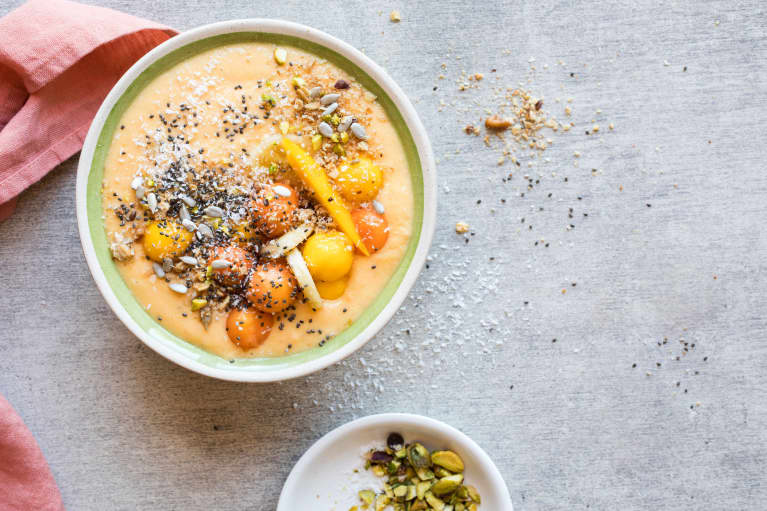 January 30, 2019 — 23:30 PM
You've probably heard the adage "breakfast is the most important meal of the day" once or twice before. It makes sense, right? If we want energy for everything we need to do in a day, we should probably fuel our bodies. If your goal is to shed some extra pounds, however, a new review in The BMJ found your morning omelets and oats may actually not be helping you.
Researchers looked at studies relating to breakfast published over the last 28 years and found no connection between morning meals and weight loss. In fact, they found the opposite to be true in some cases: Overall daily caloric intake of breakfast-eaters was higher than that of their fasted counterparts. More specifically, they found that breakfast-eaters consumed on average about 260 more calories per day and even weighed a little more.
Worried about getting hangry in the early afternoon? Researchers also found that study participants who skipped breakfast didn't feel hungrier, even when expending the same amount of energy as people who ate a morning meal.
Where did the idea that breakfast was such a staple come from? Pretty smart marketing, for starters. Think back to all those TV commercials you used to see of smiling kids with strong bones, glasses of milk in hand while scarfing down a bowl of sugar-loaded cereal.
Results like these, however, push back on the idea that you have to begin your day with food if you want to jump-start your metabolism or have enough energy. Just take a look at all the anti-aging, brain-boosting health benefits of mega-popular intermittent fasting, in which many followers forgo breakfast.
One important caveat to keep in mind is that this study shouldn't be the be-all-end-all to breakfast. The biggest takeaway from these results and others like it is to remember that no one way of eating works for everyone. If you feel like you are your strongest, healthiest self with a morning bowl of overnight oats, great. If you prefer to stay fasted in the a.m., no problem.