Eating A Mediterranean Diet May Help Curb Overeating And Weight Gain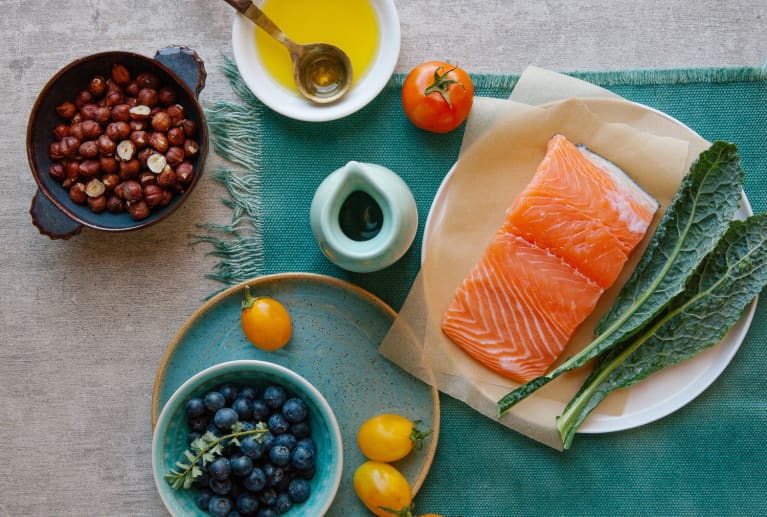 April 23, 2019 — 19:25 PM
Recently the Mediterranean diet got voted by health experts as the healthiest way to eat among 41 different diets. That's no surprise as it's been linked with things like weight loss and decreased risk of cardiovascular disease. But a new study published in Obesity found that the Mediterranean diet helped limit overeating and didn't result in weight gain when compared to the Western diet.
The researchers compared the behavior of non-human primates on the Western diet, which is high in fat and sugar, and on the Mediterranean diet, which is rich in foods like fruits, veggies, and whole grains. They observed that those on the Mediterranean diet did not eat all the available food in front of them and did not gain weight—while the opposite was true for those on the Western diet.
"What we found was that the group on the Mediterranean diet actually ate fewer calories, had lower body weight and had less body fat than those on the Western diet," said the study's principal investigator, Carol A. Shively, Ph.D., professor of pathology at Wake Forest School of Medicine, in a statement.
The study suggests that following a Mediterranean diet may limit overconsumption, the risk of obesity, and prediabetes.
If you're wondering how to get started on the Mediterranean diet, it's easier than you may think: Instead of limiting large food groups, the diet encourages people to eat whole foods including fruits, veggies, whole grains, nuts, olive oil, and legumes. It also places emphasis on eating fish high in omega-3s. On this diet, you limit processed foods, red meat, and sugary treats. Not too bad right? Even better, the diet encourages socializing and spending time with friends.
Besides the benefits found in this study, the Mediterranean diet has long been associated with greater longevity, improved metabolism, and better gut health—so even as trendier way to eat proliferate, it may be worth giving this classic a second (or third) look.