3 Easy, Expert-Backed Ways To Look Refreshed & Feel More Awake Today
mbg Associate Editor
By Jamie Schneider
mbg Associate Editor
Jamie Schneider is the Associate Editor at mindbodygreen, covering beauty and health. She has a B.A. in Organizational Studies and English from the University of Michigan, and her work has appeared in Coveteur, The Chill Times, and Wyld Skincare.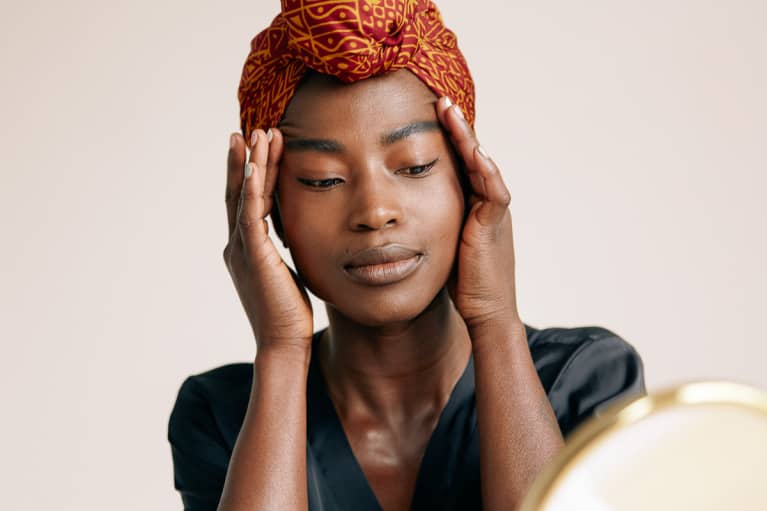 This article was produced to support the mindbodygreen supplements+ line. Our supplements adhere to the highest standards of ingredients and quality. We hope you enjoy these products, for more information
click here
.
As much as I love ringing in the new year with late-night festivities, celebratory cocktails, and holiday sweets, my complexion tends to pay the price. (Please tell me I'm not the only one!) Deep down, I know it's because the skin inherently reflects lack of sleep—yes, even after one night—with dark circles, sallow skin, and an overall dull, congested appearance. I also know that what you consume shows up in the skin, be that puffiness from salt intake or inflammation from sugar.
So I usually take one look in the mirror come New Year's Day and think, Wow, I look tired. And guess what? I'm tired of it.
If you're searching for ways to rejuvenate your complexion back to glowy and supple, look no further. Here, three easy tips to look and feel more awake, whenever your skin needs a little pick-me-up:
1.
Use caffeine for under-eye circles and puffiness.
For a quick skin refresher, many derms are quick to sing the praises of caffeine. That's because caffeine is anecdotally touted for brightening your complexion and decreasing puffiness—bright, taut skin looks more awake, no? "Antioxidants are brightening ingredients," board-certified dermatologist Loretta Ciraldo, M.D., FAAD, previously told mbg about caffeine in skin care. "When anything oxidizes, it turns to a darkened color (think of an old sterling silver teaspoon). Caffeine has antioxidant benefits, and this can help brighten the skin." On the puffiness front, caffeine is also a vasoconstrictor (meaning, it compresses blood vessels in the skin), which can help reduce flushing and inflammation (both of which go hand-in-hand with puffiness).
"That's why green tea lotions used under the eyes can help with puffiness," Ciraldo adds. Or try this quick expert-approved hack: Take a couple of moistened green tea bags and place them under your eyes for a soothing effect. You can even chill them a bit in the fridge beforehand, as cooler temperatures also help constrict blood vessels in the skin (a one-two punch!).
2.
Take a smart supplement to support cell rejuvenation.*
Technically speaking, the reason you look "tired" after a late night is that your skin goes through a major regenerative process while you snooze, rebuilding body tissues and increasing cell production to replace cells that were damaged throughout the day. So if you aren't getting enough sleep, your skin cells aren't regenerating as much during this recovery process.
The key? Spur that regenerative process. And that's exactly what mindbodygreen's nr+ does—the supplement's active ingredient nicotinamide riboside (NR) turns into nicotinamide adenine dinucleotide (NAD) when absorbed by the body, which supports your cells' mitochondria. This is what gives your cells energy and supports the regeneration process.*
Plus the formula also has the potent antioxidant astaxanthin (remember when we discussed how antioxidants can promote brightness?) and rhodiola to further neutralize oxidative stress.* Think of it as a low-lift trick that lasts—it can help your skin look more vibrant and awake long after the holidays are behind us.*
But let's say you're attending some socially distant festivities or hopping on a Zoom call, and you're looking for a pick-me-up, like, right now. To which we say: You can always just fake it with makeup! If you're bleary-eyed and sallow, allow us to introduce you to a few eye makeup tricks:
To make the eyes appear larger and brighter (and thus, more awake), experts swear by a bit of nude liner along the bottom waterline. "You can even use white if you really want to brighten the bottom waterline," Savannah St. Jean, makeup artist and owner of Savannah Rae Beauty, once shared with mbg, but any nude shade does the job. It's essentially highlighting the eye area, similar to how you'd sweep some sheen over the cheekbones to make them pop. Then, to go the extra mile, you may want to tightline the upper lash line with a darker shadow or liner. It'll contrast quite nicely with the nude pigment on the bottom, creating an eye-opening effect.
If your skin is looking a little blah come New Year's Day, try these quick tricks to help refresh your complexion. They're super low-lift, but the results have you glowing.*