Here's A Simple Way To Add Skin-Supporting Adaptogens To Your Routine
mbg Associate Editor
By Jamie Schneider
mbg Associate Editor
Jamie Schneider is the Associate Editor at mindbodygreen, covering beauty and health. She has a B.A. in Organizational Studies and English from the University of Michigan, and her work has appeared in Coveteur, The Chill Times, and Wyld Skincare.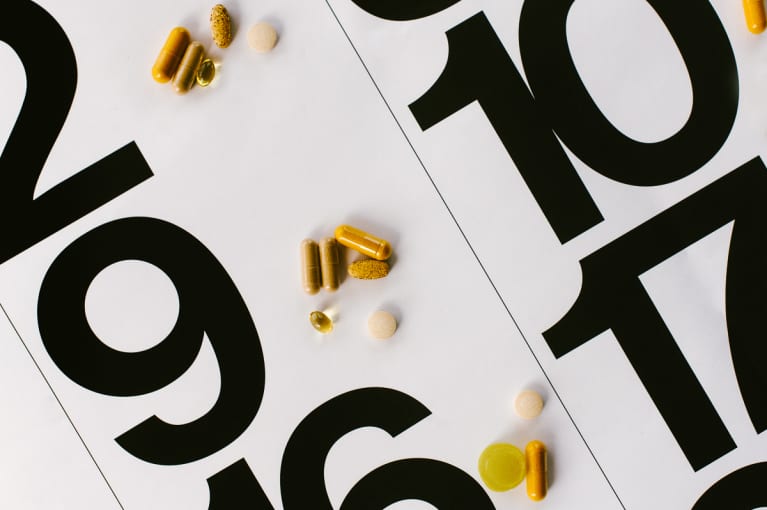 Here's what we know about adaptogens: We know they're loaded with antioxidants that can help fight free radicals and balance oxidative stress. We also know the unique herbs can help combat fatigue, promote mental performance, and support energy levels.*
What you might not know, however, is exactly how to incorporate them into your routine. The world of ancient plant medicine is vast, to say the least (there's ashwagandha, schisandra, rhodiola rosea, chaga—the list goes on), which is fascinating and a little, well, intimidating for any adaptogen newbies out there. Do you have to stock your kitchen shelves with herbs and powders galore in order to reap the benefits? How many adaptogens should you stir into a green smoothie?
No need to keep admiring them from afar. It's never been more easy or available to add them to your routine, as well as learn about their benefits, usage, and history.
How to incorporate adaptogens: Consider a supplement that already has them. 
If you're new to this area of practice, one simple way to fold them into your routine is to find a smart supplement that already has it in there. That way, you'll get your fill of ancient herbs while also reaping the benefits of other targeted ingredients.* Consider it gateway adaptogens.
Take mindbodygreen's nr+, for example: It includes rhodiola, an adaptogen chock-full of antioxidant polyphenols and proanthocyanidins that can provide added oxidative protection and manage premature aging.* (Not to mention it also promotes glowing skin, as rhodiola supports circulation and cell turnover.)* And because nr+ also includes plant-derived ceramides to lock in moisture, astaxanthin to support the skin's collagen layer, and nicotinamide riboside to promote healthy levels of NAD+ (the important coenzyme that keeps our cells healthy and energetic), you'll have an antioxidant-rich supplement that supports healthy skin from all angles.*
Sure, there's no shortage of unique adaptogens (they've been used for centuries as plant medicine—no surprise there's quite a few popular players). But if you're just starting out on your ancient herb journey, try adding just one to your daily routine and see how you feel. Better to incorporate one every single day than chuck a variety of powders in your breakfast smoothie without really knowing which one's helping you glow.*
No need to upend your whole morning routine—adding adaptogens to the mix has never been so easy. If you've felt overwhelmed by the wide world that is ancient plant medicine (we get it), start simple with a supplement that already includes them, along with a host of other targeted ingredients.*