Take It Easy This Weekend With These 6 No-Fuss Hairstyles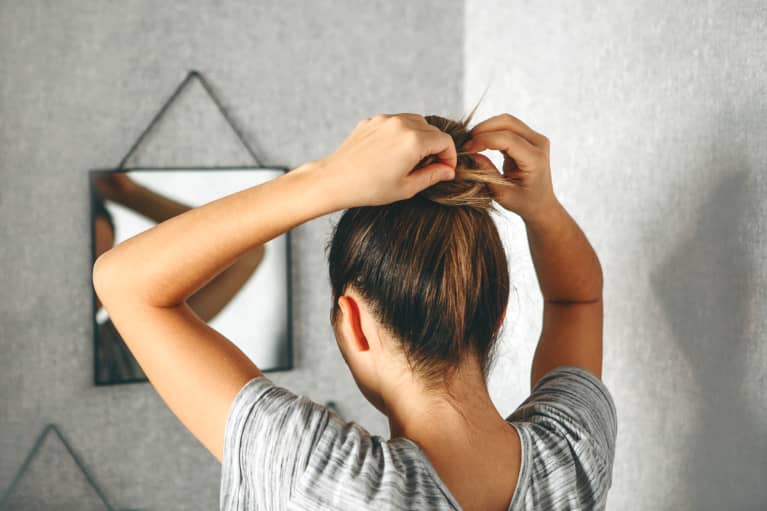 Our editors have independently chosen the products listed on this page. If you purchase something mentioned in this article, we may
earn a small commission
.
Many use Labor Day Weekend to take their beauty look to new heights. Which, in past years, might mean experimenting with a tangerine lipstick or a loudmouth shade of fuchsia (if you're clad in an all-white outfit, a pop of color can help your look stand out). But in 2020, this may not be so easy—especially under a mask at a socially distant BBQ. That doesn't mean you can't play around with beauty at all; it just means you might have to take a different route. May we suggest focusing on hairstyles for the time being?
Hairstyles can certainly make a statement, but you don't have to go reaching for at-home dye or attempt a DIY trim. Rather, for summer's final hurrah (sob), try these low-lift styles:
1.
Try hair plopping for defined curls.
OK, this one takes some preparation beforehand, but hair plopping is perhaps the easiest air-dry technique for defined, frizz-free curls. It works for every hair texture, as long as your hair takes to scrunching: For those with tight curls and coils, plopping can help those springs dry soft and frizz-free; for those with loose curls or waves, it can enhance the volume by providing lift at the crown; and finally, plopping can give those with pin-straight hair a natural bend, sans hot tools.
For another air-dry trick, hairstylist at Spoke&Weal Clay Nielsen suggests braiding or twisting your hair and letting it set: "Apply a light-hold product to your hair (brushing or combing through to disperse evenly), and you can do several loose braids and let your hair air-dry that way," he told us. You can either opt for a classic plait or have some fun with two-, three-, or even four-strand braids and see how the curls turn out—or, you know, commit to the braids and call it a day.
"Stylish hair accessories work wonders," says hairstylist Miko Branch, co-founder of hair care brand Miss Jessie's. "Silk scarves, rhinestone bobby pins, vintage clips, velvet headbands, sparkly barrettes, colorful hair wraps, flowery hair vines, etc." The list is practically endless and totally up to your personal style (and accessory arsenal). If you're missing the bold statement of a red lip, hairpieces can certainly keep that creativity alive.
4.
Play around with knots.
There are a couple of routes to take here. First, a textured bun is certainly a classic-chic style, and it'll keep you cool during outdoor, socially distant festivities (stylish and practical is always a win-win). But you can also use those knots as an air-dry hack. Try twisting one knot on top and one in the back, á la Nielsen: "It can give more of a body wave."
Perhaps one of the easiest ways to change up your look: flip your part. Not only can it add volume to flat hair, but it's actually healthier for your strands to switch things up from time to time—you don't want to put pressure on the same spot each and every day. As hairstylist Levi Monarch has told us about speeding up hair growth, "You never want to repeatedly do the same thing to your hair."
If you have very dry, coarse hair, this trick is just as restorative as it is stylish. Grab your favorite oil (be it coconut, olive, sesame, or safflower), warm it up, and slide it through your strands. Tuck your slicked-back hair behind your ears or twist it up into a high bun or pony, and there you have it: A sleek hairstyle that can simultaneously reduce frizz, add shine, and protect against breakage. Just don't forget to thoroughly rinse the oil when you're done so you don't accumulate any buildup.
If you're looking to make a statement at safe hangouts, consider switching up your hairstyle. It doesn't have to take much time—in fact, it can be incredibly low-lift and labor-free. Sometimes, the easiest tweaks can make the most eye-catching difference.