I'm A Nutritionist & A Mom On Lockdown — Here Are The Meals I'm Making For My Family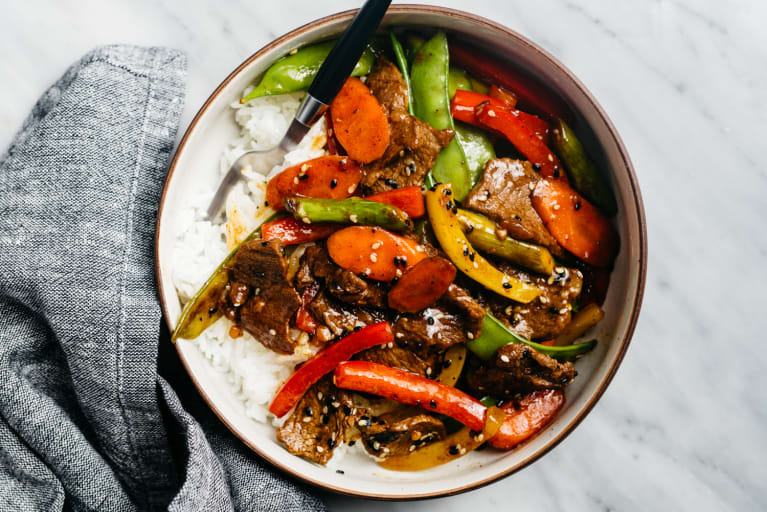 As we try to reduce the number of grocery shopping trips while sometimes not finding everything we're looking for, we're forced to change how we plan and prepare our meals. I'm a mom of three who's trying to offer healthy options while also keeping up with virtual learning and client meetings, so meal planning must be efficient and adaptable. These are frameworks I use when planning meals that can be adapted to your own food sensitivities and intolerances; there are lots of ways to customize and modify a meal to accommodate what you and your family like!
This is very forgiving; you don't have to use all these ingredients—whatever you have on hand will work!
Sauté any fresh or frozen veggies you have on hand like carrots, peas, broccoli, cauliflower, celery, cabbage, onion, peppers, ginger, or zucchini in some avocado oil. You don't have to choose all these vegetables—whatever you have on hand will work!
Season with some salt, pepper, ground coriander, and ground ginger. Drizzle some low-sodium soy sauce or Tamari sauce if you follow a gluten-free diet. I personally don't tolerate soy, so I prefer coconut aminos for a soy-free alternative.
Add cut-up chicken breast pieces, stir-fry beef pieces like rib-eye, canned tuna, frozen cooked shrimp, or sautéed ground meat.
Serve with some cooked brown or white rice or quinoa on the side, or mix everything for a "fried rice" meal. You can also serve the meat and veggies with your favorite noodles.
Sprinkle some nigella or sesame seeds for added antioxidant benefit and immune support.
Meat Kufta (kebabs) with veggies
Kufta, the Arabic name for "kebab," usually refers to ground meat mixed with finely chopped onion, parsley, and some warm spices. To make it at home:
Combine roughly a pound of raw ground beef or ground lamb with a handful of finely chopped (or processed) onion and parsley. Season with about 1 tsp. allspice, and ½ tsp. each of salt, black pepper, cinnamon, and cloves. Shape into kebab cylinders about 2 to 4 inches long.
From here, you can do several things. You can place the kebabs on a baking sheet with a rim and bake in the oven on medium heat for 30 to 45 minutes, and then serve it with a salad, rice, quinoa, or cooked chickpeas.
You can also cook some veggies along with the meat. Place the kebabs with veggies like zucchini, bell peppers, broccoli, carrots, or potatoes in a casserole dish. Add some water about ½ inch high, cover, and cook for 30 to 45 minutes.
Tomato kufta is a quick and flavorful Arabic dish–to finish it, arrange the meat kebabs, fresh tomato wedges, potato wedges, and sometimes bell pepper strips in a casserole dish and cook in tomato sauce.
Combine chopped radish, celery, cucumber, bell peppers, parsley, and lemon juice with canned salmon or tuna.
You can dress with some olive oil for a flaky salad, or if you're craving something creamy, add a mashed avocado or a little bit of mayonnaise. I opt for avocado or olive-oil-based mayonnaise in my house.
You can use other veggies or herbs you find in the store or have on hand like dried oregano or thyme.
Serve the tuna salad on top of lettuce leaves, or scoop with carrot and cucumber sticks. You could also serve it with bread (sourdough or sprouted breads are the better options), whole grain crackers, tacos, coconut wraps, or rice cakes.
While I appreciate the texture and flavor of fresh fish, nothing beats frozen fish fillets when it comes to speed and convenience. Fish is typically frozen quickly in special processes that prevent deterioration, making it the better option for people following a low histamine or low tyramine diet. Unless you live near water, it's likely that the fresh fish you see in grocery stores has traveled for a day or more to get to you.
Start with your favorite fish fillet like salmon, cod, halibut, or flounder. Thaw if needed in a bowl of lukewarm water and then pat dry.
Drizzle some olive oil, freshly squeezed lemon juice, garlic powder, salt, pepper, and some herbs like dried oregano, basil, and thyme. I often sprinkle some cumin too.
It's important to not overcook fish. I usually set the oven to roast and cook for 15 minutes or until flaky but not dry.
Serve with steamed veggies like green beans, broccoli, or whatever you or your family prefer. Add quinoa, brown rice, or mashed white or sweet potatoes on the side for a healthy carbohydrate option.
Tacos are great because they can accommodate different food preferences and food allergies and sensitivities. Everyone gets to choose their toppings!
You can start with ground beef or turkey, shredded cooked chicken, or flaked fish like flounder or cod.
For the shell, you can go with wheat or corn soft or hard tacos. You can also make gluten-free keto-friendly tacos from coconut and almond flour or shredded parmesan cheese. You may alternatively use coconut wraps that you can buy at the store—or go with lettuce leaves as a wrap.
Top with salsa, shredded lettuce, shredded cabbage, chopped fresh tomato, parsley, cilantro, green onions, beans, avocado, or cheese. You can even go shell-free and add the protein and toppings on a bed of salad greens.
Shrimp is another quick and easy protein that can be made into a meal in less than 30 minutes. I usually have frozen, raw, deveined shrimp in my freezer, but fresh is also a great option if available.
Thaw the shrimp by placing in a bowl of lukewarm water for 10 to 15 minutes. Drain and pat dry with a paper towel.
In a saucepan or large skillet, heat some olive oil. Add the shrimp pieces, spread apart, and cook for 2 minutes on each side until no longer pink.
Add some chopped fresh garlic, onion, ginger, dill, parsley, and lemon juice. You may use other herbs or add some chopped tomatoes (a great way to use those soft ones) or leftover steamed greens beans or asparagus.
Add more olive oil or a little bit of water if needed and simmer for 5 to 7 more minutes.
Scampi tends to be served with pasta, so you can go with your favorite pasta type. There are several gluten-free pasta options if needed, or try a lentil or black bean pasta for more fiber and protein. You can also serve the shrimp and the sauce with zucchini noodles for a low-carb option.
Top with shredded parmesan cheese if available and if you can tolerate it.
Omelet or frittata for dinner
Eggs are not just for breakfast. Use veggies that are starting to get soft, and make a veggie-loaded omelet.
Sauté some peppers, zucchini, asparagus, broccoli, green onions, mushroom, spinach, or kale with some olive oil.
Add 2 beaten eggs to make an omelet for one, and adjust the amount if making for more. Top with some shredded cheese or olives. I often have jarred artichoke hearts, and they make a nice addition to omelets.
Serve with avocado on the side, fruit, bread, or a rice cake for a gluten-free option. You can also serve the omelet with leftover baked potato or sweet potato. For a little bit of a kick that also boosts gut health, have a tablespoon of sauerkraut as a condiment on the side.
If you're feeding four or more people in your household, consider making a frittata. Combine chopped veggies, 8 to 12 eggs, some olives, and shredded cheese in a bowl. Pour into a lightly greased baking dish and cook in the oven at 350°F for 30 minutes.
Chicken with veggies on potatoes
This is another favorite that lets you use veggies that are starting to get soft.
Boil some chicken breasts for 30 minutes and shred. You can also shred leftover grilled or baked chicken pieces or leftover rotisserie chicken.
Sauté chopped veggies like broccoli, carrots, kale, spinach, mushroom, cabbage, or others you may have on hand.
Add the shredded chicken and herbs like dried oregano, basil, or thyme. Simmer for 10 minutes until combined.
Serve on top of a baked or mashed potato or sweet potato.
I like to sprinkle some toasted pecans, pine nuts, sunflower seeds, or pumpkin seeds on top.