Dunkin' Donuts Is Dropping Its Iconic Cup Combo For An Important Reason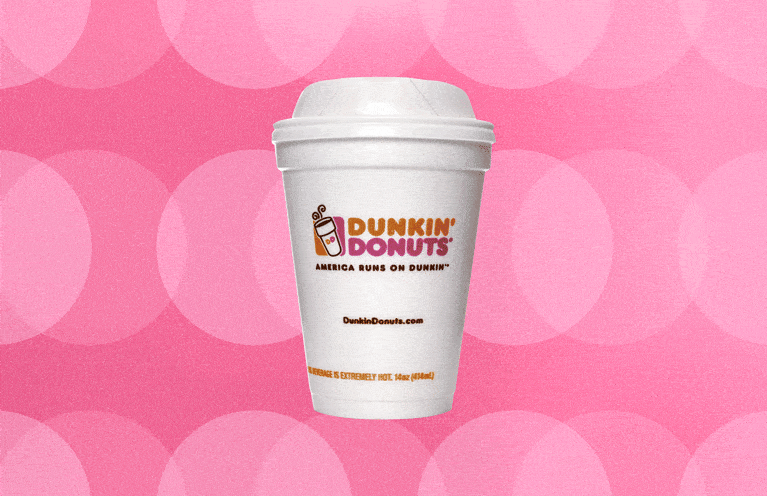 November 19, 2019 — 18:08 PM
It was the coffee news heard 'round the world: Dunkin' Donuts would be phasing its famed foam cups out of its 13,000-plus cafés globally by 2020.
When the chain first announced the overhaul of its classic cup in February 2018, many longtime fans applauded the decision while others were pretty incredulous. Some Dunkin' fanatics and staff even reportedly started stockpiling boxes of the old cups—just in case.
The hype largely died down until this week, when a new ad campaign brought attention to the fact that the foam ban is looming, and stores in New England will have new cups come December 1.
An entertaining video series of a plastic cup and foam cup "breaking up" catapulted #DoubleCupBreakup to trending status on Twitter, and made "Consciously Un-cup-ling" the pun of the week. For those who don't frequent Dunkin' and have no idea what this reference means (guilty), the foam cup can apparently be used as an outer sleeve for iced coffee so it doesn't make your hands cold.
In an effort to "walk carefully with [customers] through that journey," Scott Murphy, chief operating officer for Dunkin' Brands, told the Boston Globe that the brand will be offering some limited-edition koozies to fill the foam-cup-shaped void in iced-coffee drinkers' hearts this winter.
What's the problem with foam cups?
All jokes aside, the decision to replace foam cups is important and long overdue. Dunkin' reports sending upward of a billion foam cups to landfill every year, where they will sit in perpetuity. The synthetic material is made from styrene, a suspected carcinogen, and can't be recycled. It's also been known to find its way into marine ecosystems since it's lightweight and floats with the water cycle.
These environmental and human health concerns have spurred a number of U.S. cities and states, including Maine; Maryland; New York City; and Washington, D.C., to ban foam food and beverage containers.
Since 2011, Dunkin' Donuts has considered finding a new cup its No. 1 sustainability goal. The brand's supply chain manager Joseph Hellyar, "Joey Cups" for short, spent years experimenting with dozens of options—edible cups, cups made from recycled plastic bottles, etc.—before landing on a double-walled paper vessel. While it's a step in the right direction, the new cup is still not recyclable nationwide, though certain states may be able to recycle it.
Dunkin' isn't the only coffee chain searching for a single-use cup that won't end up in landfill. Most traditional paper cups you'll find are insulated with plastic resins, making them impossible to recycle. (Disposable paper cups and foam ones may actually be on the same level in terms of environmental damage, according to one 2006 life cycle analysis of the two materials.) And so-called compostable cups—marked with a recycling number 7—aren't much better: They are made from plant-based bioplastics that can be broken down only in high-heat industrial incinerators, not your neighborhood compost pile.
The real damage comes when people understandably assume that single-use coffee cups are recyclable and throw them in the blue bin, straining an already overtaxed U.S. recycling system.
If paper isn't the answer either, what sort of cup should I use?
Single-use cup behemoths like McDonald's and Starbucks have teamed up to find completely recyclable and home-compostable solutions, but they have yet to nail down a material that's strong enough to hold up to hot beverages but nimble enough to be broken down.
In the meantime, whether it's Dunkin', Starbucks, or a neighborhood café you're visiting, remember to bring your reusable mug along for the trip.
America may run on Dunkin', but the future of our planet will run on reusable material.