Wait, 25 Cups Of Coffee A Day Is Safe For Your Heart? What The Study Really Says
mbg Contributor
By Caroline Muggia
mbg Contributor
Caroline Muggia is a writer, environmental advocate, and registered yoga teacher (E-RYT) with a B.A. in Environmental Studies & Psychology from Middlebury College.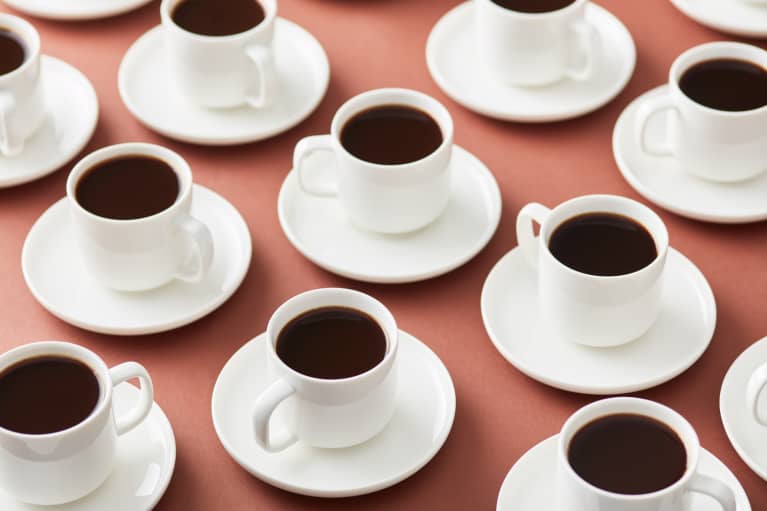 The research around coffee consumption can be convoluted: Some studies have shown that drinking coffee may stiffen our arteries, which may lead to cardiovascular disease, while others suggest we can drink up to five cups of coffee daily for better heart health. Now, another study has been floating around the internet touting 25 cups of coffee a day is actually safe for your heart. So what are we to do with all this information?
In this new study, researchers at Queen Mary University of London found people who drank 25 cups of coffee a day did not have a higher risk of arterial stiffening as compared to those who drank one cup a day.
The research, which was presented at the British Cardiovascular Society (BCS) Conference in Manchester, studied more than 8,000 coffee drinkers in the U.K. They separated the group into three groups: people who drank less than one cup a day, one and three cups a day, and more than three. Across the board, they found that drinking coffee did not result in arterial stiffness.
This is great news because keeping our arteries healthy is vital as they carry oxygen and nutrients via our blood from the heart to the rest of the body. If they become stiff, they can't do their job as well, and this could lead to a heart attack or stroke.
It's important to note the people who drank 25 cups a day were in the minority, with the average for the highest consumption group being five cups a day. Sure, it's promising that even this large amount of coffee was not linked to stiffening arteries, but that doesn't mean you start drinking 25 cups a day. In fact, the study hopes to work with these individuals down the line so they can recommend limits on coffee consumption.
"Despite the huge popularity of coffee worldwide, different reports could put people off from enjoying it. While we can't prove a causal link in this study, our research indicates coffee isn't as bad for the arteries as previous studies would suggest," said Kenneth Fung, who led the data analysis for the research, in a statement.
You heard the doctor: You can enjoy your coffee and not compromise your heart health.