Deepak Chopra, MD, Receives The mindbodygreen Lifetime Achievement Award
mbg Editor-At-Large
By Olessa Pindak
mbg Editor-At-Large
Olessa Pindak is the editor-at-large at mindbodygreen. Formerly the executive editor at Prevention, she's worked at Condé Nast, Rodale, Martha Stewart Living Omnimedia, and more.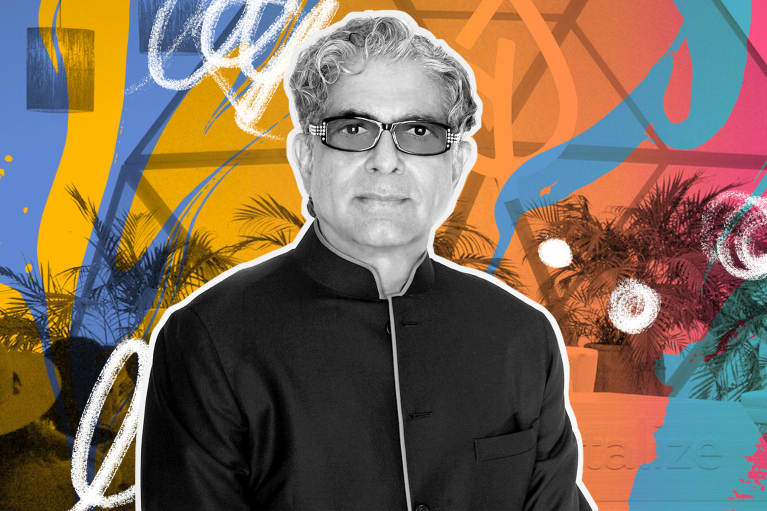 revitalize is in full swing here at Dove Mountain in Arizona. One of the annual highlights of the weekend is the presentation of the mbg lifetime achievement award, given to a thought leader who exemplifies all the best that wellness has to offer and is a living embodiment of the You. We. All mission. Previous recipients include visionaries like Frank Lipman, M.D., and Paul Hawken. This year, when the team here at mindbodygreen was thinking about who should get the golden avocado, we knew that it had to be somebody whose work is making wellness a more conscious, more connected, and more heart-centered place.
Our third lifetime achievement award was presented tonight to Deepak Chopra, M.D., a spiritual icon who is the author of more than 86 books, including 26 New York Times bestsellers. The founder of The Chopra Center for Wellbeing and Chopra Foundation, Chopra is one of the most renowned spiritual and medical leaders of our time. He is a fellow of the American College of Physicians and a member of the American Association of Clinical Endocrinologists San Diego as well as an adjunct professor at the Kellogg School of Management at Northwestern University, Columbia Business School, and the Department of Family Medicine and Public Health at U.C.–San Diego. Safe to say, Chopra's groundbreaking work on consciousness, metaphysics, and the mind-body connection has touched millions of lives.
His life's work has been around consciousness and connection, work the world desperately needs—especially now, as according to the Harvard Business Review, 40% of U.S. adults report feeling lonely, and research shows that loneliness can make us up to 50% more likely to die prematurely. Chopra says about wellness, "From a consciousness-based perspective, wellness is about waking up. In the Indian tradition, someone who is fully awake sees pure consciousness in everyone and everything."
Chopra has been contributing to mindbodygreen since 2013 and is a member of the mindbodygreen Collective, a collection of our most trusted, passionate, and mission-driven wellness advisers. He has long been ahead of his time on understanding the mind-body connection and the critical piece that the mind plays in healing, a concept that is only now very slowly being accepted by Western medicine. Chopra told mindbodygreen, "What we need to realize is that the body goes where the mind leads it. To reach a state of lasting wellness for a lifetime, qualities like happiness, social support, curiosity, and inner fulfillment are essential."
"Deepak is a spiritual icon who has inspired countless people to 'wake up' to a more conscious and connected life," says Jason Wachob, founder & co-CEO of mindbodygreen. "After meeting him in 2017, it was so clear to me that his work on consciousness will not only have a lasting legacy but is a message that the world needs to hear—now more than ever. We're honored to present this lifetime achievement award to Deepak."