Dove Will Switch To (Mostly) Recycled Bottles This Year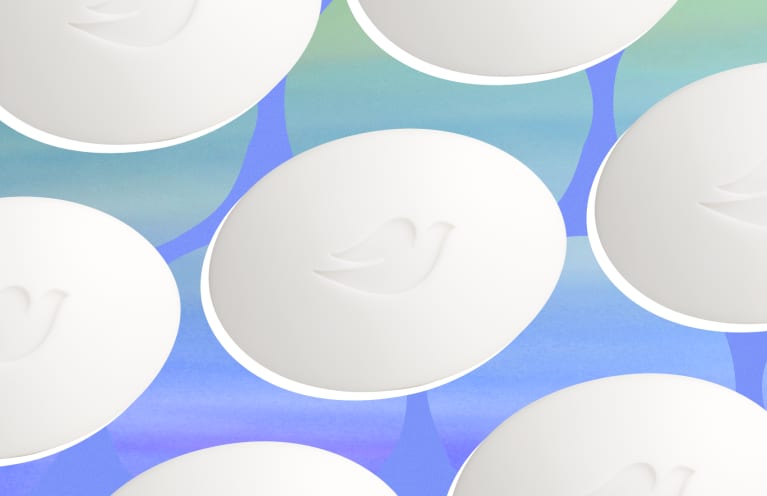 Today in Big Beauty news, Dove unveils one of the biggest plastic-reduction efforts we've seen yet in the mass beauty space. By the end of 2019—only a few months away—they'll switch to 100% recycled plastic (PCR) for a large majority of their bottles, reducing the use of virgin plastic by 20,500 tons per year.
They also announced additional ongoing efforts, like no plastic packaging (of any kind) where possible and moving to reusable packaging options. As Emma Loewe, our sustainability editor has noted, we're more excited about plastic-less and reusable initiatives going forward—but we're always appreciative of any earnest effort.
To kick off Dove's plan to switch over to recycled plastic bottles, they will use PCR plastic where feasibly possible across all Dove brands, which includes Dove proper, Dove Men+Care, and Baby Dove. (This is not a one-off campaign or limited-run series.) And to their credit, Dove is also completely transparent by what they mean by "where feasibly possible." Normally this is a phrase I'd consider something of a red flag, but because Dove outlines what is still virgin plastic and why, it doesn't bother me as much. Among the items that will not be fully PCR plastic:
The most important note is that this phase of the initiative relates only to the bottle; in the second phase, the brand says they will be looking into replacing pumps and caps with 100% recycled material, but it doesn't exist at this time.
Deodorant packs are made mainly of polypropylene. Currently, the brand notes, there is not enough quality recycled polypropylene available to allow for 100% application. Reps from the brand say that each pack differs—due to varying color and format—but they use the highest percentage possible for each. (More on another deodorant packing option they're looking into below.)
Some of color-tinted hair care bottles will not make the switch as no technical solution exists for these bottles yet, says the brand.
In the European Union, Dove bottles with MuCell technology (the type of packaging that makes something foam) will be at 97% recycled plastic content by year-end. Liquid hand wash, also with MuCell technology, will be at 97% recycled plastic by the end of 2020 (this is also due to the quantity issue mentioned above, according to the brand).
The self-foaming and liquid hand wash formats in North America will be at 78% recycled plastic. (According to the brand, they're looking into ways to make these products 100%, to be announced when they are able).