What To Consider When You're Donating To Bushfire Relief In Australia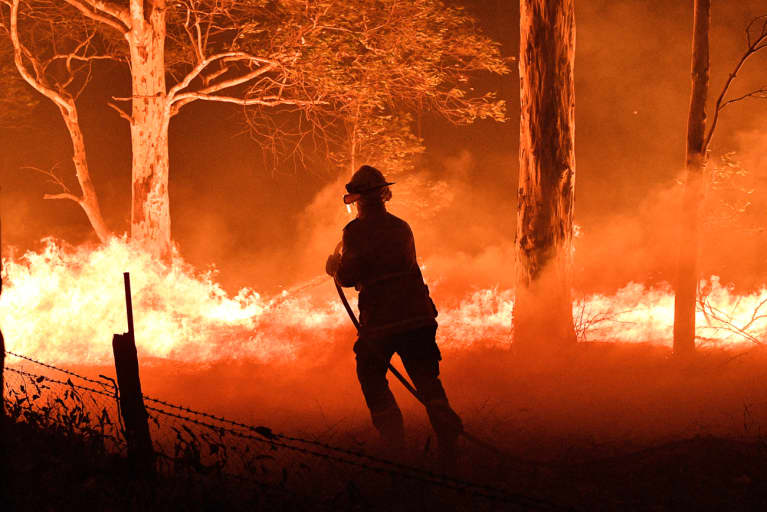 January 6, 2020 — 19:57 PM
Record-high temperatures, strong winds, and dry conditions have set the stage for one of the worst wildfire seasons in Australian history. Blazes, ignited by things such as lightning and burst power lines, have been roaring in the country since November. According to a local fire service, 130 separate fires were still active across southeastern Australia as of Tuesday morning Aussie time, and 5 million hectares (over 12 million acres) of land has burned so far.
So far, over 1,300 homes have been destroyed and 23 people have lost their lives in the disaster. And according to a model by Chris Dickman, a professor or terrestrial ecology at the University of Sydney, up to 480 million animals have been killed by the fires thus far. One particular blaze on Kangaroo Island, a hot spot for biodiversity off the coast of south Australia, could have destroyed the last of dozens of already endangered species.
If you're wondering how to help those on the ground, consider donating cash over physical goods. The New South Wales Rural Fire Service, which is tackling a large portion of the fires, has reached capacity for food and good donations from their community according to a Facebook post shared on Monday. The service is now asking people to donate to organizations such as The Red Cross, St. Vincent de Paul Society, and The Salvation Army instead—where their money will help fund emergency assistance to families affected by the fires.
And if you're looking to help support environmental recovery, The World Wildlife Fund has started an initiative to replant trees and restore Australia's habitat once the blaze dies down, while The Port Macquarie Koala Hospital has raised $4 million and counting to help save threatened koalas. Local organizations providing care to rescued animals include the Animal Welfare League and Wildlife Rescue South Coast in New South Wales, Wildlife Victoria in Victoria, and Fauna Rescue in Southern Australia.
Wherever you decide to give, consider making a recurring donation.
Making slightly smaller donations but spreading them out over the course of a year will feel more doable financially and could be more beneficial in the long run. Especially in Australia, where the bushfire season lasts until March, longer-term donations have a particular appeal. Once the fires are contained, the recovery period can begin—and experts are predicting it will be a long one.
Much of the area that has burned in these fires is bushland that's filled with thick, dry shrubs, grasses, and trees. This landscape is relatively nutrient-poor to begin with, so luckily it's quicker to recover than old-growth forests like those lost in the recent Amazon fires (which, researches estimate, could take centuries to recover). However, biologists across Australia are saying that some native plant and animal species could already be threatened beyond repair. The loss of these animals and habitats will have reverberating effects throughout entire ecosystems, since everything in nature is connected.
Consistent donations to bushland restoration projects can help give scientists on the ground the resources they need to inspire as much regrowth as possible in the weeks, months, and years ahead.