A Powerful New Moon Ritual For Befriending Your Shadow Side
mbg Contributor
By Ruby Warrington
mbg Contributor
Journalist and curator, Ruby Warrington, is author of Material Girl, Mystical World, and founder of cosmic lifestyle platform The Numinous. She holds a bachelor's from the London College of Fashion, and is also the co-founder of sober-curious event series Club SÖDA NYC and online spiritual mentoring program Moon Club.
When we think about ritual, we often go straight to religion—where rituals were created to show reverence for a certain deity, to help community members atone for their sins, to give sacrament, or to mark rites of passage.
In witchier circles, talk of ritual can also conjure images of, well…conjuring! With the crystals, and the sigils, and the dragon's blood. Serious business for professional seers, sorcerers, and shamans—and also currently trending with the #witchesofinstagram. Ritual baths meanwhile, with their complex herbal compounds to soothe your soul as you soak, have got to go down as a self-care trend for 2017.
This sort of restorative work can seem super appealing in a world where many of our daily rituals go no further than our crazy-complicated morning Starbucks order. The reality in what we call the Now Age (like New Age, but for now) is that making time and space for more meaningful rituals in our lives often fizzles out at the "good intentions" stage.
But rituals are an ancient human technology. They're the first spiritual practices on Earth and an essential part of life that has been swept aside in many cases by the advent of…technology. A way of anchoring our unique experiences and communicating what's in our bodies and our souls, rituals are how we tell the Universe our story.
So when Alexandra Roxo and I created Moon Club, a digital spiritual mentoring program structured around the phases of the moon, a return to ritual was essential to us. And we also recognized the importance of making these rituals fit seamlessly into busy, multifaceted lives. We record them and share them in a community, so we all have one another to lean on. Syncing our syllabus with Mama Moon was the first step, since simply honoring the lunar cycles is a ritual in and of itself. In a world where many things have lost meaning, coming home to the cycles of the Moon gives us a framework and a connection to our roots. (Literally and figuratively!)
We still approach rituals as a portal to our inner lives, our deep spiritual work, and a place for transformation to occur within. But you also don't need to buy a bunch of crystals or cards (though we love those things, too!). You simply have to come with a willing and open heart and some focused, uninterrupted time. And we begin with a ritual for each New Moon—like tomorrow morning's New Moon in Scorpio.
Coming off the season of Halloween, Day of the Dead, and descent into the winter, it's a time of year to look deep inside ourselves and see what shifts are ready to occur. Most cultures have myths about the descent into the Underworld—like the Greeks with Persephone and Hades, or the story of Inanna.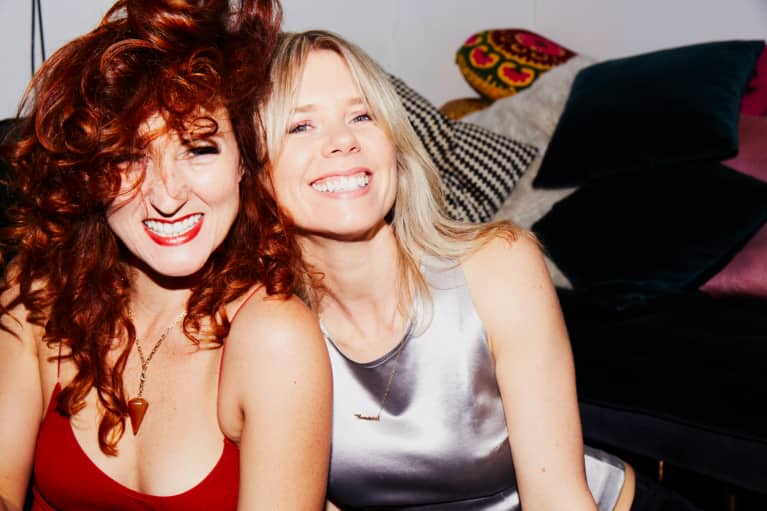 This ritual will help you tap into this deep Scorpio energy so you can learn big things about yourself and step into the holidays feeling reborn.
Step 1: Set an intention that can move mountains.
Ask yourself, "What do I want to learn about myself in the coming weeks? What are my next steps? What patterns am I still stuck in?" Or, phrase it like, "I am still being inauthentic in my online persona." Whatever feels right to you. This is the opening of what we refer to as your Energy Portal, and you can get as magical or as practical as you want. You can choose to do this while listening to FKA Twigs on the subway with your Notes app or with 30 candles lit listening to Gregorian chants dressed in black lace.
This ritual step is essential to calling in the lessons, the moments, and the people that will help you reveal and step into your intention.
Step 2: Dress as your shadow.
To harness the Scorpio energy, we recommend a ritual that looks into your shadow parts and then puts them right on your body. Pick one thing you are ashamed of. Or scared of. And start to become friends with that thing via your wardrobe.
Ruby—who is not a big fan of anger and conflict—is committing to wearing red this month to play with the energy of anger, heat, fire, and become more friendly with it. Red changes your vibe completely, and walking into the world every day with at least a splash of red can inspire major shifts in accepting anger, heat, and power.
Alexandra is putting on her leather Zana Bayne choker collar necklace this month to honor her erotic and kinky side instead of hiding it away and integrate that part of herself into her life more.
Step 3: Water that seed of intent.
Every day, come back to your intention. The simplest thing to do is light a candle for it every morning, one that you've reserved for this New Moon. Beware of just writing the intention and then forgetting about it. It's a symbiotic relationship and needs daily watering and honoring if you truly want to get the answers. Check in with it daily!
Step 4: Be grateful for the lessons, even the tough ones.
Give thanks for when the Universe shows you've been heard. If you asked "Where am I being inauthentic?" don't get pissed when that friend calls you out. Bringing life has become a ceremony of growth and transformation now. It's your choice to look at yourself deeply or exist on the surface. Have fun with it! Laugh and dance with the lesson and be in gratitude for the immense growth that is possible.
This article was co-written by Alexandra Roxo.
Here's some more stellar advice for maximizing your new moon ritual, in Scorpio season and beyond. And check in here to see what la Luna has in store for you through the rest of the month.