No-Extraction Facials Are Trending. Here, Holistic Estheticians Reveal Why
Contributing Wellness & Beauty Editor
By Lindsay Kellner
Contributing Wellness & Beauty Editor
Lindsay is a freelance writer and certified yoga instructor based in Brooklyn, NY. She holds a journalism and psychology degree from New York University. Kellner is the co-author of "The Spirit Almanac: A Modern Guide to Ancient Self Care," with mbg Sustainability Editor Emma Loewe.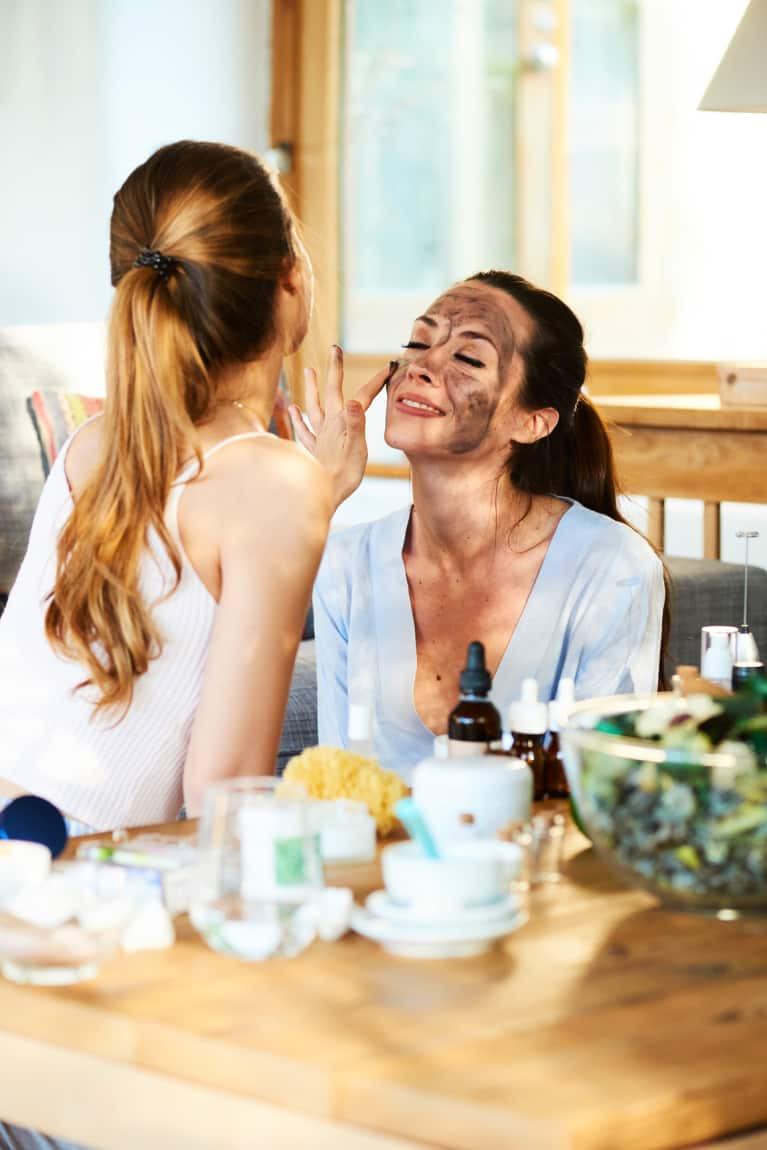 While standard, traditional facials haven't changed much in years, there's a new type of facial in town—one that relies on deep massage to treat acne, blackheads, and other common skin complaints.
A typical facial starts with a cleanse, perhaps a little facial massage; then steaming begins, followed by extractions, a treatment mask, toner, and finally a hydrating, sun-protective product.
This holistic facial treatment kisses extractions goodbye.
The new facial you'll start to see at wellness centers everywhere focuses more on massage and manipulation of the face itself, either using gua sha techniques, acupressure, fascia manipulation, or some combination thereof. "I would do the same work every month," said mbg collective member Britta Plug, who worked in spas for almost a decade before she started to change up her treatments. "Once I started discovering different massage techniques, I realized much deeper work can be done when we skip the extraction process." Plug is a modern-day champion of the gua sha technique, facial massage, lymphatic drainage, and several other face-manipulation methods and is an advocate for removing extractions from the process for most clients. "I do extract some clients in certain scenarios when the skin just has too much of a toxic load; I'd say 10 percent of the time," Plug said. "But there's so much more value in getting the other work; I'd rather focus on that for my clients."
Hayley Wood, a Los Angeles licensed esthetician, facial reflexologist, and Reiki practitioner, still does extractions in her practice but has noticed a shift. "There is definitely conversation going around the facialist community on how to evolve our practices, which includes whether or not to do extractions," she said. "The reason being is that we are gathering so much more information on the skin's microbiome than any other time in our history, so practices are shifting intentions in order to let the skin restore itself."
Indeed, Plug is doing something right. She has a three-month waiting list after opening up her own practice, Britta Beauty, this year to focus solely on massage-based treatments. "People are still attached to the idea of extractions," she said. "It took a while to phase it out, but now my clients are all about it."
So how does facial massage help with acne, exactly?
Angela Peck, the esthetician responsible for educating Britta and many of her colleagues on the virtues of facial massage, explained that she was trained on the Vodder method, a manual lymphatic drainage method that was developed nearly a century ago in Europe. "I had a client who I affectionately called my 'blackhead factory,'" she recalled. "She had an incredible amount of blackheads. I would do extractions every month on this client, equipped her with salicylic acid products, but only saw slight improvements," Peck said. After getting trained on the Vodder method, she experimented on this client and reduced almost all of her blackheads in six months. Her client's skin looked so different that, upon meeting her family at the airport during a trip back home, they had to physically sit down because they couldn't believe it. "Now I can achieve the same results in six weeks," she said.
"No flow, no glow," is Peck's skin care motto. "Breakouts go far deeper than extractions," she explained. "It's an accumulation of oil, sebum, excess protein, and debris under the skin." If it stays stagnant, the result is inflammation, which can result in rosacea, wrinkles, aged-looking skin, and acne according to Peck.
One-third of all your body's lymph nodes are concentrated above the chest, which means that stimulating lymph flow at your body's highest point, your head, helps the rest of it move as well. And given recent research in which scientists have recognized a new organ—the interstitium—which includes the skin, lymph, fascia, and spaces between organs, Peck's theory holds weight.
It's also like a hug for your nervous system.
Annee de Mamiel, a London-based esthetician with a formal degree in traditional Chinese medicine and certifications in Oriental aromatherapy, acupuncture, and specifically facial acupuncture, also leaves extractions out of her signature attunement facial treatment. She has a waitlist too—at present, it's three years long. "My treatments are designed to help people feel more connected to themselves and to nature," said de Mamiel. "It's just not part of my philosophy. If people really want extractions, they can go get them elsewhere, but I look at the body and skin holistically—the muscles, the skin, the ligaments, the deep connections in the face," she said. "Extractions don't suit a deep relaxation treatment."
If you want to try these techniques on yourself, check out Plug's guides to facial fascial manipulation and lymphatic drainage.