I'm A Doula: Here's What I Wish Everyone Knew About Giving Birth
Certified Birth Doula
By Ashley Spivak
Certified Birth Doula
Ashley Spivak is a Brooklyn-based certified doula. She is the co-creator of allbodies, a digital platform for modern health education, and the co-author of Why Did No One Tell Me This?. Her work has been featured in The New York Times, Forbes, Newsweek, and Teen Vogue.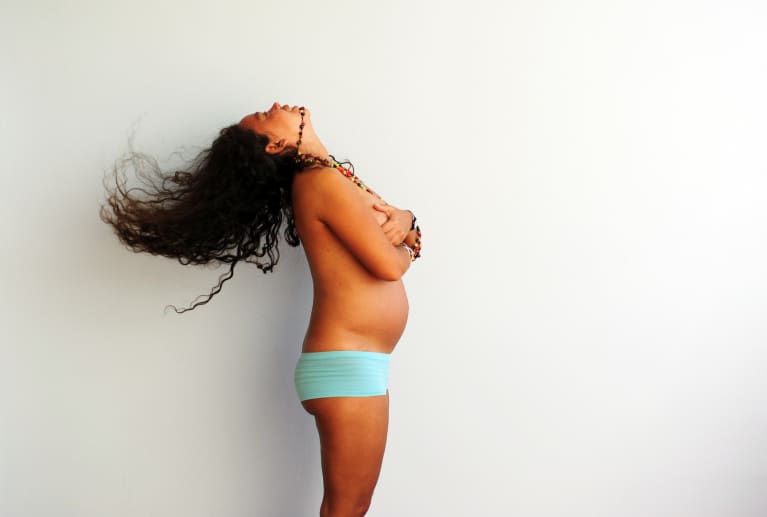 Doulas seem to be all the rage these days, but there is still a lot of confusion over what exactly a doula does. Are doulas the same as midwives? Do they only work home births? How do I know if I need one?
Here's exactly what a doula does.
Let's start with the basics. A doula provides educational, emotional, and advocacy support. They are strictly nonclinical. This means that while a doula is part of your birth team, they do not replace an OB or a midwife. While it varies from doula to doula, the typical "doula package" includes meeting two or three times prenatally, being on call starting at 37 weeks, attending the birth, and then one or two postpartum visits. You can hire a doula at any time, but we usually advise to wait until at least your second trimester and not to leave it to your 36th week.
In meetings leading up to the birth, everything is discussed, from the birth experience, coping techniques, getting to know both partner and birthing person's preferences (and just clients as people!), what to expect at the hospital, how to advocate for oneself, breastfeeding, and the postpartum period. During the labor, they do everything from massage and visualizations to helping create more space in the pelvis so baby can rotate and labor can progress, normalizing the weird and scary stuff that can happen (All that blood? That's a good sign!), and, of course, getting sandwiches for all. They can also help facilitate conversations with your medical providers to ensure you are an active participant in your care.
So how do you know if you should work with a doula? Well, the truth is, everyone can benefit from having a doula. Whether you are birthing at home, at a birth center, or in a hospital, with an OB or midwife...the benefits are clear: The continuous care of a doula can help decrease your chance of a caesarean, the overall length of labor, the amount of Pitocin and other medications used, the chance of your baby having low Apgar scores, and having negative feelings about childbirth. There is no evidence of negative consequences.
Something holding you back? Here are some of the top myths about doulas, debunked:
A doula supports both you and your partner through the birth.
Doulas will never replace your partner. How could we? Your partner likely knows you better than anyone. The doula's role is distinct from the partner's. In fact, sometimes in labors, doulas will be in another room while partners work together through contractions allowing for special intimacy and privacy. Doulas can never speak on behalf of their clients—but partners can when the birthing person is unable. The doula acts as a facilitator and container, to allow the partner to best support the birthing person by taking some of the pressure off, helping to guide them, answering questions, and letting them rest when needed.
There are two main things doulas bring to the birth that your partner most likely cannot: experience and detachment. And these make a big difference. Having a doula around to say, "It's normal to vomit" or "Why don't you check in with your provider," helps you stay at home for as long as you can (which is advisable in all healthy, low-risk labors). Helping to translate your needs to professionals at the hospital can be extremely beneficial too. Plus, many doulas have additional trainings that can help with the progression of labor. Your partner is going to be emotionally attached to all that is happening (rightfully so!), and so nerves, apprehensions, and their own original birth preferences or ideals may cloud their ability to give 360 support. No amount of books can fully prepare you for the experience once you are in it, and it's nice to have someone you can bounce your thoughts off of and be reminded of the questions to ask your provider along the way.
Here's why they're expensive (and what you can do to lower the cost).
It's true that doulas have become an "it" item, but we are not accessories. We actually can change birth outcomes. And it is sad that doula care feels so inaccessible to so many. We can certainly do a lot more to increase access for our most vulnerable populations. For instance, some doulas will work pro-bono, at a very low cost, or have funding from other sources. While it is still very rare, some hospitals are now integrating doula care into their systems too—it's always worth asking. And, if you can't find a doula listed in a price range that works for you—email a couple and ask! Many doulas are willing to lower their fees to work with those who otherwise wouldn't have access, or if they can't, they can recommend others who can.
And for those with solid and stable incomes that feel like it's just another birth-related expense they can't take on—check with your insurance policies. Some are now allowing doula care to be part of their flexible spending programs. It might help to think about what's required of a doula when looking at the cost. Being on call takes a lot out of us and our loved ones, as we work hard to be present and fully available. We can be at births for days straight. It's worth taking a moment to evaluate and be honest with what you can afford and where you are putting value on what you spend.
A doula advocates for you in a crowded, hasty health care system.
While there are some hospitals working hard to have more patient-centered practices, the truth is, in many areas, they have a long way to go. Particularly in large urban areas, the hospitals are overcrowded, meaning you can be waiting for hours. Most practices are made of many doctors or midwives, so you won't know who is actually providing your care on the day of, and because you won't be receiving continuous care otherwise. Remember, nurses and likely your practitioner change shifts, and even if it is the same practitioner and nurse your whole labor, they are hardly in the labor room with you—they are mostly watching you from screens outside. This makes it harder to provide care that is specific to your unique labor pattern.
A doula makes your health care professionals' jobs easier.
The job of the doula is never to cause more tension but actually to try to make it easier for everyone involved, including your practitioner! Remember, these roles are entirely distinct, and a doula has no place giving medical advice or diagnosing. Doulas can, however, help facilitate conversation ("Do you have any questions about the side effects of that medication?") and create more time ("Do you want five minutes to think it over?") for decisions to be thought through before being acted upon to ensure that informed consent is being honored and that the client is an active participant in their own birth.
It used to be that birth was a lot more ingrained in our culture. Our own child's birth wasn't the first birth that we ever experienced. Our moms and sisters, aunts and friends acted as our "doulas." But as we have so much fear around the unknowns of childbirth and we move away from our families, as birth has moved into hospitals bound to certain practices needed to keep their institutions running, and the disparities in maternal and infant outcomes based on race become clear, doulas are more important than ever.
Just starting to think about motherhood? Here are five unexpected signs you might be pregnant. Plus, a doula explains exactly what happens to your vagina during birth.