DIY A Soothing Weighted Blanket With This Easy Tutorial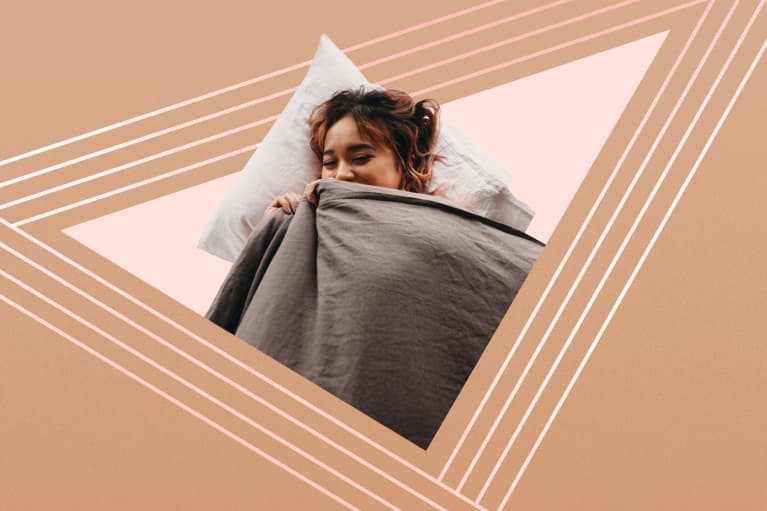 Are you in need of something cozy to snuggle up to—that also gives you the best, most calm sleep of your life? Consider a weighted blanket.
The weighted blanket trend has become synonymous with healthy sleep and a balanced mental state. Weighted blankets are therapeutic blankets weighing between 5 and 30 pounds. The weight mimics a therapeutic technique called deep pressure stimulation, and research suggests a weighted blanket can help treat insomnia and other sleep disorders, anxiety, and chronic pain among other health issues that inhibit the body to calm down. (See one editor's review here.) If you're the DIY type, you can make your own: Just follow these steps.
Sewing machine
Quality thread
Scissors
1½ yards (54 inches) durable fabric
3½ yards (126 inches) of 32-inch muslin
2 pieces of batting at least 1½ yards long by 40 inches
Rotary cutter and board
Large ruler
Fabric measuring tape
Fabric markers
Tube (such as an empty wrapping paper roll)
A wide-mouth funnel
Weighted pellets (You can use glass pellets or even things like dried grains)
Scale (we recommend a kitchen scale)
Pins
Binder clips
We recommend opting for organic fibers whenever possible. From there, however, you can decide the fabric based on your needs: whether you want something like high-quality Kona Cotton, flannel for warmth, satin-cotton fabrics for heat sensitivities, or a linen blend.
2.
Determine blanket size.
Before actually purchasing your fabric, you'll want to decide on your blanket measurements. It needs to be at least big enough to cover your body, or the person's body who will use it. You could also make it as large as a quilt or comforter. Next, choose the size of the squares that will be filled with the pellets—ranging from 3 inches to 5 inches. This DIY weighted blanket will be about 40 by 50 inches.
3.
Determine blanket weight.
A weighted blanket should be roughly 10% of the person's body weight. Next, divide the result by the number of squares in the blanket to determine how much weight will go into each square. A kitchen scale will help you determine the volume of pellets needed in each square. For this weighted blanket example, each square will require 2.7 ounces, but please tweak based on your preferences.
Get your muslin cloth. This should measure to be about the size of the smaller bit of outer fabric. This is what is going to end up being your "weighted piece"—meaning this is going to be what you fill the pellets into.
Using a marker, draw 1-inch margins on all sides of the blanket (this will be your border). Inside of these margins, you will create your grid. Mark off squares about 6 by 6 inches, with about 6 columns by 8 rows.
Pin your fabric together, then sew both long sides, followed by one short side. In the end, you will have sewn together three sides of the blanket, leaving the top open. Next, sew all the columns (or the lines moving parallel to the sides) that you marked.
5.
Fill the weighted piece.
Using a tube and funnel, place 2.7 ounces of pellets into the bottom of each square on your bottom row—your first row will be the bottom of the blanket. Be sure to push the pellets down far enough so you don't accidentally sew over them. Once a whole row has been completed, pin the blanket into place and sew horizontally. (This will be along the lines you've previously drawn.) Complete this process until the entire blanket has been filled.
6.
Bring the fabric together to complete your blanket.
Gather your two large pieces of 54-inch (1½-yard) outer fabric that you'll need to sew together. (This is the fabric that you will see on the outside when it's complete—the important fabric.) Also get your batting—this is what will give the blanket shape and fluff, so it looks like a normal quilt.
Then layer as follows: batting, outer fabric, outer fabric, batting, weighted piece. Use binder clips and pins to keep all the layers intact.
7.
Sew your blanket together.
The only thing you need to do now is sew your DIY weighted blanket together. Stitch with the side of the walking foot lined up with the outer line of the muslin weighted piece. Leave the bottom open so you can easily flip it right-side out.
Once flipped, lay flat, and hand-stitch the opening closed. All you have to do now is enjoy it.