This DIY Mosquito Repellent Is DEET-Free & Smells Like A Dream
Contributing Wellness & Beauty Editor
By Lindsay Kellner
Contributing Wellness & Beauty Editor
Lindsay is a freelance writer and certified yoga instructor based in Brooklyn, NY. She holds a journalism and psychology degree from New York University. Kellner is the co-author of "The Spirit Almanac: A Modern Guide to Ancient Self Care," with mbg Sustainability Editor Emma Loewe.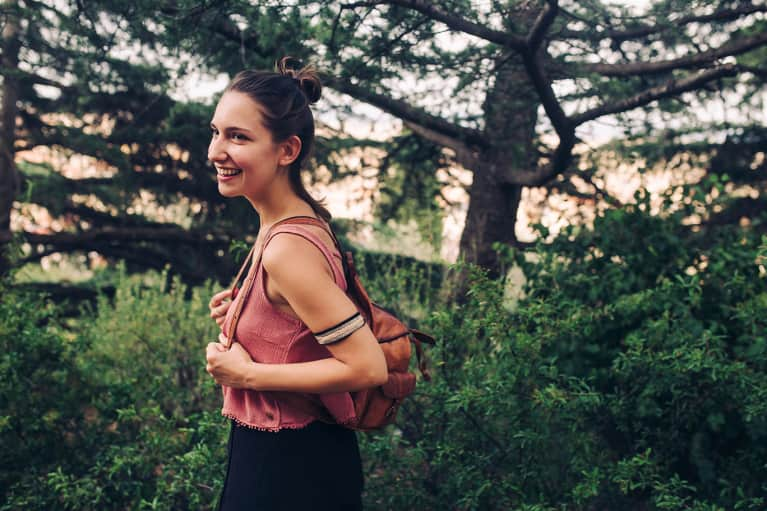 Last updated on July 1, 2020
The CDC maintains that the best way to protect oneself from mosquitos is to stay inside during peak exposure times and wear protective clothing. But for those sunset walks, backyard barbecues, and socially distanced picnics, your next line of defense is insect repellent.
Many bug sprays on the market these days are formulated with N,N-diethyl-meta-toluamide, or DEET. Though it is generally considered safe to use as needed, overexposure to DEET in humans has resulted in eye irritation, vomiting, and nausea. If you'd rather steer clear of DEET, essential oils can be one effective alternative. However, it's important to never apply these oils directly onto the skin, as they too can cause irritation in high doses.
This recipe dilutes essential oils with vinegar and witch hazel for a smell-good DIY mosquito repellent:
Homemade bug spray recipe:
½ cup water (or apple cider vinegar, for a more potent blend)
½ cup witch hazel
20 drops citronella essential oil
10 drops rosemary essential oil
15 drops lemongrass essential oil
10 drops holy basil oil
20 drops eucalyptus essential oil
1 tbsp vegetable glycerin
Combine ingredients in a 16 oz. spray bottle and shake them up! Douse any exposed skin diligently, and reapply every couple of hours for maximum effect. Please note that essential oils should be patch-tested (i.e. applied to a small patch of skin) on everyone first, and shouldn't be used on children under 2 years old.
Can I use any other essential oils if I don't have these?
According to a comprehensive review of essential oils and their repellent effects, oils containing α-pinene, limonene, citronellol, citronellal, camphor and thymol are most effective. While one study pinpointed holy basil, lemongrass, and eucalyptus as the most powerful against bugs, another one showed that cajeput and catnip should do the trick too.
The CDC has also compiled a list of natural oils that are helpful as tick repellents, specifically, and it includes rosemary, lemongrass, cedar, peppermint, thyme, and geraniol oils. Swap these into your bug-repellent mix if ticks are a concern too.
Whatever oils you choose, make sure they contain potent concentrations and don't have any unnecessary added ingredients. (This beginner's guide to essential oils walks you through how to find high-quality ones.)
How effective are DIY bug sprays, and do I ever need to use a chemical product?
If you are a super concerned about contracting an insect-born disease, you might be better off using a repellent that includes DEET in small amounts. The Environmental Working Group recommends capping DEET concentrations at 30 percent. For this reason, you might want to avoid sunscreens with DEET if you're wearing an insect repellent that also contains it, or vice versa, as it can lead to overexposure.
At the end of the day, functional medicine doctor Robin Berzin, M.D. reminds us that no insect repellent will solve all of our pest problems. "While DEET- and Picardin-containing bugs prays do appear to be the most effective, natural bug sprays are a great option too," she tells mbg. "No matter what, no bug spray is 100% effective, and covering exposed skin and avoiding areas with high concentrations of mosquitoes is ultimately the most effective protection."
While staying inside and wearing protective clothing are the best ways to avoid mosquitos, insect repellents are useful too. You can either make your own spray using essential oils, or reach for one that contains DEET. Just make sure it isn't present in high doses and be judicious about the amount of it you use.