This DIY Bug Spray Is Non-Toxic, DEET-Free, And Doesn't Smell Like Bug Spray
Contributing Wellness & Beauty Editor
By Lindsay Kellner
Contributing Wellness & Beauty Editor
Lindsay is a freelance writer and certified yoga instructor based in Brooklyn, NY. She holds a journalism and psychology degree from New York University. Kellner is the co-author of "The Spirit Almanac: A Modern Guide to Ancient Self Care," with mbg Sustainability Editor Emma Loewe.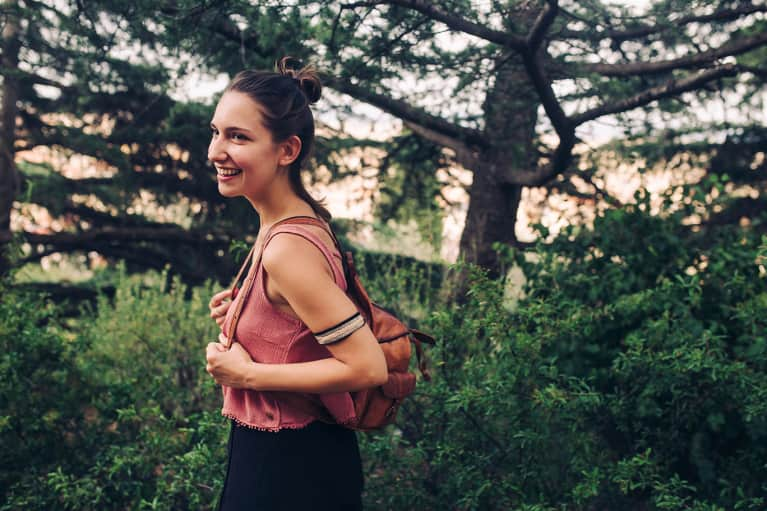 Our editors have independently chosen the products listed on this page. If you purchase something mentioned in this article, we may
earn a small commission
.
It's officially summer and everyone wants to be outside as much as possible. It's good for us! But summer fun has a catch. The magic of long days and balmy nights brings a handful of health concerns, including sun protection, bug bites, and bug-born ails like Lyme and Zika.
The CDC maintains that the best way to protect oneself from bugs is to stay inside during peak exposure times and wear protective clothing. But for those sunset summer sports, sunny picnics, and lake skinny-dips, isn't there another option? Your next line of defense: Insect repellent.
Here's a look at the most pressing insect issues this summer, plus a definitive guide of when to go natural and when to consider something stronger.
Do you still need to worry about Zika in summer 2017?
First things first: How dangerous is it out there this year? By and large, data from the CDC indicates that Zika rates are way, way down nationwide. Phew! Last year, there were over 5,000 cases in the U.S., but presently there are fewer than 200, and all but one (which was sexually transmitted) are from travelers returning from affected areas. Here's a helpful breakdown of the number of Zika cases by state. In the U.S. territories, about 500 cases have been reported and those were due to transmissions from native mosquitoes. Travelers to tropical climes like Puerto Rico and the Virgin Islands should take extra precautions. If you're pregnant or trying to become pregnant, check out this map before locking in your travel plans.
When it comes to bugs, ticks are the ones you need to worry about this year. Due to an increase in the mouse population in the Northeast, 2017 is predicted to be one of the worst years for Lyme so far. Mice carry and transmit Lyme disease to ticks, who then transfer it to humans. More mice, more Lyme. More Lyme, more insect repellent.
Do insect repellents need DEET to be effective?
Since Zika isn't as much of a concern, do we need to buy bug sprays with DEET, a known toxin? It really depends on who you ask. According to the CDC, bug sprays with DEET are proven to be the most effective, but this is partially because there's a larger body of research dedicated to studying them.
The risk of contracting Zika in the States is significantly smaller than it was last year, so you may choose to reach for a more natural approach. (If you are in or are traveling to a Zika zone, opt for the big guns: DEET.) It may be best to purchase an insect repellent that includes DEET in smaller amounts, no greater than 20 to 50 percent. Overexposure to DEET in humans has resulted in eye irritation, vomiting and nausea if ingested, and has also been shown as an environmental toxin. Over time, use of sun-protection products with DEET could disrupt biological ecosystems, including marine life.
Dr. Robin Berzin, mbg health expert and class instructor, confirms that no insect repellent will solve all our pest problems. "While DEET- and Picardin-containing bugs prays do appear to be the most effective, natural bug sprays are a great option too. No matter what, no bug spray is 100% effective, and covering exposed skin and avoiding areas with high concentrations of mosquitoes is ultimately the most effective protection."
It's worth noting that the EWG also does not recommend using a bug spray with 100 percent DEET, because DEET is toxic in high concentrations. In fact, they recommend capping DEET concentrations at 30 percent. For this reason it's also recommended to avoid sunscreens with DEET if you're wearing an insect repellent that also contains it, as it can lead to overexposure.
That said, there hasn't been much research on the effectiveness of essential oils for bug spray. Some research says that essential oils are highly variable in their sourcing, concentrations, and quality, so repellent effects could vary. Others maintain that the mixes they've used are potent and effective at repelling insects. And other chemical compounds, like limolene and camphor, which occur naturally in essential oils, are recommended by some.
What essential oils are good for bug spray?
According to a comprehensive review of essential oils and their repellent effects, researchers concluded that "individual compounds present in [essential oils] with high repellent activity include α-pinene, limonene, citronellol, citronellal, camphor and thymol." Holy basil, lemongrass, and eucalyptus are cited in one study as most effective. Another study found that oils like cajeput and catnip were most effective in repelling insects.
The CDC has compiled a list of natural oils that are helpful as tick repellents, specifically. Garlic oil, for use on lawns and grass, as well as rosemary, lemongrass, cedar, peppermint, thyme, and geraniol oils are helpful to include in your bug-repellent mix if ticks are a concern.
Make sure that the brands you're using contain good-quality ingredients, potent concentrations, and without any unnecessary added ingredients.
Here's how to make your own natural insect repellent, according to science:
Combine ingredients in a 16 oz. spray bottle and shake them up! Douse any exposed skin diligently, and reapply every couple of hours for maximum effect. Please note that essential oils should be patch-tested on everyone, and it's not recommended to use them on children under 2 years old.
While you're making bug spray, you may also want to concoct your own natural deodorant.