You're One Face Mask Away From Dewy, Refreshed & Revived Skin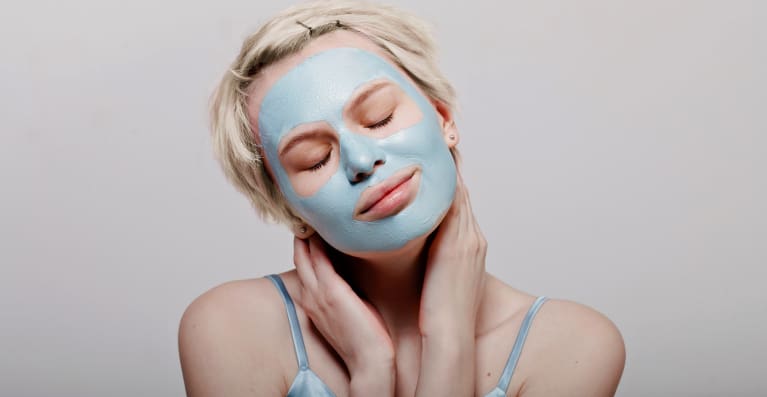 Our editors have independently chosen the products listed on this page. If you purchase something mentioned in this article, we may
earn a small commission
.
Kerrilynn Pamer and Cindy DiPrima Morisse are natural beauty pioneers. Opening their boutique, CAP Beauty, in New York City's West Village was revolutionary—never before had clean, green, natural brands been curated with such discernment and presented in a beautiful way. Since then, they've developed their own food and beauty products and have learned the importance of food and beauty. The mask recipe below has been excerpted from their new recipe and natural beauty book, High Vibrational Beauty.
Our love for a good mask runs deep. We love the range that we sell at CAP Beauty, with something for every season and every skin type. But we also love to get in the kitchen and formulate our own, using staples from our superfood pantry, confirming our belief that the best skin care mimics a healthy diet, with nutrients at the forefront and complemented by pure and life-giving ingredients. Mixing these masks will become second nature. Channel your inner chef, and your skin will thank you.
Designed to replenish the skin and the spirit, the mask has uplifting qualities to bring you out of winter and into brighter days ahead. You can do this mask once or twice a week. The ingredients contain high levels of antioxidants and vitamins D and E; are anti-inflammatory, purifying, and calming; and have gently exfoliating properties. The mask is perfect for the season, as it helps to shed winter layers while nourishing and feeding your skin. Of course, it's clean enough to eat. (And, most likely, delicious!) Leave it on for 20 or 30 minutes.
Ingredients:
water
a small ceramic bowl and brush
Whisk or stir ½ teaspoon matcha into 1 tablespoon water and set aside.
Add to a small ceramic bowl ½ tablespoon tocotrienols, 1 tablespoon honey, and 1 teaspoon chlorella, and mix well with the brush.
Slowly and deliberately pour the brewed matcha, as needed, until it reaches a paste-like consistency. Be careful not to create too thin a consistency. If needed, add more tocotrienols and honey.
Apply to your clean face with the brush. Allow to sit for 20 minutes. We like to take a bath or meditate while we're masking. It may be drippy, so lying down is smart. Enjoy a time-out.
Remove with warm or cool water, scrubbing gently to promote a light exfoliation. Your skin will feel dewy, cleansed, and revived.
Reprinted from High Vibrational Beauty by Kerrilynn Pamer and Cindy DiPrima Morisse. Copyright © 2018 by Kerrilynn Pamer and Cindy DiPrima Morisse. Photographs copyright © 2018 by John van Pamer. Published by Rodale Books, an imprint of the Crown Publishing Group, a division of Penguin Random House LLC.