This Holiday Decorating Mantra Is Good For The Planet & Great For Your Wallet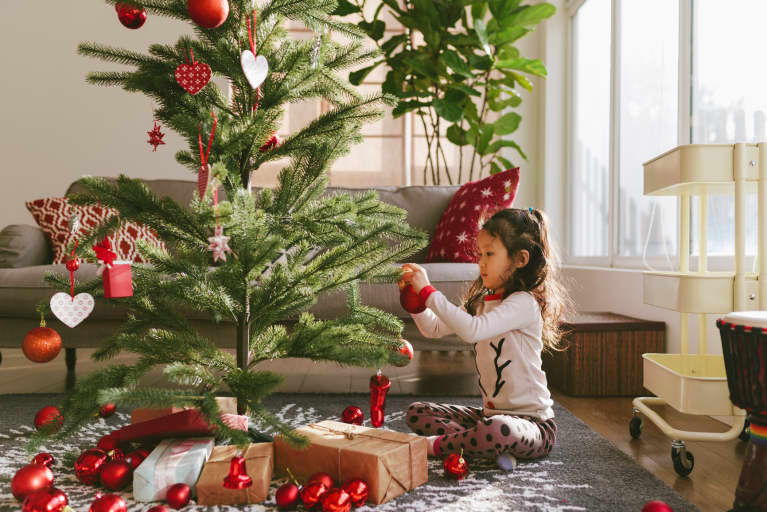 Our editors have independently chosen the products listed on this page. If you purchase something mentioned in this article, we may
earn a small commission
.
The U.N. warned us: We have 12 years before the damage we've done to the Earth becomes irreversible. Instead of letting reports like this paralyze us, let's use them to empower us. The experts are saying it's going to take a mix of large-scale change AND individual action to save our planet—and we want to help you do what you can. Consider our new series your no-excuses guide to cleaning up your act, one step at a time. Today, we're starting with a tip for cleaning up your holiday shopping cart.
In the mad rush that is—let's face it—pretty much the whole month of December, some things are bound to get lost in the shuffle. If you're the one hosting for the holidays, table decorations are oftentimes that detail that you keep for the last final minute.
The Problem: More decorations mean more waste—and more money!
The holidays are arguably one of the most expensive times of the year, and they're without a doubt the most wasteful. Between the wrapping paper, unwanted gifts that end up in the trash, and mountains of food scraps heading straight for the bin, there's a lot of room for improvement in the month of December.
The Solution: Take inspiration from nature for your holiday decor.
When you're just making a table look pretty for one meal, there's really no need to go out and buy anything new—all you need to do is head outside and let nature provide you with all the inspo you could want. Top it off with a few goodies hiding at the back of your fridge or cupboards, and your table is all set.
I've rounded up all the best ideas out there so you can set your table up without spending a penny or creating any waste.
The main feature of any stunning holiday tabletop is the centerpiece. But if you don't have the time or the cash to head to the shops to splash out a new one, there are a number of alternatives you can consider.
If you don't have any candles or fairy lights in the cupboards, all you need to do find yourself some pine cones (preferably still on their little branches). Once you've done this, chop off a few smaller branches from the back of your Christmas tree if you have one (preferably at the bottom, where the tree is bushiest). Then, simply arrange these in a used tin can and cover with old material or a tea towel for a minimalist, Scandi look.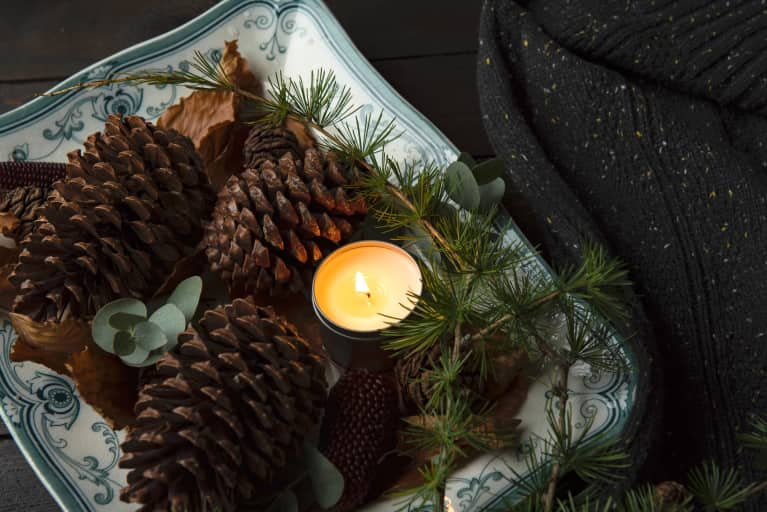 Fancy something more festive? Pop your string lights in a jar, glass, or vase, and they're ready to take center stage. Throw some pine cones in, too, and wrap your lights around them for a warm, cozy glow.
If you've got candles or tea lights covered, but they're looking a bit bare, then try filling a jar, glass, or vase with water and floating the candles on the top. You could also add cranberries, flowers, or leaves for a more festive feel. Or if you're a keen gardener and have any spare pots, planters, or troughs floating around, try filling them with natural, festive materials and securing your candles on top.
If you can't find anything to put your candles in, simply jazz them up with leaves or twigs, and secure with a ribbon or twine. Place in the center of your table on a plate or platter.
Nothing says the holidays quite like the smell of cinnamon, cloves, and orange. And thankfully, these ingredients make for great decorations too! Simply slice up an orange or two and pop in the oven on a wire rack at 175 degrees F (80 degrees C) for around three to four hours—and make sure you keep checking in and turning them! Once they're dry, you can add them to your centerpiece, or if you have time, why not sew into a garland?
If you have the space, you can separate your dried orange slices into two bowls or Mason jars, add some pine cones, star anise, and cinnamon sticks for a simple but effective homemade potpourri. Dot along the table so all your guests can get a whiff of this warm, cozy delight.
For some variation, you could always try drying some oranges whole—just slice evenly from the top or the bottom of your orange, and repeat this until you have around six to eight lines, and dry it out in the oven on the lowest setting. Stud a few with cloves, and pile up on bowls or platters along the table. You could even use these on their own as a centerpiece if you're pressed for space or trying to keep things simple.
The place cards and settings
Once you've sorted your table decorations, it's time to get personal. Sticking with the natural theme, you could write your guests' names on leftover gift tags and tie to a pine cone with twine. To spice up your settings even more, try adding some cinnamon sticks or a sprig of rosemary to your napkins and secure with twine. Tuck a dried orange under there and you're ready to go.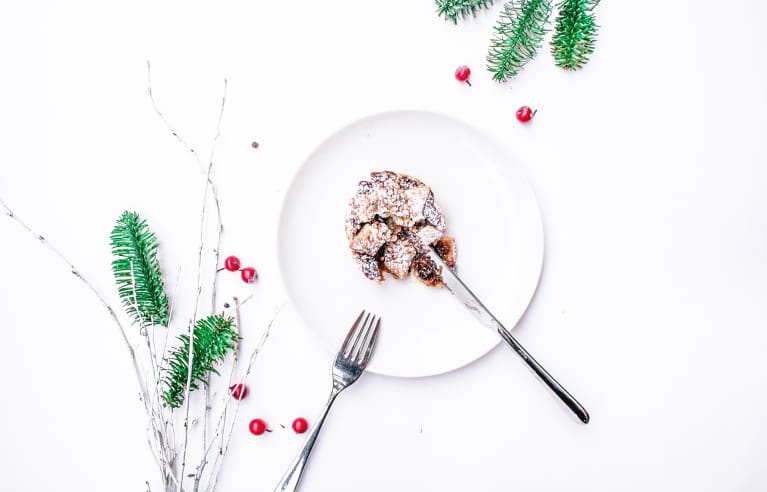 A simple tip for making your place setting look stunning is to layer your plates. This doesn't have to be expensive (and they don't even have to match!). Just take a look and see what's in your cupboard.
If your table is still looking a bit bare, build your centerpiece out with sprigs of holly or ivy (check it's the right kind, though!)
If you're fully committed to watching your waste when it comes to holiday dinner, you'll also need to consider how you serve your festive feast. In the U.K. alone, we throw away £64 million worth of food throughout the Christmas period, so if you're yet to purchase your food, I suggest you use the portion planner from Love Food Hate Waste to plan how much you'll actually need.
When you're setting the table, although it's tempting, there's no need to use bigger plates than normal for your dinner. If you're serving your food on platters, then guests can help themselves—plus if their plates are smaller, they're less likely to be able to pile up on food they'll never actually get around to eating but can go back for seconds if they're still hungry.
This also makes your leftovers much easier to manage, as you can keep all your food separate and pop it in the fridge or freezer. Make sure you've got a big enough set of beeswax wraps handy. You're probably going to need them!
Small steps ladder up to bigger strides, so stay tuned for next week's eco-tweak that's so easy, there's really no reason not to add it to your routine.