I Never Wanted Children. Along Came A Dog Named Sophie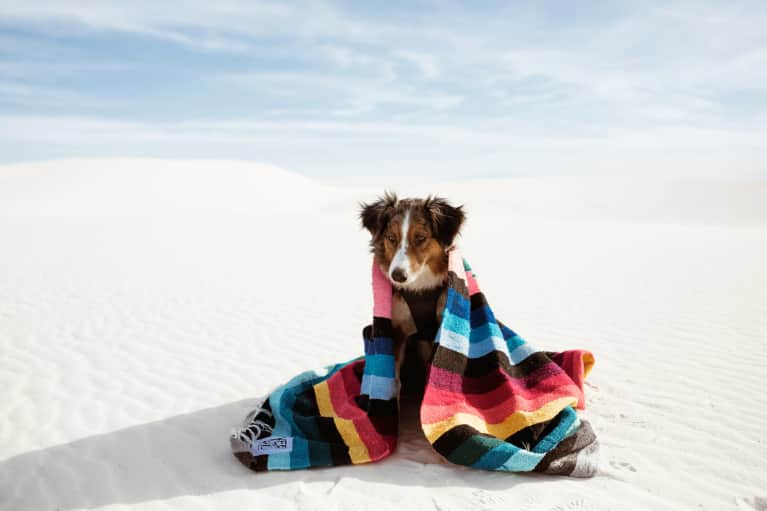 I'm not a kid person. I may never be. I don't coo when I see babies, and if someone hands one to me, I hold it at arm's length like a ticking bomb. When it comes to my family, friends, yoga students, or animals, I have a lot of love to give. But when it comes to children, I never really…got it.
I've felt a lot of shame and confusion over the years for not having a strong desire for a family. As if there's something wrong with me, or I'm missing some piece other people seem to have.
What if I never like kids? What if I fail as a mother? Do I even want children?
What I have learned over the years is that you do not need to be a "kid person" to be a parent. Sometimes when we have a strong aversion to something, it is because we are afraid. The most loving choice we can make is to own who we are in the moment but to also stay fluid as we grow and change. The future is not predetermined, and life has an amazing way of unfolding as it should, if we let it.
When I was born, my siblings were already teenagers. Perhaps that is why that even as a kid, I was not a kid person. I much preferred the company of adults. My playthings weren't baby dolls or wedding dresses. I played with microphones and set designs. I would put on Broadway shows and perform for my stuffed animals. I did not want to be someone's wife or mother. I was going to be a star. I remember going to friends' houses and watching them all with alien interest as they fed their fake babies with plastic bottles and burped them over their shoulders.
"Who do you want to marry when you grow up?" they would ask.
"Well, first River Phoenix, but my second husband will be Christian Slater. And then I'll travel the world."
They'd all laugh and whisper and return to changing their babies' diapers. Kids can be mean, and when you don't fit the mold, they make sure you know it. This, of course, did not help the "pro-kids" side of the list I was subconsciously making in the back of my head. Fighting back the tears of shame, I would promptly seek out the family dog.
In high school, a friend and I would go to a local French restaurant for onion soup and red wine. (They have since closed, and I can't imagine the underage drinking was unrelated.) As we sat outside smoking cigarettes and pretending to be 30, she confessed to me that she wanted to be a housewife after college. I was surprised. She was so smart and so capable. She could have done anything in the world, but she said that all she wanted was a family and a nice house. She then looked at me incredulously.
"Don't you?"
"No, of course I do!" I lied and returned to my soup. The pull of the social tide is strong as a teenager. We must paddle for our life to fight against it.
At 17 years old, we were on vacation in Maui. I had just learned a boyfriend cheated on me, and I was cursing relationships at a dinner party when an intuitive family friend told me not to worry. She said I would grow up to be like Auntie Mame. Originally a book and later adapted into a film, Auntie Mame starred a worldly socialite who never marries but becomes the guardian to her nephew later in life. The story was groundbreaking because it showed a different family structure than the typical 1950s Rockwellian ideal—one where the woman made her own choices. Listening to her explain the character was the first time I had ever felt seen. It was like she was giving me permission to not have to follow the norm.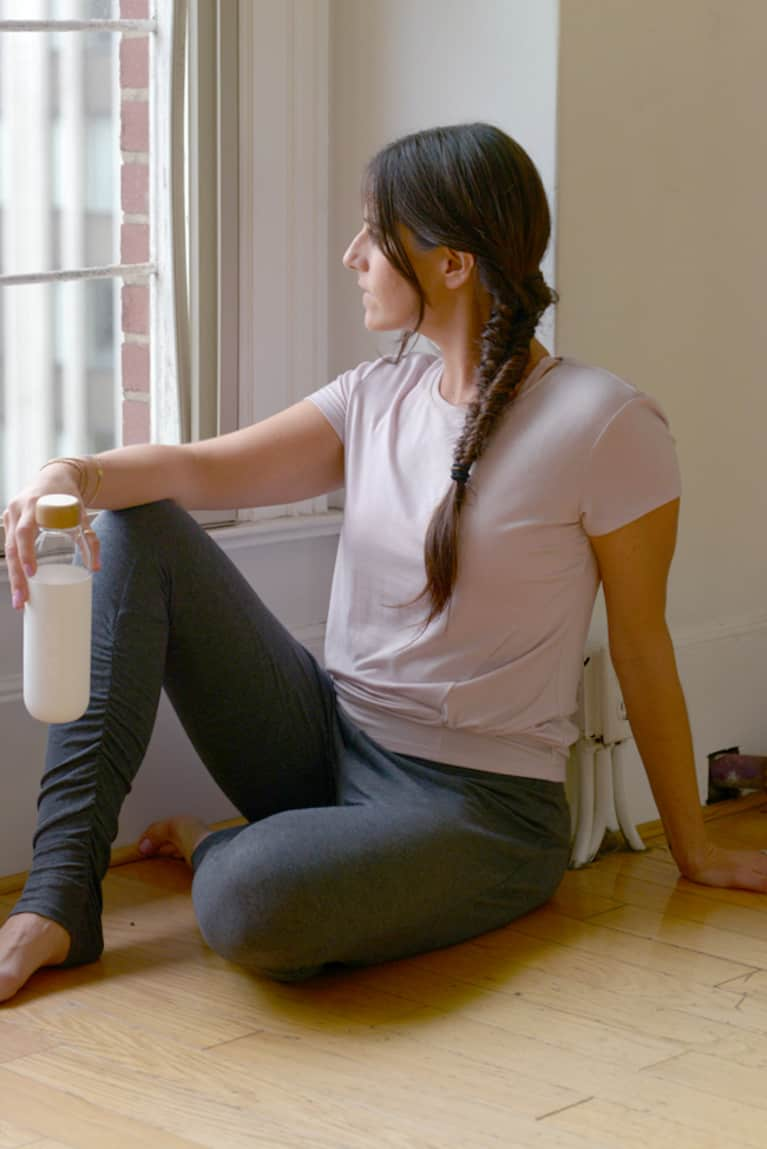 When my mother was diagnosed with terminal lung cancer, everything in my life ground to a halt. I was in my early 20s, and nothing was as important as spending time with her. It felt like a pause button had been pressed on my future. Sure, I had boyfriends throughout, but a dying mother weighs heavy on a relationship. Meanwhile, my best friends began to marry off and get pregnant, and I realized that the Sex & the City life I had hoped we were all going to live was dissolving before my eyes. I once again found myself the outsider.
After Mum died, I poured myself into my work. I was free to see the world now and to follow the dream I had always imagined. I would travel the world teaching yoga, and nothing would stop me! After all, if I never had a family, if I never stopped moving, I would not have to feel the excruciating pain I felt throughout her illness and after her death. And suddenly my lack of desire to settle down became interwoven with my debilitating fear of grief and loss. Although, perhaps they were always side by side.
I did try to be Susie homemaker once, lying to myself and my partner at the time. I allowed him to sideline my true desires, to convince me that traveling and pursuing my life aspirations would be impossible if I were to have a family.
"What are you going to do?" my ex asked, exasperated. "Leave me at home with the baby?"
I was so desperately afraid of losing him (anyone) that I would have said anything to appease him, and I distinctly remember my soul leaving my body as I robotically reassured him: "You're right." But I could only stay quiet for so long, and once I broke free from that suffocating relationship and from other people's expectations, I quickly distanced myself from anything resembling commitment.
While the locations were glamorous, the traveling teacher life is not—at least not for me. I wasn't soaking in the cities or taking lovers like Auntie Mame. I was exhausted from pouring myself into my teaching every day and would drag myself from the studio to my tiny hotel (or my host's couch, depending on my current means) because I needed to wake up at 5 a.m. to practice and fill my tank for the next day of teaching. I was lonely. As the years went on and the cities began to look the same, something (someone?) was missing.
Our future is not fixed. It is always evolving. Like sliding doors, every choice we make can send us on a completely different trajectory.
I never felt more love for something than I felt for my dog, Sophie. Is this how other people feel about children? I would often wonder as my heart swelled two sizes watching her sleep. She was my everything.
My Mum and I had bought Sophie together the year I returned from college, four years before the cancer diagnosis. My family had had dogs my entire life, but this one was different. This one picked me. The day we got her out of a dozen German shepherd puppies, she bee-lined straight for me, knocking me over from my open-armed squat.
We raised her together at first, Mum and I, and when Mum got sick, Sophie would dutifully alternate between our rooms, checking on us and licking away the tears. When Mum passed, it was just Sophie and me, and she became the closest relationship I could manage. Sophie was the first thing/dog/person that I fully took care of on my own. I had never even had a houseplant. But I took to the role of "Sophie's Mum" as if it were always that way. As if she was always in my life, which in many ways it felt like she was.
We did everything together. When I taught in the early morning, she would sit outside the glass walls of the yoga studio, wagging her bushy tail as I tapped the glass to say hello. She would sleep over at different boyfriends' houses with me, our matching good night bags in tow. She came on road trips, and we stayed in hotels together. She came to lunches and went clothes shopping with me. (Picture me regularly apologizing to the woman in the next dressing room for the curious wet nose peaking under the door.) I even took her to therapy.
Amid the traveling teaching years though, Sophie got diagnosed with a degenerative illness and started to lose use of her back legs, which for a 78-pound German shepherd is humbling and devastating. Her decline happened quickly. Suddenly she could no longer jump on the bed for our nightly cuddle. There would be blood lines on the floor of our apartment from her back-paw nails starting to be dragged as her legs became more paralyzed.
Leaving for my solo trips was always heartbreaking. I would look into her aging face and fading eyes. "I'll be back soon," I'd reassure her. But in dog years, two weeks is an epoch. I always wished I could stay with her longer.
The universe was listening, and a few weeks before I was due to embark on a monthlong journey to teach in the Middle East, I myself got quite ill. I couldn't work. I couldn't do yoga. I couldn't travel. And suddenly these things that I wore as identities, these things I clung to for protection, were stripped away, and I realized that I was alone. More importantly, I admitted that I was lonely.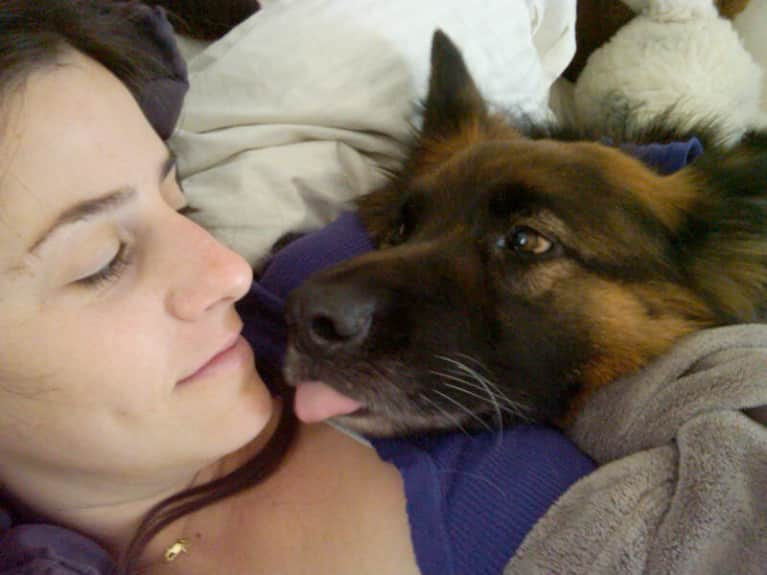 Over my recovery, Sophie and I spent every minute together. Somewhat dazed and somewhat desperate, a friend recommended a healer to come over and work on the dog. While I am a believer, I am also a skeptic—but the woman who came was the real deal. Her presence immediately calmed Sophie, who had been uncomfortable for months. I was crying within seconds of her arrival, the hairs on my arms and neck standing at attention her entire stay.
And then something interesting happened. The healer looked at me and said, "I think I'm here to work on you." I lay on my couch reluctantly, peeking out of one eye.
"This knee injury represents balance," she began, "and you have none in your life. Until you start saying yes to life, you will never meet him."
Him?
No psychic I had ever been to said I would have a family. I'd go with friends, and they would be wished well with lots of babies and hot husbands, but when it came to my turn, my prophecy was always less than settled. "You're a teacher," "You're a nomad," "Your job is to bring positivity to people," or "You will travel the world." Never in the 33 years I had been on the planet at that point had I or anyone else foreseen a family.
My future was shifting before my very eyes, and for the first time, I was ready to see it. Fortunately, my soon-to-be husband was in my city for work. Even more fortunately, we would meet just three days after the healer's visit.
Sometimes when we have a strong aversion to something, it is because we are afraid. The most loving choice we can make is to own who we are in the moment but to also stay fluid as we grow and change.
In yoga, we learn that our current life is the confluence of past actions, that the choices we make now affect our future. The beauty of this perspective is that our future is not fixed. It is always evolving. Like sliding doors, every choice we make can send us on a completely different trajectory.
After the healer's visit, the universe decided to test my will right away. After all, if it had waited too long, I may have forgotten. On our second date, my husband told me that he was put on this earth to be a dad. I remember the moment so clearly, as if various roads unraveled before me. I could have run. I could have lied, but instead I told him that while I didn't really want kids, with the right person, I'd consider it. That was the truth as it stood in that moment. And it was the first time in my life that I truly believed I could have a family.
With this man, I could and would have a family. Really, I already do.
Sophie passed in December of 2015. She was 12½ years old, which for a large breed dog is remarkable. I fully believe that she brought Ben and me together—that she waited to leave this world until she knew that I had another family. This, of course, includes our current dog-son, Tucker, who got to spend a few weekends with Sophie before she left this earth.
Faced with Sophie's death, my priorities shifted. When work was taken away, when yoga was taken away, when travel was taken away, I realized how unimportant those things were in the grand scheme of life. Family is the most important thing, and facing another significant loss showed me that love is worth even the greatest pain. I would rather have had my Mum and Sophie for the limited time I had than never to have had them at all.
I am still not a "kid person," whatever that means. My fears have not gone away. But I now see clearly that the pain of loss is merely a measure of how much we have loved. To avoid that pain is to miss out on love.
I am inspired by my fierce friends who show me daily that you can still live a full life as a parent. If anything, kids make life richer. I am supported by a husband who truly embodies all the qualities any child would be lucky to have in a father, and I am excited to step into this new phase of myself.
I don't know when my husband and I will start trying for a baby or if we even can get pregnant yet, but for the first time in my life, I am ready to have a family.