Dermatologists Explain Why Going Makeup Free Can Help Your Skin

mbg Associate Beauty & Wellness Editor
By Jamie Schneider
mbg Associate Beauty & Wellness Editor
Jamie Schneider is the Associate Beauty & Wellness Editor at mindbodygreen, covering beauty and wellness. She has a B.A. in Organizational Studies and English from the University of Michigan, and her work has appeared in Coveteur, The Chill Times, and Wyld Skincare.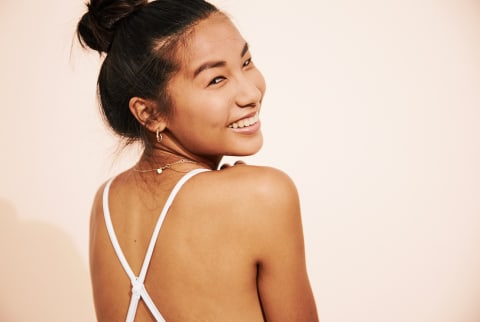 Image by Leandro Crespi / Stocksy
Our editors have independently chosen the products listed on this page. If you purchase something mentioned in this article, we may
earn a small commission
.
April 10, 2020
When it comes to wearing makeup during quarantine, there seem to be two ends of the beauty spectrum: There are the people who are experimenting with different shades and palettes, using this time to get their creative juices flowing or as a needed escape into the world of playful makeup. On the flip side, there are plenty of others who are completely forgoing makeup, finding themselves too distracted to even consider concealer or embracing a less-is-freeing mentality.
Admittedly, there's no correct way to feel about quarantine, from mental health to makeup. But, according to dermatologists, committing to a bare face at this time can have some pretty significant benefits for your skin:
Advertisement
This ad is displayed using third party content and we do not control its accessibility features.
While your skin may drink up a hydrating serum, makeup is a bit of a different story. (This is a good thing—you want skin care to penetrate the epidermis, but makeup? Decidedly less so.) Foundations and concealers sit on top of the skin, which can affect your natural oil production by creating a film over your pores so the sebum has nowhere to go.
"The coverage may affect your skin's sebum production and its natural hydrators because skin behaves differently depending on external factors," board-certified dermatologist Hadley King, M.D., says. When you have overactive sebum production (common in acne-prone individuals), oil can become trapped in your pores under the makeup, which can quickly become a fertile breeding ground for bacteria.
There's even a phenomenon called acne cosmetica. "A huge problem is that when an individual has a pimple or breakout, they feel the need to cover it up with thick foundations, which will then continue to clog the pores or clog additional areas," board-certified dermatologist Mona Gohara, M.D., explains here. Now's the time to stop the vicious cycle: So you have a zit? So what? Acne is nothing to be ashamed of. Use this time to learn to live with any skin blemishes and tend to them naturally rather than feeling the need to hide your skin as is.
2.
Sometimes, your pores just need a break.
Especially if you're partial to heavy, pore-clogging products, taking time away from your makeup routine can give your skin some much needed R&R.
"Makeup can be comedogenic—a fancy word for pore-clogging," says board-certified dermatologist Caren Campbell, M.D. "So taking a break can prevent pores from getting clogged, which can cause blackheads, whiteheads, and cystic acne lesions."
Ellen Marmur, M.D., board-certified dermatologist and founder of MMSkincare agrees: "Giving your skin a break can let your pores breathe, which will likely lessen acne," she notes. That said, if going makeup-free just simply isn't an option for you, stick to a trusty brow gel or mascara rather than a heavy-duty foundation.
Advertisement
This ad is displayed using third party content and we do not control its accessibility features.
3.
Your rosacea or eczema may improve.
Conditions like rosacea, chronic eczema, or contact dermatitis, have a variety of triggers, one of them being harsh ingredients in makeup. Products with a heavy amount of preservatives or fragrance (sometimes, even old makeup brushes) can irritate the skin, so removing those products from the roster might help keep those flare-ups at bay, says King.
If you do decide to reintroduce makeup into your routine later on, consider creating a base with gentle, soothing products to calm any angry redness and then sticking to sensitive-skin-safe makeup.
How to care for your skin from the inside—instead of covering it up.
So if you've decided trying a makeup-free routine is right for you, we suggest turning inward instead. First up, you need to make sure you're nurturing your skin with healthy, glow-enhancing foods (like these) and supplements. One of the best supplements for skin is a hydrolyzed collagen supplement, like mbg's grass-fed collagen+. Studies show that regularly supplementing with collagen can support your skin's hydration levels and smooth the appearance of fine lines and wrinkles.* Plus, the supplement contains vitamin C and vitamin E to further manage inflammation.*
From there, make sure you're caring for your mental health. Stress wreaks havoc on the skin—and while it may be impossible to live a completely stress-free day right now, you can turn to things like breathwork, indoor workouts, and journaling for stress control. As board-certified dermatologist Keira Barr, M.D., has previously told mbg: "Your skin can reflect what you're feeling inside, and what you're feeling inside can be reflected on your skin."
Finally, if you rely on that same tinted moisturizer for SPF, you also want to make sure you're replacing it with proper sunscreen. Even if you're going makeup-free, sun protection is still imperative: "We are exposed to aging rays even inside from screens and UVA light through windows," says Campbell.
Advertisement
This ad is displayed using third party content and we do not control its accessibility features.
The take-away.
Even if you rely on makeup for a healthy-looking glow, there are plenty of reasons to bid farewell to your cosmetic bag (for now). That said, you may want to take a page from the minimalist's playbook and rock a bare face for a while: Your skin may clear, and your confidence might skyrocket, too.
If you are pregnant, breastfeeding, or taking medications, consult with your doctor before starting a supplement routine. It is always optimal to consult with a health care provider when considering what supplements are right for you.