Deepak Chopra On The Meaning Of Life, Our Current Insanity Crisis & The Collective Healing We All Need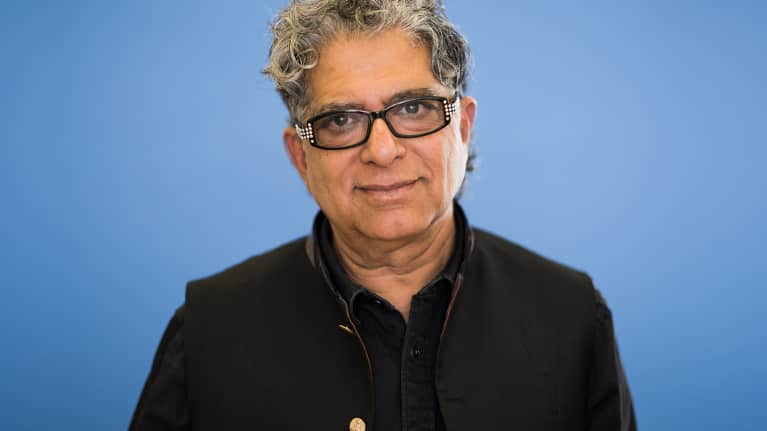 Our editors have independently chosen the products listed on this page. If you purchase something mentioned in this article, we may
earn a small commission
.
Love this? Want more? Stay up-to-date with the podcast by signing up for our newsletter. —The Editors
Deepak Chopra, M.D., is one of the first pioneers of wellness and quite possibly the most widely recognized spirituality figure in the world. He began his career in the 1970s as an internist and went on to specialize in neuroendocrinology, the study of neuropeptides and neurotransmitters, which at the time was groundbreaking. That was just the beginning! Flash-forward to 2018, and he's just released his latest book—one of at least 80 he's written in his 71 years on Earth—called The Healing Self, all about empowering readers to be in control of their own health by managing stress and inflammation levels.
In this episode, Dr. Chopra shares years' worth of hard-earned wisdom from his own personal life as well as his spiritual views. We discuss the truth behind making a profit on wellness, Dr. Chopra's spiritual belief systems, his exact morning routine, how to raise a conscious and mindful kid, his surprising social media practices, how he's managed to avoid all stress for the last 35 years, and the philosophies he thinks will help us defeat the current global insanity crisis going on in the world today.
If you want a new perspective on the role of wellness in your own personal healing, and that of the world, tune in to hear Dr. Chopra's refreshingly honest take.
Enjoy this episode! Don't forget to subscribe to our podcast on iTunes, Google Play, or Stitcher and sign up for our podcast newsletter!