Deepak Chopra, MD, On Love, Death & Mindful Awareness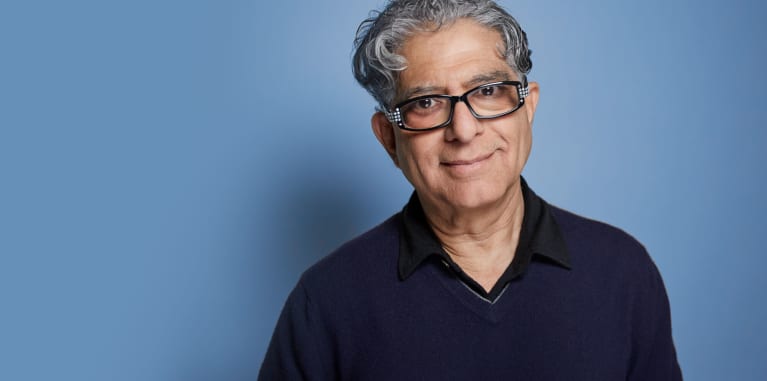 Love this? Want more? Stay up to date with the podcast by signing up for
our newsletter
. —The Editors
A spiritual icon, the author of 25 New York Times best-selling books, and the co-founder of The Chopra Center, Deepak Chopra, M.D., has traveled around the world inspiring people to ask questions and rethink their perceptions of the world.
I sat down with Deepak for the second time on the mbg podcast to talk about awareness and the challenges of love, life, and death. He explains how each of us experiences consciousness every day and the paradox of reality we all struggle with. We delve into the constructs that humans fall into and how an understanding of the realm of consciousness can help you get clear on your path.
In this episode you'll hear about:
How to find love after heartbreak
The No. 1 healing force we need to tap into today
How to reconnect with someone who has passed
Deepak encourages us to question assumptions and societal constructs while staying aware of our thoughts and how we may be exiting consciousness unknowingly. He also shares the one surprising mindful-awareness practice he does daily to evoke a full-sensory experience.
You'll hear about the inspiration behind his forthcoming book, Metahuman, and how you can get started on making conscious choices and practicing what he calls meta-cognition. Deepak's perspective and experience in the physical world is one that encourages us to dig deeper into our interactions and the spaces we inhabit so we can unlock our infinite selves. This is our 100th mbgpodcast episode and definitely one you don't want to miss!