Using Marie Kondo's KonMari Method? Avoid These 4 Mistakes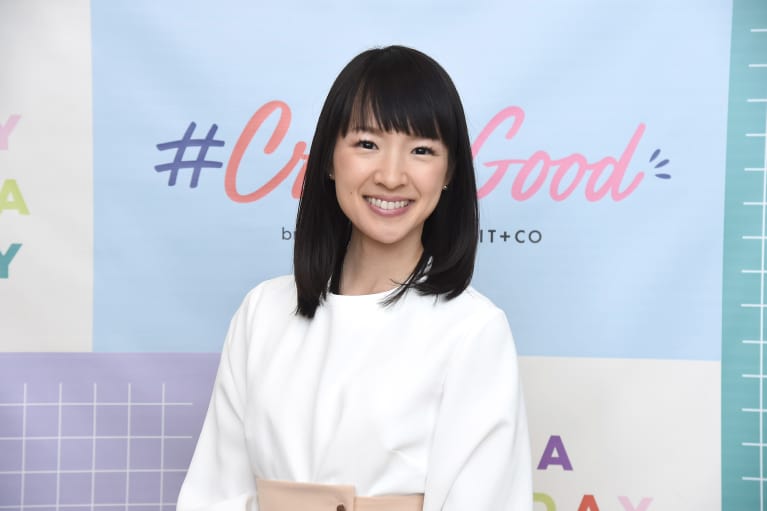 Our editors have independently chosen the products listed on this page. If you purchase something mentioned in this article, we may
earn a small commission
.
January 9, 2019 — 19:00 PM
The Kondo buzz is palpable these days, and it feels like everyone is kicking off their 2019 with a decluttering session inspired by Marie's new Netflix show, Tidying Up.
An entertaining peek into Kondo's prescriptive techniques, the show features some striking transformations: Rooms that were once piled high with toys, books, and knickknacks are totally cleared; floors once buried underneath piles of clothes valiantly reemerge. If these before-and-afters have you itching to clean your own space in the name of joy, here are four things to avoid to help you stay on track:
1. Think of it as a chore.
Most of us tidy in quick, short spurts. We take a few minutes to sort through our fridge when it gets overrun with food or edit our bookcases when there's no room for any new titles. These contained bursts of decluttering aren't as effective, according to Kondo, since they tend to feel like chores. Instead, Kondo recommends doing what she calls "special event tidying," in which you dedicate all your energy to cleaning your home until the job is done. "It is crucial to tackle this job within a short space of time while your spirits are uplifted," Kondo writes in The Life-Changing Magic of Tidying Up.
Make it a more enjoyable experience by putting on your favorite playlist, lighting a candle, and visualizing how much better you'll feel in your new space.
2. Keep trash bags of stuff lying around your house.
Once you ask the million-dollar question—"Does it spark joy?"—of all of your items, chances are you're going to have piles and piles of stuff that you're ready to let go of. Instead of allowing it to sit around for a few days, Kondo recommends getting it out of the house right away.
That doesn't mean you need to throw everything in the trash, though! Before you get started decluttering, make a list of places near you that you know will accept secondhand items (here are some you might not have thought of) so you can just load up your stuff and go once the job is done.
3. Discard things without thanking them.
While it might seem weird to express gratitude for inanimate objects, there's a reason Kondo has all of her clients thank the items they're getting rid of: It fosters an appreciation that makes people less likely to think of their belongings as disposable. By really acknowledging the purpose and utility of everything, you'll be more likely to treat your belongings with respect and be more critical of the new stuff you are allowing into your home moving forward.
4. Put all the pressure on yourself.
If you share your home with loved ones or roommates, it should be everyone's responsibility to keep it clean. "You're living together, so it's important for everyone to maintain their space," Kondo says on her show. She tells one mom who is having trouble delegating decluttering duties to her husband and kids that giving everyone one room that they alone are responsible for tidying is the only way to keep everyone accountable.
And with that primer, you should be ready to start the process of getting your home in order, which, according to Kondo, is the first step in getting the rest of your life in order too.