It's The Last Week Of 2017! Here's Your Horoscope
mbg Contributors
By The AstroTwins
mbg Contributors
Ophira and Tali Edut, known as the AstroTwins, are professional astrologers based out of New York and Seattle. Their work has been featured in The New York Times, Elle Magazine, Vogue and Good Morning America and they are the authors AstroStyle, Love Zodiac, Shoestrology, and Momstrology.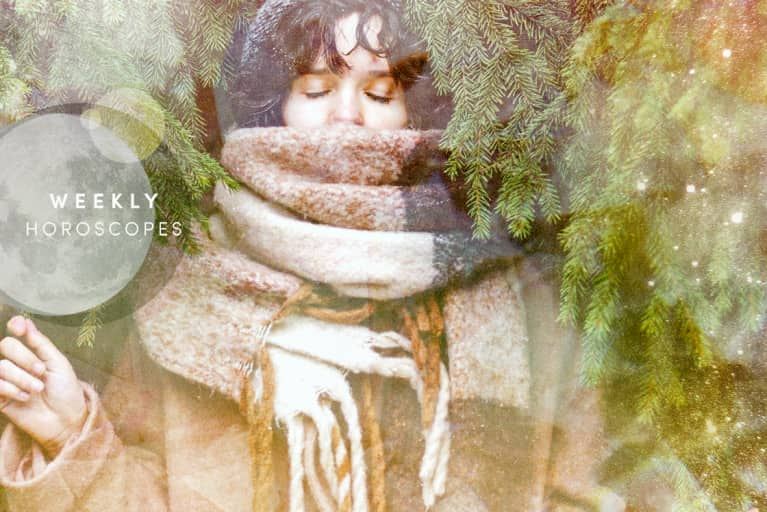 On Christmas, Venus conjuncts Saturn in Capricorn.
On Monday the 25th—Christmas Day for most of the world—festive Venus slides down Capricorn's chimney and hunkers next to traditional Saturn for the day. Gatherings won't just be merry and bright; they'll also bring moments for serious bonding. Radar in on a relative you'd like to be closer to in 2018. This family-friendly formation sets the perfect tone for reminiscing. Open up the pantry and see if you have the ingredients for a classic Christmas morning breakfast, pore over photo albums, and ask the elders to share stories about ancestors.
Watch out for that mistletoe magic! Not for nothing, Venus is the planet of love, and Saturn is a legacy-builder. A random smooch could supercalifragilistic itself into a real-deal relationship while Venus hovers in Capricorn until January 17. Already found the Dasher to your Dancer? Future planning could get real while you're nuzzling under the Christmas tree.
On Thursday, there's a Neptune-Mars trine.
The second half of the week is simultaneously dreamy and productive, thanks to Thursday's special connection between enchanting Neptune in Pisces and go-getter Mars in Scorpio. The two will form a flowing trine (120-degree angle), which allows them to combine their energies in a helpful, proactive way. Neptune governs our subconscious mind while Mars brings a feisty, can-do vibe to the equation. Imagination or innovation? How about both? Their combined forces—which will be strongest on Thursday—encourages inner work so we can grow, heal, and change. Since both planets are parked in water signs, we could make big strides on the emotional and creative fronts. Forgive and hug it out; or maybe just seal a chapter in the vault, leaving the past in the past. Artistic types could wrap 2017 with a tailwind of creative inspiration—and quite possibly, an impressive new addition to the portfolio.
This weekend, the moon is in Gemini.
With the moon glowing in Gemini all weekend, New Year's Eve will be as colorful as the ROYGBIV rainbow (with a few neon splashes thrown in just 'cause). No need to wait until Sunday night to get the fiesta in gear; the first cork could pop on Saturday. A toast of mimosas and a day of shopping for vintage gowns and velvet tuxedo jackets? Yes, please! The Gemini moon brings a much-needed dose of levity to the end of a challenging year. When your squad sits down for your multiple coffee and cupcake breaks (because...Gemini moon), do a 'round robin and reflect on your 2017 highlights reel. What were the greatest hits of the year and what would you like to leave in the rearview mirror for good? Since Gemini rules verbal communication, talking will be therapeutic—and as an added bonus, could bring some comic relief to a heavy situation. Hey, if 2017 taught us anything, it's the power of a good meme! And after a year of dramatic divisions, it's sweetly symbolic to have the sign of the twins calling for common ground as we count down to midnight—and a "2 Year" in numerology! (2+0+1+8=11, 1+1=2)
Stay tuned for the AstroTwins' yearly 2018 horoscope, which will start to roll out next Monday! Until then, reflect on 2017 and see how its astrological energy manifested in your life.