Your December 2017 Horoscope Is Here: What's In The Stars For You?
Astrologers & Best-Selling Authors
By The AstroTwins
Astrologers & Best-Selling Authors
Dubbed the "astrologers to the stars," identical twin sisters Ophira and Tali Edut, known as the AstroTwins, are professional astrologers who reach millions worldwide. The AstroTwins have been featured by The New York Times, Good Morning America, the Today Show, and People Magazine, and have read charts for celebrities including Beyoncé, Stevie Wonder, Karlie Kloss, and Emma Roberts.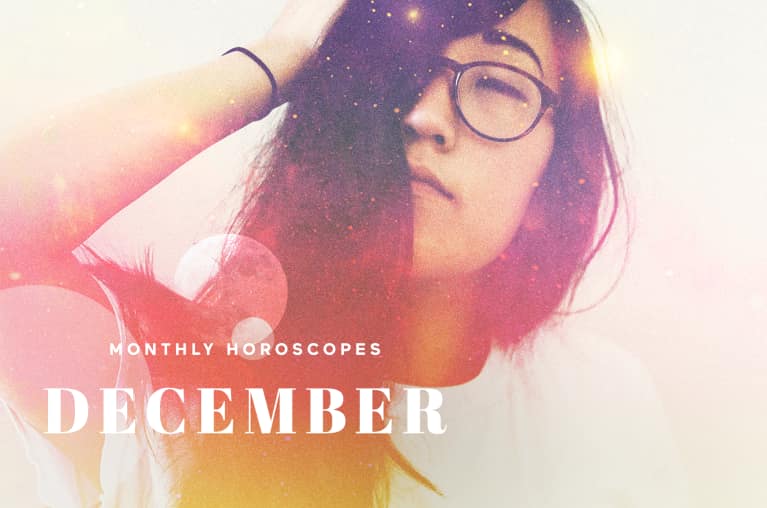 It ain't over till it's over! Although there's plenty about 2017 we'd like to leave in the rearview, the planets will spend the last month of this year with a bustling run-of-show. There's a lot of activity, including one MAJOR planetary sign change in the second half of December.
Mercury will be in retrograde until December 22.
On December 3, Mercury—the ruler of chatty Gemini—launched into one final retrograde backspin in 2017, which will last until December 22. Take all the Mercury retrograde precautions: from backing up data and devices, to triple-confirming reservations, to booking a quick Airbnb instead of staying in your S.O.'s childhood bedroom with the creaky floors and passive-aggressive parents down the hall.
The new moon is in Sagittarius on December 18.
The next powerhouse week begins on December 18, when a Sagittarius new moon kicks off an inspiring day for envisioning big dreams. Jot down what comes to you instead of waiting for the calendar to turn to draft resolutions. New moons are all about fresh starts, so we're often at our most inspired states regarding new ideas and ventures.
And here's a little more incentive: The first "hit" of results from any new moon manifesting often arrives two weeks later, at the full moon. January 1 will feature a full moon—which is once again a supermoon—in heartfelt Cancer. We'll all be ready to charge into the new year and make things happen.
Saturn enters Capricorn on December 17.
But not so fast! A structured plan will be essential because on December 19, stalwart Saturn—that cosmic Lord of the Rings—will make a HUGE ripple when it ends a three-year visit to Sagittarius and voyages into his home sign of ambitious Capricorn until December 17, 2020.
Saturn's last visit to native soil was from 1988 to 1991—quite a while ago. And this is a homecoming, since Saturn rules Capricorn, which will put the spotlight on changes to the economy, government, work, business, and structure. (Our 2018 Planetary Planner goes into great depth on Saturn's next big move!)
Accountability, integrity, doing the right thing: Saturn in Capricorn is here to bust up any outmoded and corrupt systems. Since both Saturn and Capricorn rule the patriarchy, we've been getting a sneak preview with the shocking wave of prominent men being fired for sexual assault and harassment. (We attribute this to a combo of Saturn's impending shift and Jupiter's entry into Scorpio on October 10.) Already Charlie Rose and Matt Lauer, both Capricorns, have been fired from prestigious posts—and this is just a warning shot.
Here's hoping that Saturn, the cosmic builder, will also help us create NEW structures, laws, and workable systems to help prevent this so that the victims of these power abuses no longer have to suffer in silence. Saturn will join powermonger Pluto, the ruler of deep transformation and the "shadow" side of humanity, in Capricorn—pushing us to go beyond a mere slap on the wrist for misconduct.
By New Year's Eve, the Sun, Saturn, social Venus, and Pluto will all be in Capricorn, making us think more seriously about the coming year. Luckily, some of this weightiness will be offset, thanks to the moon in vivacious Gemini that day. Talk, mingle, write down intentions, and bring some levity to your celebrations. We all made it through this surreal 12-month cycle. Onward to 2018!
Want more insights from the AstroTwins? Check out their episode of the mbg podcast, where they spell out everything from how to use your natal chart for empowerment to how to spot phony astrology.