6 Things You Need To Know Today (December 11, 2017)
mbg Health Contributor
By Gretchen Lidicker, M.S.
mbg Health Contributor
Gretchen Lidicker earned her master's degree in physiology with a focus on alternative medicine from Georgetown University. She is the author of "CBD Oil Everyday Secrets" and "Magnesium Everyday Secrets."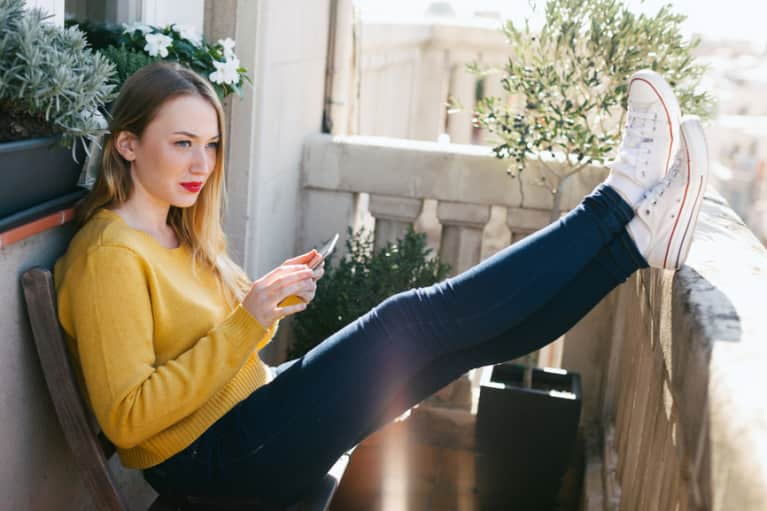 December 11, 2017 — 9:00 AM
1. How much control do you actually have over your social media use?
You may think all those social networking sites are just a way to connect with others and pass the time, but consider this: You get a dopamine hit every time someone likes or comments on something you post, which only encourages you to use social networking tools more. In other words, you may actually be addicted to your smartphone. Yikes. (Scientific American)
2. Narwhals are stressing out, and it's a bad sign for the rest of us.
New research shows that the mythical-looking marine mammals that thrive in polar regions are experiencing symptoms of chronic stress, likely because of how climate change is affecting their habitats. The fact that their health is starting to suffer because of the heat is a bad sign for other animals around the world. (Science Mag)
3. Pantone's color of the year is epic.
According to Laurie Pressman, Pantone's vice president, Ultra Violet, a vibrant shade of purple, is supposed to be empowering and optimistic and also "speaks to thoughtfulness, a mystical quality, a spiritual quality." Excuse us while we paint the town purple. (The Cut)
4. If you see some lemurs cuddling, this is why.
A new study shows that lemurs who cuddle more have more diverse gut bacteria. "Because microbes tune immune defence, this can be seen as a form of cooperative immunity: Sharing microbial allies and enemies makes infections by opportunist pathogens less likely," said one of the study's authors. This can have important implications for human health—and how we should cuddle to reduce our incidences of autoimmune diseases and more! (Science Daily)
5. Anheuser-Busch just ordered a bunch of Tesla Semi trucks.
They will use the vehicles to ship beer to wholesalers within 150 or 200 miles of the brewery location, since the trucks will have a 500-mile range. (FoodDIVE)
6. Ultrasounds just got a lot simpler—and more high-tech.
3-D ultrasounds are a technique used on expecting mothers that uses sound to see visuals of soft tissues and internal organs. These devices require thousands of sensors to create an image, but now scientists just developed a new device that uses only one to create a detailed picture. (Science)